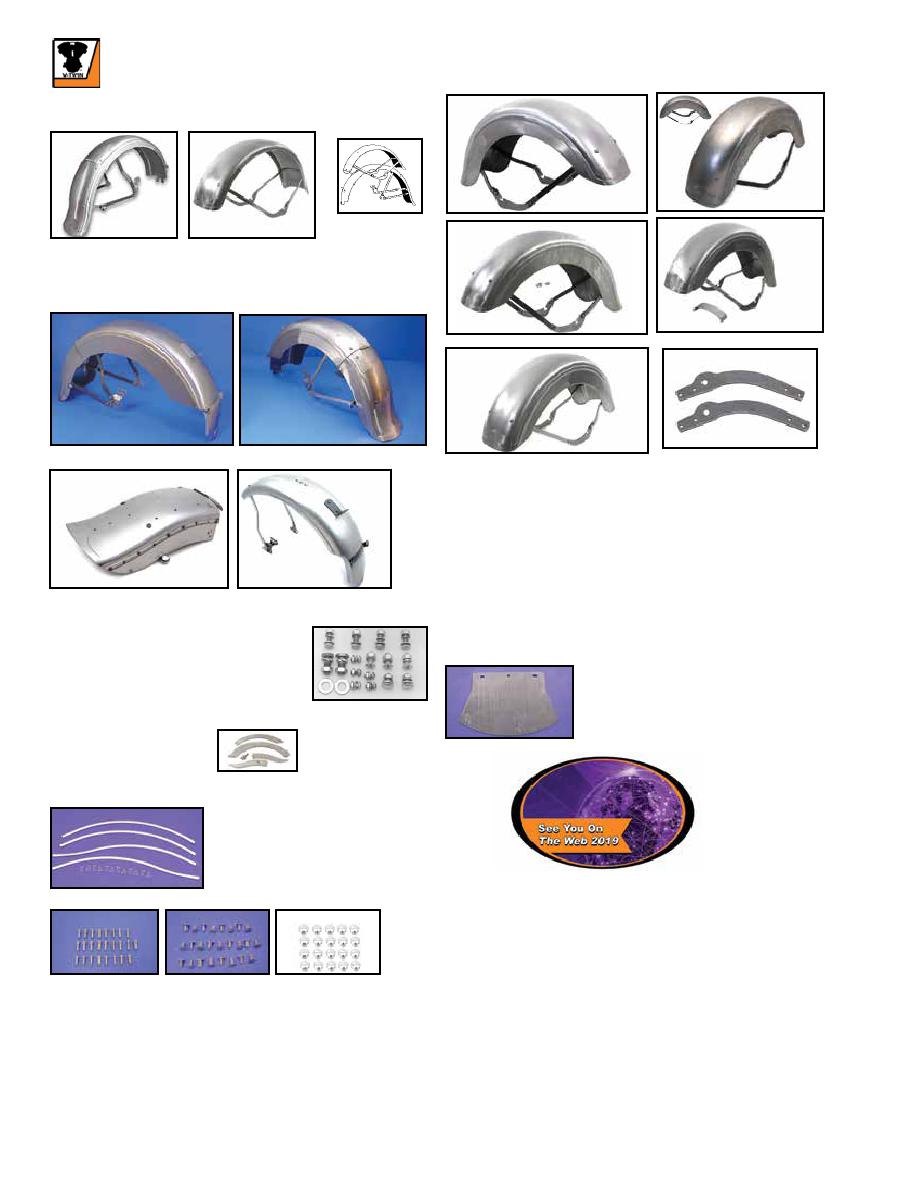 802
45" Solo Fender.
VT No.
Item
50-0141
1936-52 with Narrow Braces
50-0179
1936-52 with Narrow Braces
50-0168
50-1053
50-1159
50-0771
50-0931
37-8840 Pin
50-0557
50-1207
31-1017
51-0865
50-0141
50-0179
45" Fender
Early Mud Flap replaces 59235-26 in
rubber with laminated cloth construction.
VT No. Item
28-2249 Mud Flap
49-0425 Mount Hardware
28-2249
Replacement Fender Rivets fit all FL front and rear fenders
and FX front fenders, pack of 25.
Stainless Fender Trim for 1939-48
Big Twin and 45", 1940-49 Spring
fork front Includes clips.
VT No.
Fits
50-0914 Front
37-8458
50-0914
VT No.
Fits
37-6368 Big Twin Fender Brace
37-6369 Big Twin Fender Top
37-6370 FX Front, 1973-up Stainless
37-6368
37-6369
37-6370
Rigid Rear Fender
Mounting Kit includes
hardware to install rear
fender on 1929-52 45's.
45 Solo Finish
9791-15 Cadmium
9790-15 Chrome
9792-15 Parkerized
50-0168
50-1053
50-1159
Note: All Items Shipped with a Raw Finish may have some
oxidation (rust on surface)!
50-0144
50-0778
50-0454
50-0523
Spring Fork Front Fenders are 7½" wide for 16" or 18" wheels
with riveted on wide braces. The 45" type fits with rockers inside
the fork. Big Twin fits with outside rockers.
VT No.
Year/Model
50-0144
50-0750
50-0778
50-0454
50-0523
50-0643
50-0463
31-1342
50-1595
Note: Body without brackets
31-1342
50-0772
45" Military Fenders are skirtless Army style of 1940's for 45" Solo
models with Spring Forks 1937-52.
VT No. OEM
Type
50-0771 3710-41A Rear
50-0772 3702-41 Front
50-0771
50-0750
Front Fender Brace Tab Set attaches the lower fender brace to the
fender for added support and features a raw finish.
Installed by spot welding.
VT No. 31-1541
45 WL Raw Tank for 45 models includes the threaded cap.
Steel oil tank features a raw oiled finish. Tank accepts rubber hose
and fittings for installation. In order to install the oil tank on 1936-52
WL models, the battery box mount tab must be removed first. Fastens
to seat post tube and frame fender mount. Tanks also uses Big Twin
screw in cap without the dip stick. Tank features cut out on the left side
for spark coil and threaded inserts for the feed, vent, return and drain.
The right side features the side fill. The left side has 2 studs to mount
the ignition coil, no need to remove original battery box mount! Oil tank
clamps to center position on 45 W and G models by mounting to clutch
cable bracket and the rear fender mount. Tank will accept a 12 Volt bat-
tery, battery box tab must be removed for installation. Tank has 1/8"NPT
female fittings to accept rubber lines. Installation of original steel type
oil lines requires fabrication to custom specifications. Order connector
fittings separate.
VT No. Finish
40-0964 Raw
40-1006 Chrome