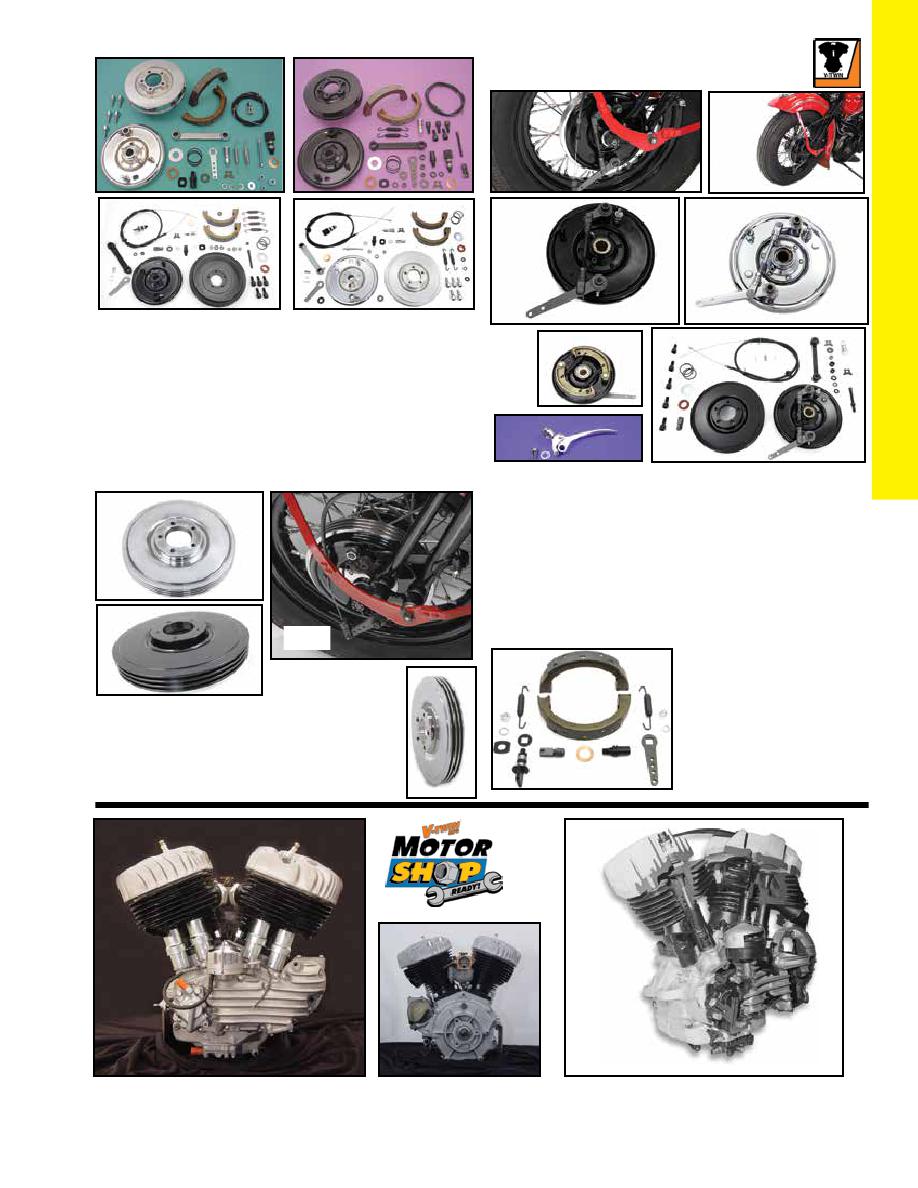 789
CLASSIC
22-1083
1941-48 Big Twin Front Brake
Shoe Kit includes shoe set,
washer with square, springs,
cam, arm, lockplate, nut, pivot
pin, adjuster, and cam shim.
Shoes have linings riveted as
on original. Fits 1941-48 BT and
1941-57 G.
VT No. 49-1673
Brake for Springer
Finned Brake Drum for 1936-48 EL and 1941-48
FL. Features a cast iron construction as original!
VT No. Finish
23-1250 Chrome
23-1255 Black
23-1250
Installed
23-1250
80" Motor All Internals
Available in our catalog
23-1255
45"
80"
Spring Fork Front Brake Kit includes cable end, shackle
adjuster, cable, backing plate, brake shoes, springs, drum,
lugs arm, cam, pivot stud and grease seal. Available in
chrome or black finish. Fits 1936-57 Spring Forks with offset
Big Twin Rockers and star hub wheel. Order brake handle,
axle kit and hub separately.
VT No.
Item
VT No.
Item
22-1083 Chrome Kit
26-2134
22-1084 Black Kit
26-2126
44-0581 Axle Kit
26-2127
22-0776 Black, Fin Kit
22-0780 Chrome, Fin
22-1084
22-0776
22-0780
22-0987
1936-48 Big Twin Dual Cam Brake Backing Plate includes
shoes, springs and arm assembly to fit stock spring fork front
brake drum. Order drum separately.
VT No. Finish Item
49-0852 Chrome Backing Plate Assembly
49-0853 Black Backing Plate Assembly
22-0774 Black
Backing Plate and Brake Drum Kit
22-0987 Black
Backing Plate, Brake Drum, Anchor Arm
49-0464
13-0562
Replacement Brake Shoe Spring Set
49-0852
49-0853
26-2126
49-0853
49-0853