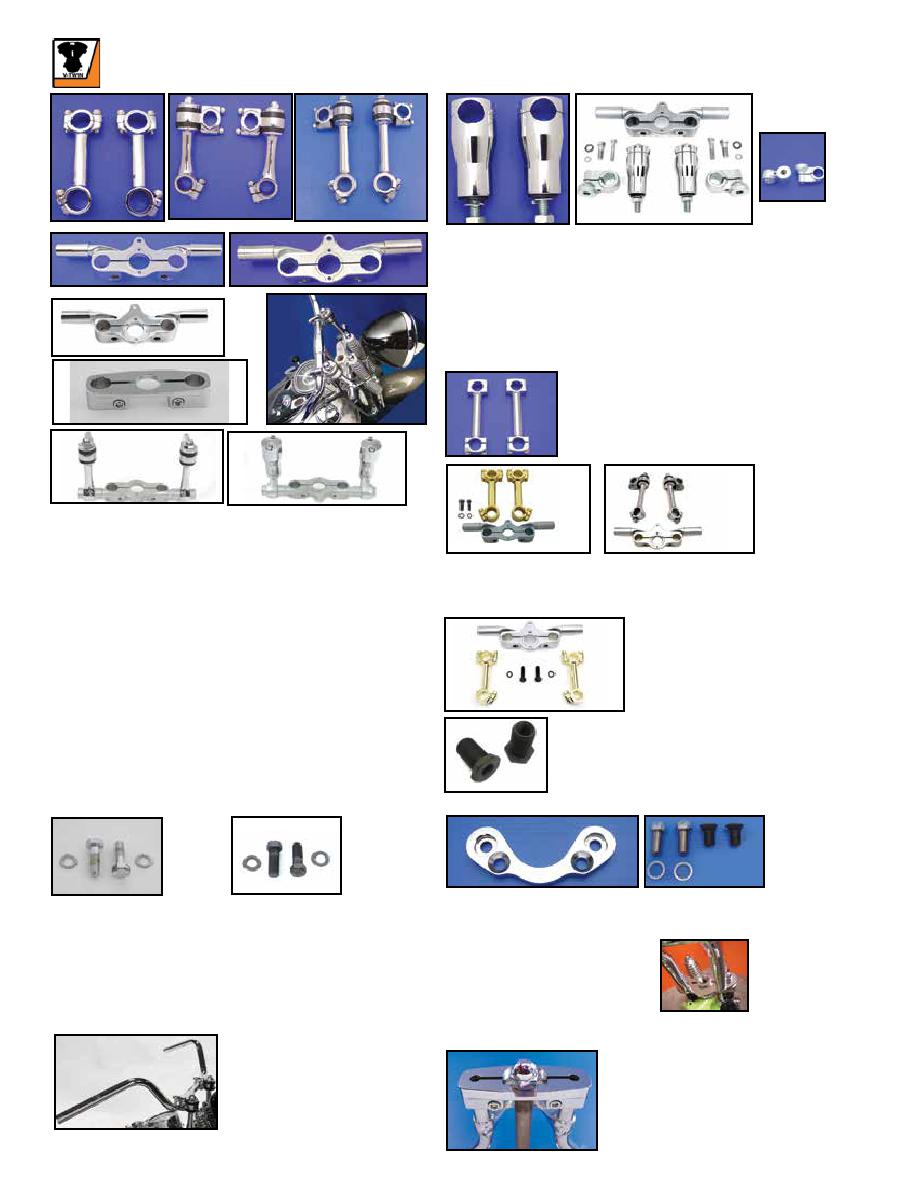 784
49-0315
49-0944
25-2124
25-2127
Spring Fork Top Tees and Risers. Order pinch bolts for trees
VT No. Item
Finish
25-2217 Dog Bone 5.5"
25-0950 Dog Bone Riser Kit, 5.5" Chrome/Chrome
25-2219 Dog Bones 3"
25-2124 Dog Bones 4"
25-2253 Dog Bones 4"
49-0944 Top Tree with Ears Inline
49-0939 Top Tree with Ears Inline
49-1541 Top Tree with Ears Inline
49-0954 Top Tree with Ears Offset
49-0955 Top Tree with Ears Offset
49-1548 Top Tree with Ears Offset
25-2127 Flanders Risers 4"
25-0785 Flanders Risers 5.5"
28-0910 Flanders Rubber Bushing Set for Above
49-0315 Machined Tree without Ears Inline
49-0371 Top Tree without Ears lnline
49-0022 Top Tree without Ears Inline
Chrome Dog Bone Steel Paugcho Riser
is machined from solid steel.
VT No.
Rise
25-2158 3"
25-2159 5"
49-0371
26-2169
25-2117
Spring Fork Top Tree and Riser
49-0944
&
25-2117
Installed
Screw In Riser Stud installed by threading
the I.D. of the upper fork tubes. Use ³⁄₁₆ x
16 tap to thread top spring fork holes. Riser
studs are ¹⁄₂ x13 thread to accept riser and
³⁄₄
x 16 to thread into fork.
VT No. 37-1016 ¹⁄₂ x 13
49-0939
25-0785
49-0954
25-2217
25-2219
T-Bar Clamp is used in mounting handlebars with built in
risers to custom Paughco or Wyatt Gatling springers. Use on
top of existing top clamp. For replica forks use with top tree
49-0371.
VT No. Item
25-0782 T-Bar Clamp

25-0835 T-Bar Camp w/hardware
25-0783 Mounting Hardware Kit for 25-0782
49-0043 Kit includes hardware and 49-0371 top tree
25-0782
37-1016 Installed
by threading
upper tubes on
forks
Top Tree fits inline forks, allows use
of post risers with ¹⁄₂" mount bolts.
Order acorn nut separately.
Chrome Black Item
49-0371 49-0022 Tree
25-2131 25-2218 Stem Set
37-0442
Flanders Triple Tree Kit includes zinc plate tree and dog bones.
VT No. Item
49-0044 Inline, brass 4" dog bones
49-0997 Offset, 5.5"
49-0044
Stud Set is installed
by tapping top of
fork with 20mm tap.
to mount top plate
to install riser bars.
Riser Kit
fits offset
original
Springers.
VT No.
49-0763
25-1166
Replica Glide Riser Set fits Spring Fork top trees with 1" ears
to allow rubber mounted glide riser to be fitted with 1 piece for
handlebars.
VT No.
Item
25-2117 3" Glide Risers, chrome, pair
26-2169 Riser Posts, pair
37-8820 Bolt Set, pair
25-1166 3.5" Offset Riser Kit
49-0093 Inline Riser Kit
49-0997
Replica Style Bars. Original
Buco style of the 1950's, for use
with a dog bone style triple tree
set up.
VT No. 25-0438
25-0783
Pinch Bolt Kit includes pinch bolts and lockwashers.
VT No. Fits
Finish
9217-4 1936-52 WL, 1941-1948 FL
9217-4T 1936-52 WL, 1941-1948 FL
9218-4 6033-30
2749-4 6033-30
9508-4 1936-52 WL
9508-4T 1936-52 WL
2750-4 Pinch Bolts, 1937-39 WL
9508-4T
9217-4T