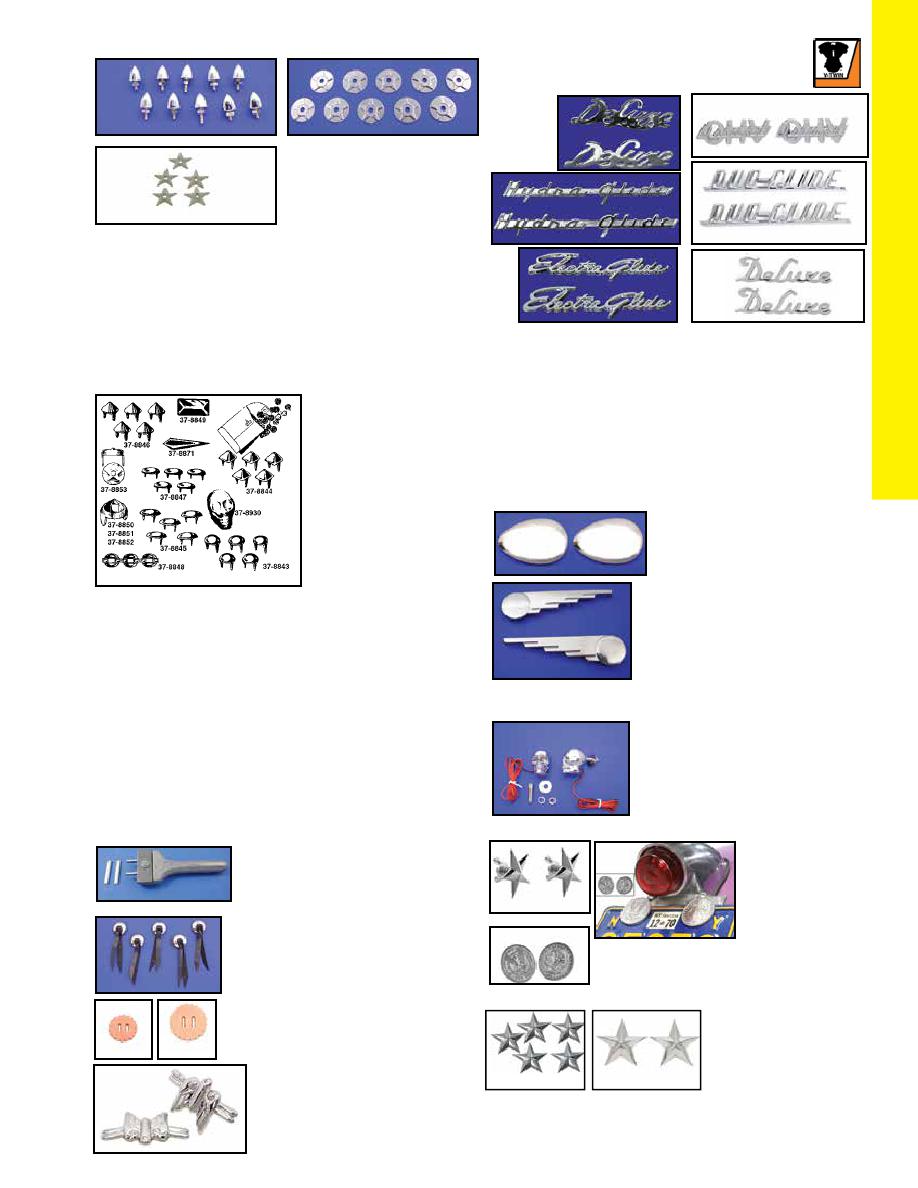 773
CLASSIC
Decoration
Bright Nickel Spots.
VT No. Size Shape
37-8843
37-9036
37-9345
37-9346
37-9037
37-8847
37-8844
37-9038
37-8845
37-9039
48-1893
Bright Nickel Spots.
Original styles of the 1940's
to dress up riding belts, sad-
dlebags, seat skirts, leather
or vinyl. All shapes have two
fastening tabs for mounting.
Order the hand spot tool for
exact spacing and ease of
installation. Dealer packs of
50 pieces per type except
VT No. 37-8930 sold as
pack of 10.
Speed Ball Wings are polished
stainless steel as original, attaches
to leather by prong tabs or studs.
VT No.
Type
48-0031 Tab Type
48-0032 Stud Type
48-1647 Stud, Mini
48-0932 Cast Wing Set
Hand Spot Tool replaces factory
accessory tool 98930-46 to install
spots evenly spaced.
VT No. 16-0966
Nickel Spoons for dress up or
replacement on saddlebags. Sold
in pairs.
VT No. 37-8927
Emblem Sets attach to fender as original accessory, but can
be mounted to fenders and saddlebags, sold as pair.
VT No.
Finish
Type
38-6674 Nickel Deluxe
38-0923
48-1646
38-6675
38-6676 Chrome Hydra-Glide
38-6680 Chrome Duo-Glide
38-6555 Chrome Electra-Glide
37-8842* —
*Note: For VT No. 38-6680.
Krommets are available in traditional gold, chrome type or 10
point, 10 pack, ¹⁄₄" - 20 thread.
VT No. Item
37-1954 Star Washer
37-0503 Chrome Rocket with Fins
37-0501 Chrome Krommets
37-0502 Gold Krommets
48-0074 Chrome Star, 5 pk
48-1433 Chrome Concho
37-0501
37-1954
Conchos
VT No. Concho
48-0122 Black Leather/Nickel w/tails
48-1667 Natural Leather/Rosette 1³/₄"
48-1668 Natural Leather/Rosette 2"
48-0198 Brown with Nickel
48-1433 Chrome Concho
Skull Krommets feature LED eyes,
pair.
VT No.
Color
33-0857 Red
37-9076
VT No. Size Shape
48-1196
37-9040
37-9041
37-8846
37-8848
37-8849
37-8850
37-8853
37-8930
37-9159
37-8871
37-0064
38-6674
38-6676
38-6680
38-6555
38-6675
48-0074
Chrome Star Stud with
stud back.
VT No. Item
48-1893 5 pieces, small
48-1652 3.75" large, pair
38-0923
Deco 2" Set with
stud back.
VT No. Item
48-1656 Star
48-0133 Silver Dollar

48-1656
48-0133 Installed
48-0133
48-1893
48-1652
Wing Fender Tip Ornament for
front fenders.
VT No. 48-1434
48-1667 48-1668