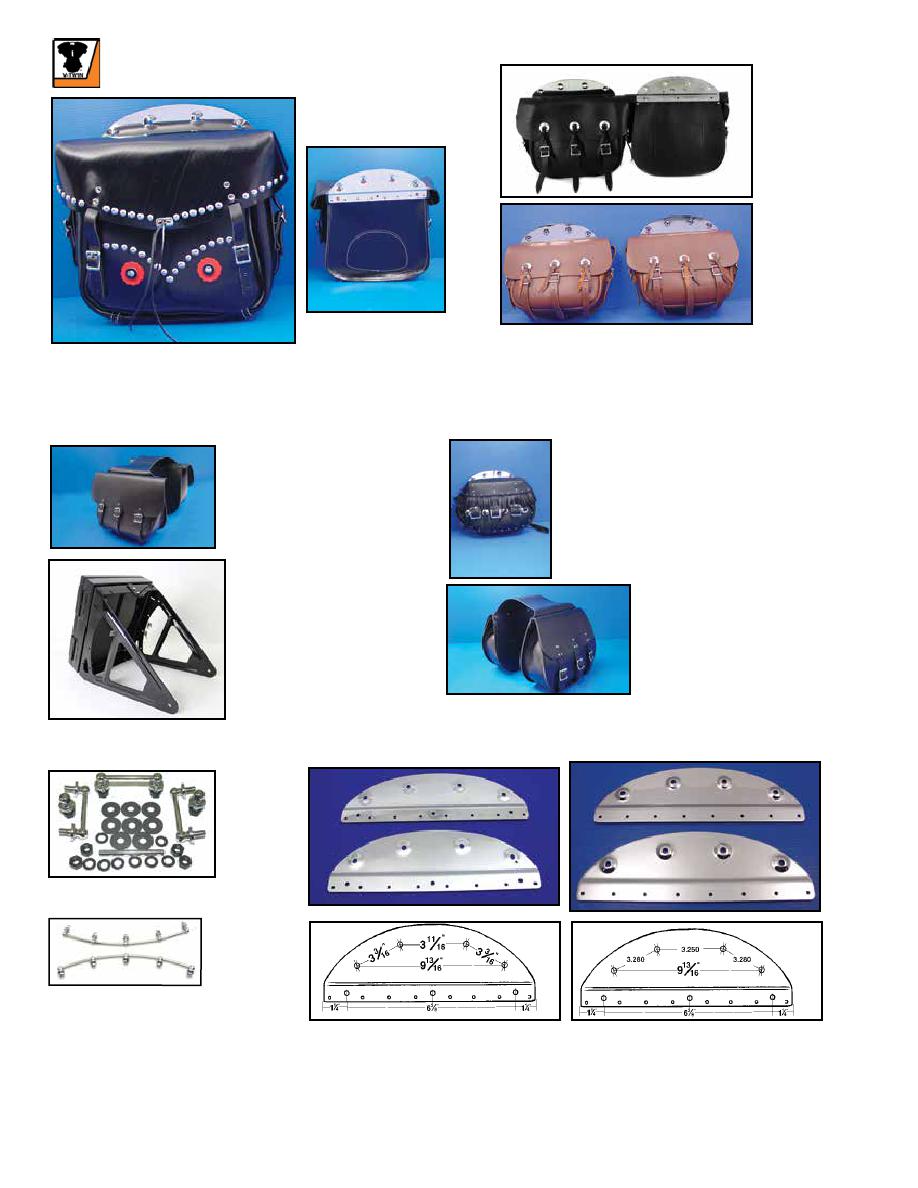 772
772
Loctite Style
48-0189
Saddlebag Mounting Plates are chrome for 1936-57 rigid
rear fenders, exact stamped as original. Order chrome acorn
mounting bolts separately.
VT No. Type
48-0176 Mount Plate Set
48-0189 Mount Plate Set
8205-8
48-0176
Black Leather Saddlebag Sets is complete
with chrome mounting plates, for rigid or
swing arm mounting, conchos, fringe and
chrome rivets. Bags are suited for a later
1950's restoration or for a nostalgic late
model dress up on 1936-57 Rigid models.
Measure 19" long x 5" width x 12" height.
VT No. 48-3120
48-3120
Saddlebag Set
48-0176
Loctite Saddlebag Sets recreated as on 1946-48 models,
include chrome plates to fit all rigid frames. Replaces 11785-
43 in heavy black leather with orange rosettes. Unique design
lid keeps bags closed and in shape. Measure 16" L x 5" W x
14" H.
VT No. 48-3156
48-0189
Saddlebag
Mount Bars
include four
bar sets with
stanchions.
VT No.
2634-12T
Saddlebag
Plate Rail Set.
VT No. 50-1562
1936 Style Knucklehead Saddlebag Sets. Conchos and a
five strap closure decorate these bags which are restoration
quality for all 1936-46 Rigid. Include chrome mounting plates.
Measure 14³⁄₈" length x 5" width x 12" height.
VT No.
Color
48-3121 Black
48-3144 Brown
48-3121
Large Three Buckle Thro-
Over. All bags glued, sewn
and riveted. Available black
only. Measures 13" Long x 5"
Wide x 12" High.
VT No. 48-3128
Black X-Large Three Buckle
Thro-Over measures 14
x 6" Wide x 12" High.
VT No. 48-3127
48-3144
Rear Luggage Carrier Black
"New Old Stock" Big Twin one
piece rigid frame rear luggage
carrier has a civil defense box
attached, and features a gloss
black finish.
VT No. 49-0261