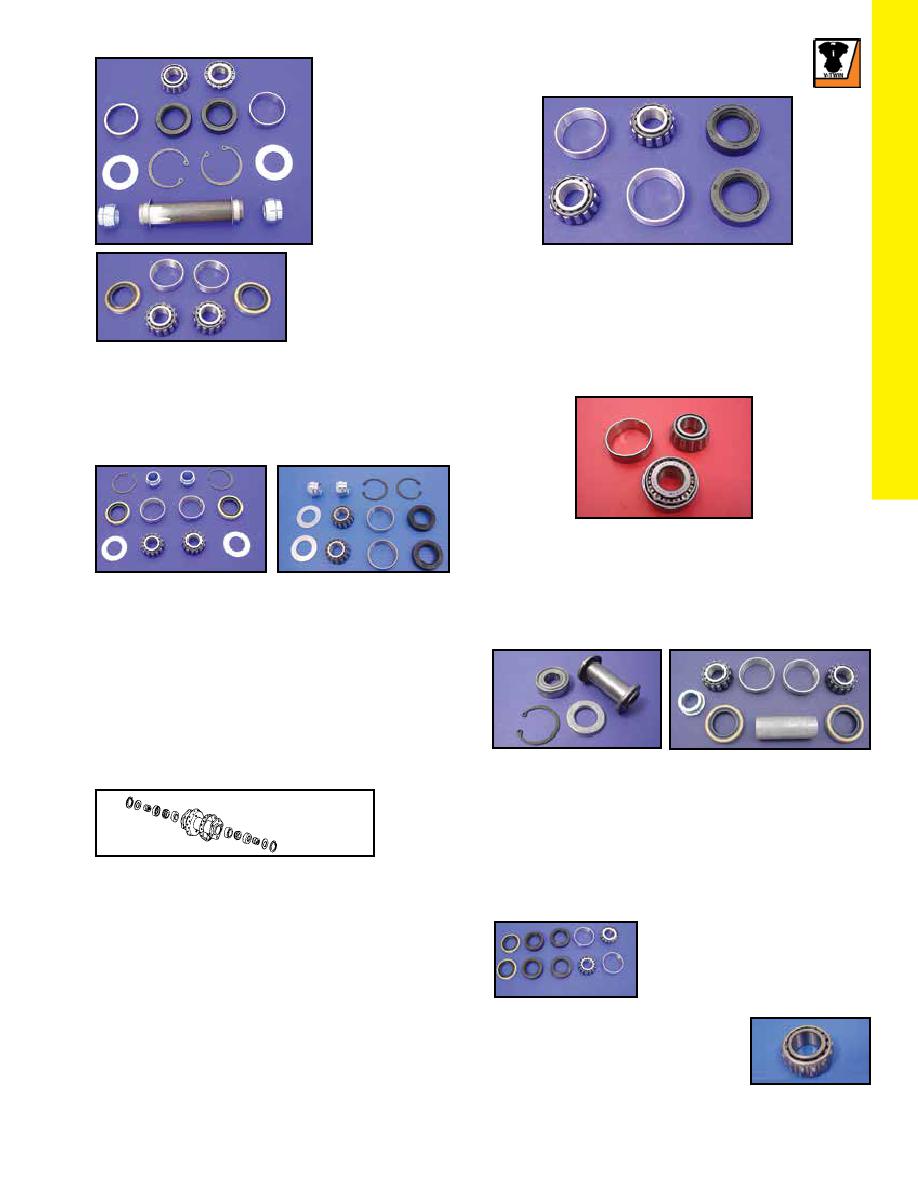 763
CLASSIC
1973-up Big Twin Hub Rebuild Kits contains bearings, races,
seals, snap rings, seal retainer washers and seal spacers. Hub
and internal bearing spacer not included.
VT No.
Fits
44-0450 1973-79 FL Cast Wheel Front/Rear

1973-83 All FX's Cast Wheel Rear Only
44-0451 1973-83 FL Laced Wheel Front & Rear

1980-83 FL Cast Wheel Front & Rear
44-0409 1973-82 FX-FXE-FXEF-FXEF-80-FXE-80

FXWG Laced Wheel Rear Only
44-0452 1982-83 FXWG, 1982 only FXS-80 Laced Wheel

1982-84 FXR-FXRS Laced Wheel Rear Only
44-0454 1982-83 FXR-FXRS Cast Wheel only
44-0450
44-0451
Hub Rebuild
Front Wheel Bearing, Race and Seal Kit contains two each,
bearing, race and proper seals. Three kits available.
VT No. Fits
44-0415 1980-83 FXWG laced

44-0416 1973-79 FLH cast

1973-83 FX-XL cast or wire
Bearing Kit includes two tapered bearings and two races
replacing 9052 for wheel 1973-99 Big Twin swing arm 1958-
85.
VT No.
Item
U/M
44-0425 Four Piece Kit
44-0405 Race and Bearing
44-0406 Bearing Only
44-0407 Race Only
Front Wheel Assembly Kit for steel hubs only. Contains two
each, bearing, race, seal and one each correct seal spacer.
Also included for certain applications only are two each snap
ring and seal retainer washers. Not included in this kit is the
internal bearing spacer. This may be ordered separately.
Check listing.
VT No.
Wheel Fits
44-0450 Cast
44-0451 Wire
44-0425
44-0415
FX-FXE-XL FXR Front Internal Hub Kit includes all internal
parts for complete rebuilding of all alloy front hubs. Includes
inner spacer, bearings, races seals and seal spacer matched
for each year group. Hub is not included.
44-0403
44-0400
VT No.
Fits
44-0418 1982 FXR laced wheel

1973-82 All FX-FL models with
Laced wheel and 1980-82 FL cast wheel
44-0419 1973-84, All FX models with laced wheel and

1979-82 XL cast or wire wheel
44-0418
44-0426
Rear Hub Rebuild con-
tains all internal parts
including longest length
inner spacer (white
4.4480"). Spacer can
be cut down or collar
removed for some appli-
cations. Fits 1973-82
FL-FX.
VT No. 44-0426
VT No.
Type
Fits
44-0403 Drum
1964-72 XL-XLH, 1971-72 FX
12-0906 Drum
44-0402 10" Disc
44-0401 11" Disc
44-0400 Dual Disc
Wheel and Swing Arm Bearing
and Seal Kit is a deluxe kit which
includes 2 of each type of seal for
1958-71, 1972-82, 1983-99 year
group of swing arm and wheel bear-
ing application, with two tapered cone bearing assemblies.
VT No.
Item
44-1976
12-0382
12-0381
12-0393
Bearing and Race Kit, Two piece
12-0787
Bearing and Race Kit, Four piece
12-0382
44-1976
Rear Wheel Bearing Race
and Seal Kit. Three kits avail-
able for mag and wire wheel
applications. Each kit includes
two each bearing, race and
proper seals.