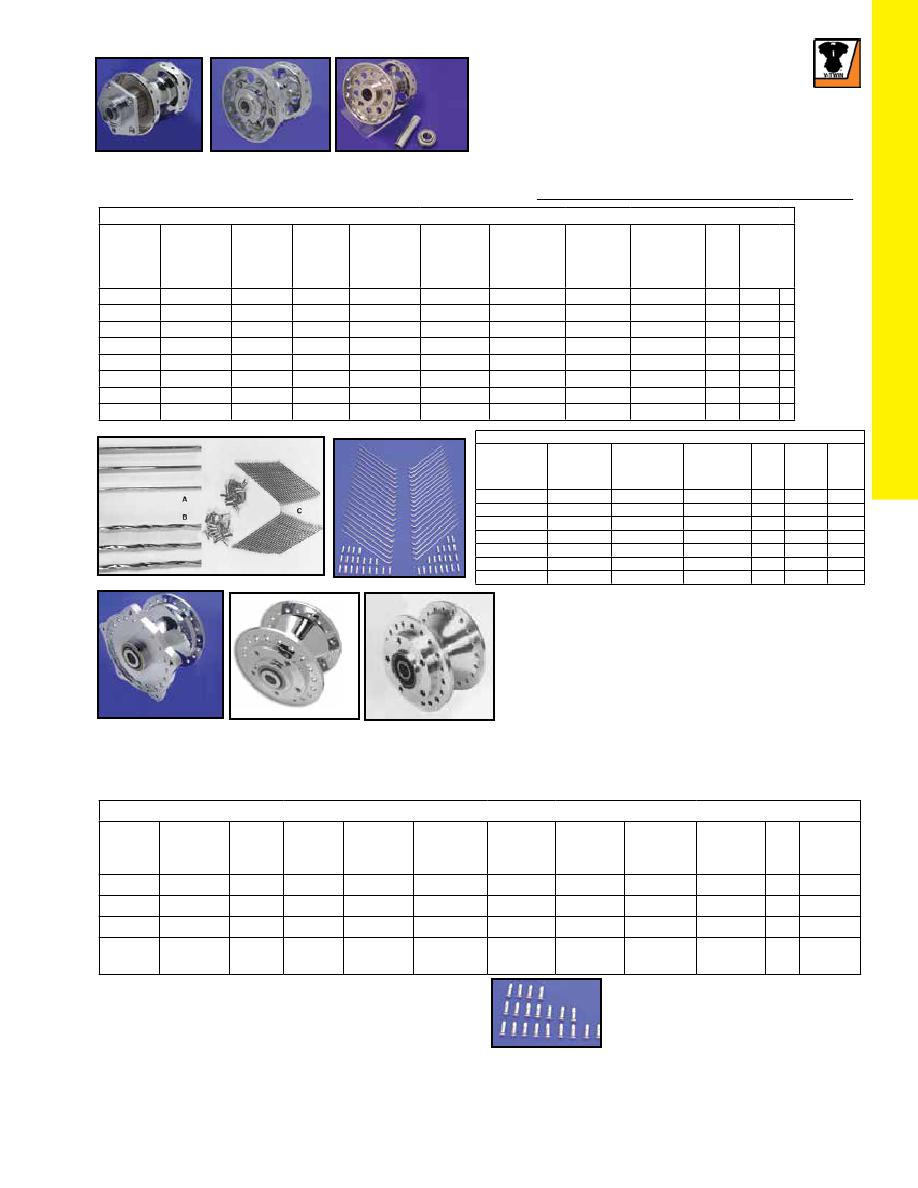 757
CLASSIC
Spoke Sets for Alloy Front Disc Spools
Perma
Chrome
Cadmium
V-Twin
Chrome
V-Twin
Chrome
Twirled
V-Twin
Chrome
Twirled
Buchanan
Stainless
Twirled
Buchanan
Chrome
Diamond
Buchanan
Chrome
Rippled
Buchanan
Stainless
V-Twin
Stainless
Buchanan
Size Rim
Type
45-0606
45-0631 45-0155
45-0623 45-0705 45-0676
45-0699
45-0683
45-0714
45-0660
45-0751 45-0606
45-0701
45-0687
45-0755
45-0662
45-0611
45-0612**
Note: 5
All Spokes Listed Are 6-8 Gauge
Notes:
1. Fits Disc Type Spool Hub Only
2. Fits Drum Type Spool Hub Only (Cross 3)
3. VT No.45-0409 is Hand Polished
4. Use with rim 52-0435
5. Fits1995-up FXD-XL Applications.
*Note: Rim Type Drop Center = DC or Conventional = C
**Note: Polished Stainless Steel Spokes.
Flat Flanged Hubs. Front and rear hubs (45-0317, 45-0670, 45-0330, 45-0306 with horizontal flanges) including 1936-84 FL-FLH
front and rear, 1973-84 FX-FXE rear, 1954-99 XL Rear, 1984-95 FLST-FXST-FXDWG front or rear, 1996-up FLST-FXST alloy rear,
1986-up FLT rear, 2000-up XL alloy rear and 1996-up Dynaglide alloy rear.
All Spokes Listed Are 6-8 Gauge with short shank.
Twirled-Diamond-Stock
are noted as the following:
B Twirled Buchanan
B Twirled v-Twin
A Diamond Buchanan
C Ripple Style
45-0673
45-0409
Spoke Set Chart
Spoke Sets for Flat Flangef Hubs
Chrome
Rippled
Buchanan
Stainless
V-Twin
Stainless
Buchanan
Cadmium
Plated
V-Twin
Rim
Size
Rim
Type*
Note
45-0731
45-0409** 45-0651
45-0710
45-0748** 45-0652
45-0798
45-0955 45-0656
45-0764 45-0653
45-0764 45-0654
45-0768 45-0674
45-0713 45-0655
6/8 Gauge Nipple 40 Piece Set.
VT No. Type
45-0626 Standard, Chrome
45-0160 Standard, Cadmium
45-0680 Standard, Stainless
45-0749 Standard, Chrome
45-0521 Extended, Chrome
45-0781 Extended, Chrome
45-0782 Extended, Stainless
45-0626
Spoke Sets for Flat Flange Hubs
Chrome
V-Twin
Chrome
Buchanan
Perma
Chrome
Chrome
Twirled
V-Twin
Chrome
Twirled
Buchanan
Stainless
Twirled
V-Twin
Stainless
Twirled
Buchanan
Chrome
Diamond
V-Twin
Chrome
Diamond
Buchanan
Size Rim
Note
Type*
45-0620
45-0621 45-0720
45-0632 45-0703 45-0675
45-0709
45-0682
45-0762
45-0765
45-0601 45-0721
45-0610
45-0602
45-0727
45-0729
45-0767 45-0728
45-0603
45-0633 45-0706 45-0677
45-0726
45-0716
45-0684