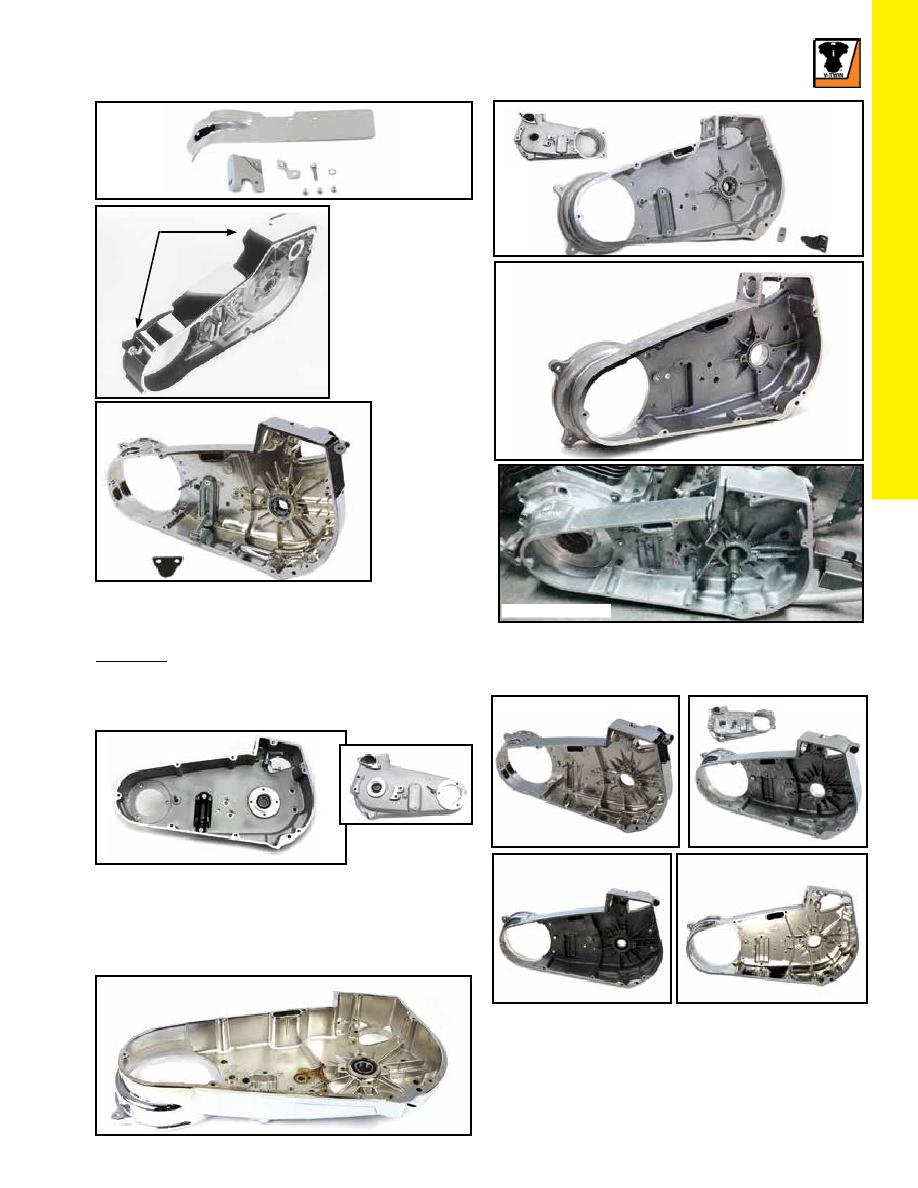 751
CLASSIC
43-0147 FL Type
FX-FLH 4 Speed Cast Inner Primary Cover available with or
without bearing installed.
Without With
OEM
Finish
Fits
43-0202 43-0675 60441-82A Chrome
43-0195 60619-70 Polished
43-0147 43-0677 60619-70 Chrome
Without Shift Shaft Hole
With Shift Shaft Hole
43-0202 FXE
Inner
Primary
Assembled
with all
compo-
nents
pictured!
43-0352
1970-85 FX and 1970-84 FL Complete Inner Primary
Housing Assembly for 4 Speed models includes die cast inner
cover in chrome or polished finish, bearing, seal, chain ten-
sioner, detent plate, vent tube, chain oiler tube, and drain plug.
Assembled. Note: Use starter 43-9122 housing for Hitachi and
43-9123 for Prestolite applications. Natural finish.
VT No.
Year/Model
43-0352 1970-85 FX
43-0353 1970-84 FLH
Chrome Inner
Primary Trim easily
adapts to stock cast
inner primary without
complicated disas-
sembly. Fits 1970-84
FX-FL.
VT No. 42-0314
Chrome Inner
Primary Trim
42-0314
Inner Primary is cast construction with natural finish as stock
replaces 60617-65A. Order mounting hardware & bearing sep-
arately. Fits 1965-69 Big Twin.
VT No.
Item
43-0988
17-0510
Inner Primary Cover 1965-84
43-0146
43-0988
43-0195
43-0492 Installed
43-0492
FXE-FLH Cast Inner Primary Cover for 4-Speed models.
VT No. Year/Model
43-0384 1971-84 FXE
43-0492 1970-84 FLH
43-0384
43-0675