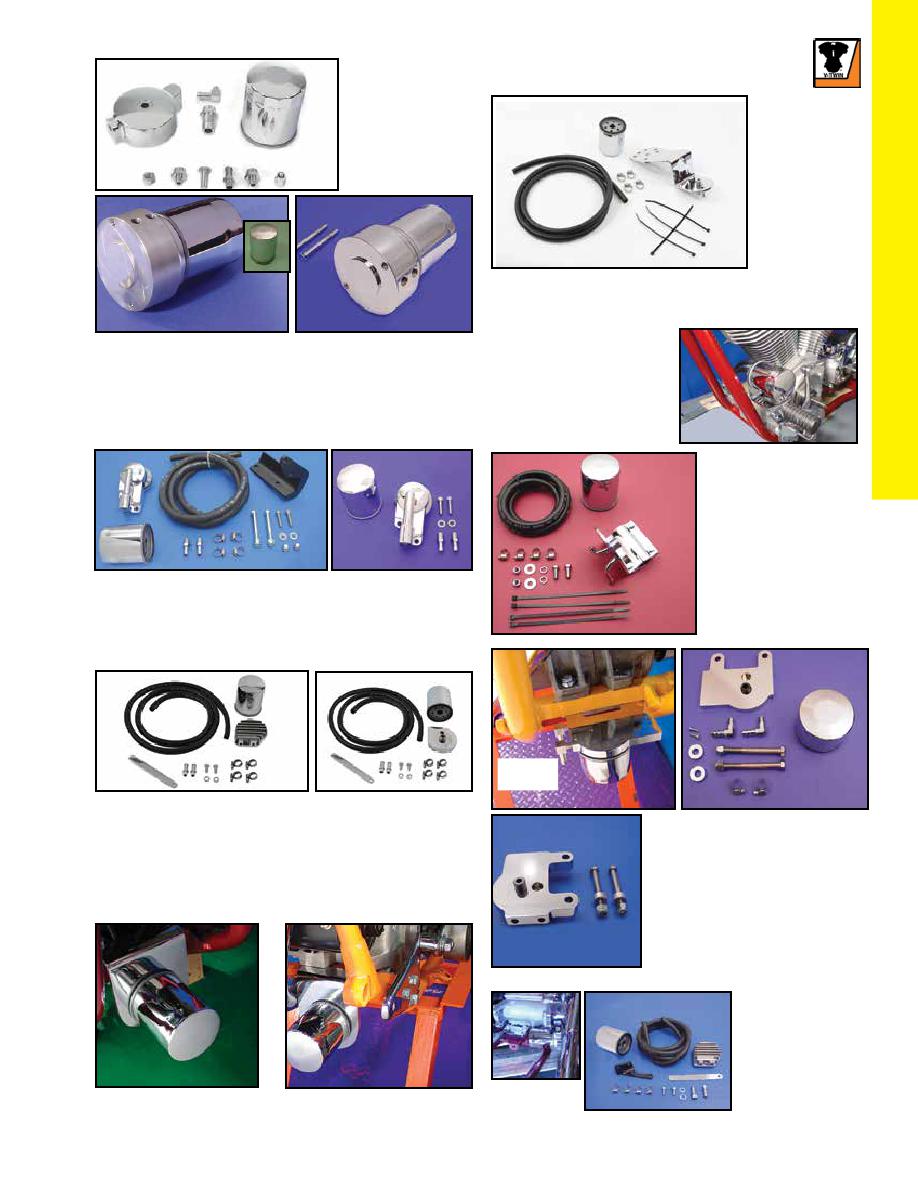 747
CLASSIC
Early Style Oil
Filter features a
chrome spin on filter.
VT No. 40-0796
FXST Style Oil
Filter Kit features
bolt on mounting
behind shift plate.
Big Twin frames
with 1970-up
Shovel or Evo
engines. Can be
used as an easy
access auxiliary
unit in addition to
filter in tank. Bracket is replica of 1984-99 FXST type replac-
ing 63802-84. Oil spigots are copper, brazed in a vacuum for
lasting durability. Includes chrome filter and 6 feet of rubber
hose with clamps.
VT No.
Item
40-0100 Complete Kit
40-0709 Chrome filter
40-0708 Black filter
40-0100
Pura-Flo Universal Clamp
on Oil Filter Kit includes
filter and hose.
VT No.
Item
40-0850 Kit
40-0709 Filter
Generator Oil-Filter Adapter bolts in place of 2 brush gen-
erator or alternator generator Big Twin case conversions, use
40-0709 filter.
VT No. Item
Finish
40-0315 Adapter
40-0316 Adapter
40-0709 Chrome Filter
Filter sold separately
40-0709
Pura-Flow Chrome Oil Filter Kit for 1936-99 Big Twins.
VT No.
Fits
40-0096
40-0709
40-0098
40-1257
Installed
40-0096
40-0096
Universal Oil Cooler-Filter Kit includes chrome spin on filter,
finned mount flange, with hose and clamps.
VT No. Item
Finish
40-0098 Filter Kit
40-0952 Filter Kit
40-0709 Filter only
40-1270 Nipple
31-2131 1" Frame Clamps
Transmission Mount
Oil Filter fits 4 speed
models. Black brack-
et and chrome filter
included.
VT No. 40-0748
Oil Filter
40-0316
40-0100
40-0952
40-0091
40-0093
Front Mount Filter Unit incorpo-
rates filter and regulator mount for
1975-99 Big Twins and 1986-99
FXST-FLST models. Includes filter,
chrome billet base and hose fittings.
VT No. Item
40-1257 Complete Kit
40-0711 Chrome Filter
40-0798 Kit with Filter
37-0966 Bolt Set
40-0798
40-0748
Oil Filter, Housing and Bracket Kit features 92-up style
location, to fit 70-84 Big Twins nose cone motors when using
an outside frame front pipe. Mounts under front motor mount.
VT No. Item
40-0091 Kit
40-0093 Housing