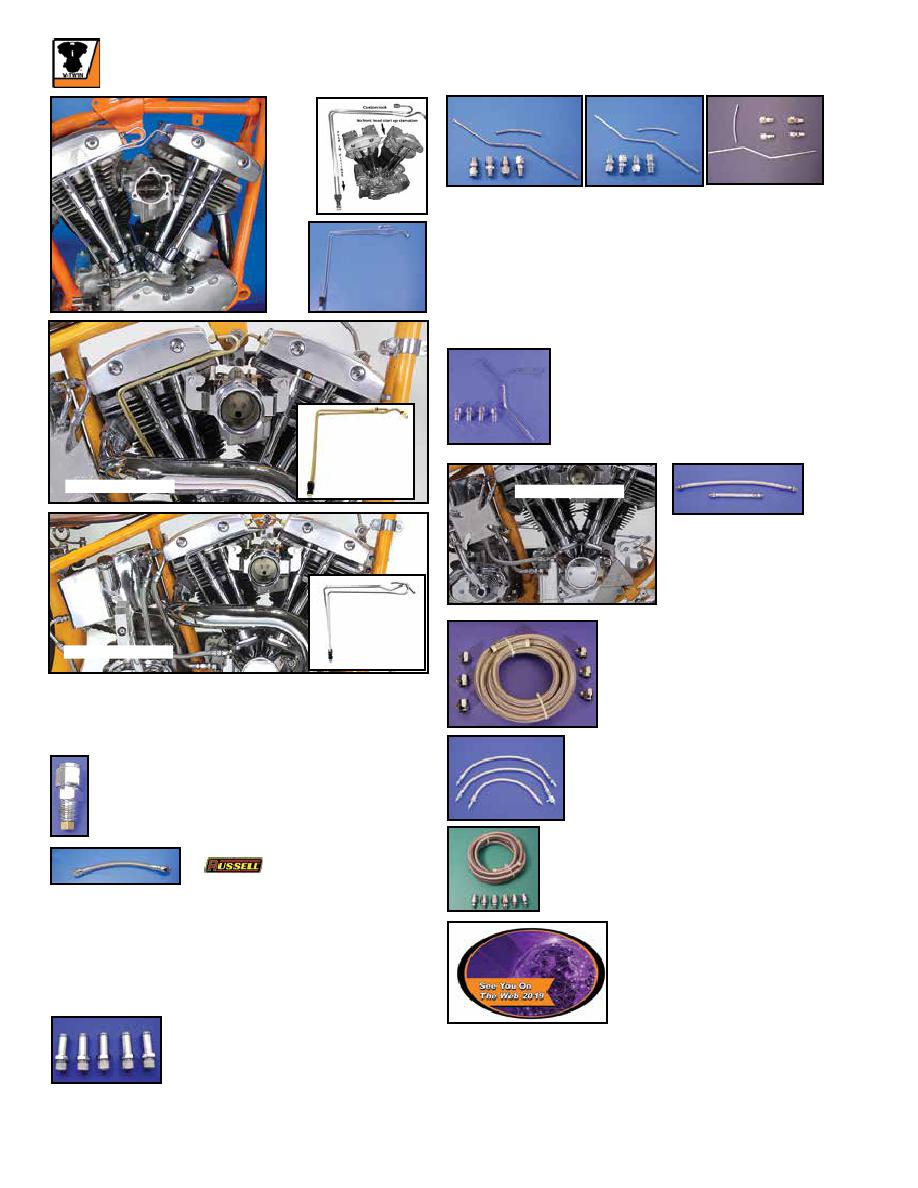 744
Overhead Stainless Steel
Braided Rocker Arm Oil
Lines fits 1966-84.
VT No. 40-0241
Chrome Oil Line Sets for rocker boxes which include fittings
and seals.
VT No. Years
Model
Finish
40-0114 1966-84 Shovelhead Chrome
40-0127 1966-84 As Above
40-0130 1966-84 Stroker
40-9986 Fittings Set (4)
40-1008 Fittings
14-0147 63529-57 Seals only, 100 pack
14-0189 63529-57 Seals only, 50 pack
40-0114
40-0130
40-0127
Top End Oil Restrictor for Shovelhead Engines.
Special fitting that uses a #100 jet to control oil flow on
1966-84 Big Twins. Installs in engine case where the
top end oil line feeds.
VT No. 40-0050
Rocker Box Oiler 1966-84
40-0203
Stainless Oil Line Kit includes one
10' x ³⁄₈" braided hose, six chrome
VT No. 40-0418
Compression Fitting and Hose Kit includes
six reusable compression fittings with ¹⁄₈" NPT
threads for oil pumps and tanks, and ten feet
of ³⁄₈" stainless steel braided hose.
VT No. 40-0459
Shovelhead Chrome Rocker Box Lines
for 1966-84 Big Twin by Sifton
an updated fitting design for ease of instal-
lation.
VT No. Type
40-0180 Stock
40-0130 Stroker Extended
Russell Universal Pro System Oil Lines features a unique
compression fit sealing system which ensures a positive seal
on ³⁄₈" barbed type oil pump or oil tank fittings. Lines are cov-
ered with braided stainless steel wire which is crimped on the
chrome ends. Sold each. Use with 40-0566 fitting.
VT No.
Length
40-5010 8"
40-5017 15"
40-0566
40-5010
40-9995
Chrome Steel Braided Oil Line Set
without elbows fits 1968-80 Shovelhead
4-Speed models, with stock oil tank and
inner primary.
VT No. 40-9995
40-0241 Installed
Rocker Box Line Kit includes "T". Fits 1966-84 Shovelhead.
VT No. Finish Size
40-0203 Chrome 3mm
40-0235 Brass 6mm
40-0237 Chrome 6mm
40-0235
40-0237
40-0237 Installed
40-0235 Installed
Oil Line Fittings for ³⁄₈" stainless
hoses, feature 1/8" NPT threads.
Sold as a pack of six fittings.
VT No. 40-0983
Oil Pump/Tank Fitting.
VT No. 40-0566