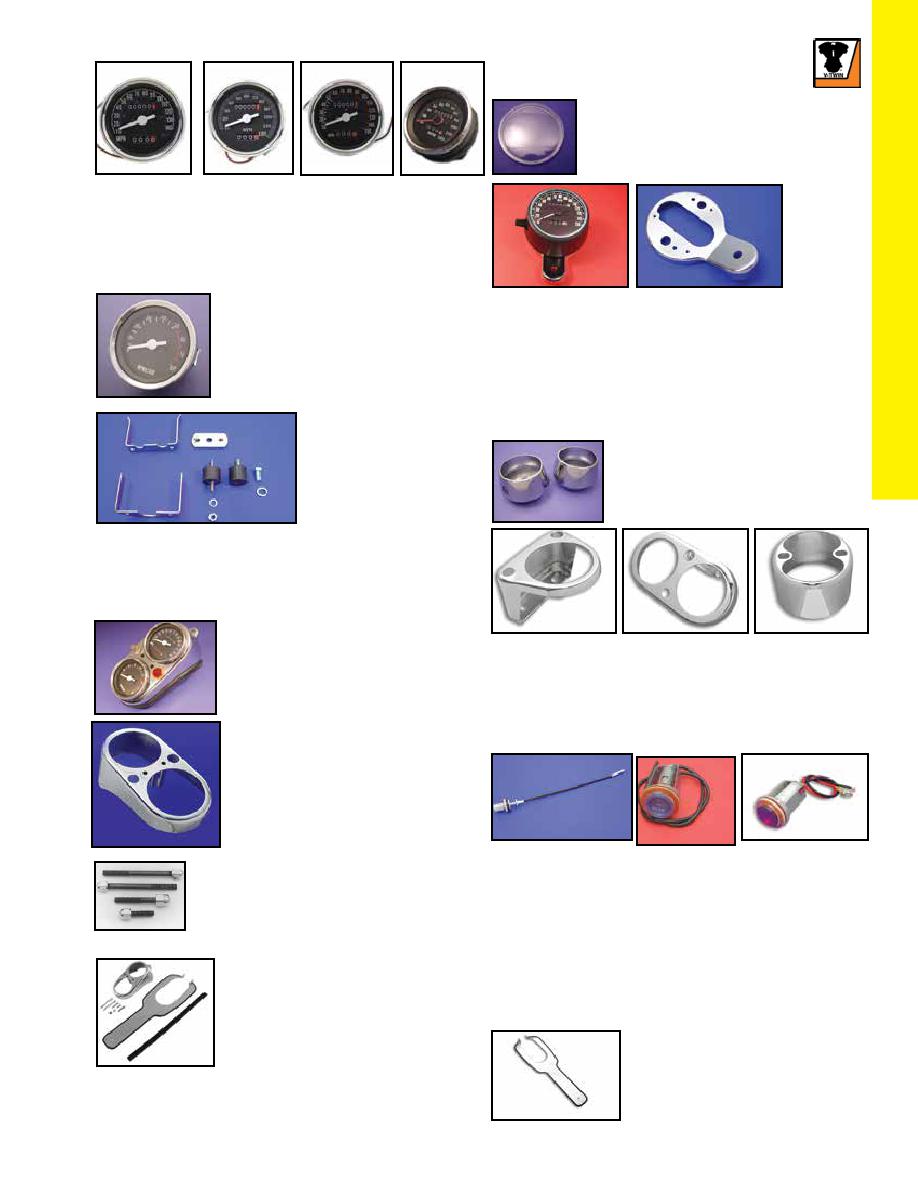 733
CLASSIC
Speedometer and Tachometer Brackets.
VT No. Use
39-0143 Single Gauge Housing for 1973-up FX
39-0139 Speedometer & Tachometer Housing for 73-82 FX
39-0140 Cup for Speedometer and Tachometer,

31-3963 Chrome Tachometer Bracket, 1974-84
39-0143
39-0139
39-0140
FX Dash Mount Hardware
for 1977-84 gauges on
FX-FXE or use speedome-
ter and tachometer brackets
38-0212, 38-0213 to mount
gauges in other types of
housing.
VT No. # Item
28-0619 A Iso Mount ⁵⁄₁₆
28-0546 B Iso Mount ¹⁄₄
38-0212 E Speedometer Bracket
38-0213 F Tachometer Bracket
39-0120 A-F Dash Mount Kit
Complete Dash Assembly for 1977-
84 FXS includes chrome cover, electric
tachometer, speedometer drive, trip cable,
indicator lamps, mount hardware and
cable.
VT No. 39-0177
Chrome Center Tank Panel for the split
tanks of 1977-84 FXS-FXSB-FXEF-FXB.
models.
VT No. 39-0104
FXS Chrome Dash Screws fit 1977-85 low
rider models, four piece sets are available in
acorn or allen type screws.
Acorn
Allen
Acorn Allen
8016-4
37-0441
8775-4
8775-4T
Reset Cable and Knob replaces 67210-73. Used on all 1973-
up FX except 1981-82 FXWG and late 1984-up FXE-80 models.
VT No. 39-0121
High Beam Blue Indicator Lamp with two wire leads. Use on
all 1977-up FXS, all FX models, 1980-82, FXE-80 and 1980-up
FXWG.
VT No. 39-0122
Red Generator Lamp with two leads fits 1972-74 FX, 1977-85
FXS.
VT No. 33-1962
FX Gauge Housing fits 1977-84 FXS-
FXEF-FXB models. Order rubber gap seal
separately.
VT No.
Item
39-0117 Chrome Dash
28-0540 Black Gap Seal
37-9063 Dash Cover Plug, chrome
39-0233 Black Dash
39-0117
Speedometer Heads fit front wheel drive.
VT No. Type
Model
39-0335 0-140 MPH 1976-83 FX-FXE-FXS

39-0389 10-120 MPH 1973-83 FX
39-0319 10-150 MPH 1973-83 FX
39-0933 10-120 MPH 1983-94 FXRT
Replacement Clear Lens replaces fogged,
cracked or broken lenses on stock gauges
for 1982-83 FXR models. Cut off old lens and
plastic-seal new one in place. Sold each.
VT No. 39-0391
39-0319
39-0389
39-0335
Replacement Electric Tachometer
reads 0-8000 RPM
. Order lamp separate-
ly. Replaces 92042-78A. Fits L1978-84
FX-FXE-FXS. The bezel has an outside
diameter of 3.42".
VT No. 39-0318
Tachometer and Speedometer Covers
are formed to fully cover plastic encased
instruments on 1982-83 FXR models.
VT No. 42-0350
A
E
B
39-0120
Complete
Kit
D
F
39-0121
39-0122
33-1962
Chrome Dash Dress Up Kit includes
dash, panel, rubber strip and chrome allen
screws. Fits 1977-84 FXE-FXS.
VT No. 39-0912
Re: 2:1 and 2240:60 MPH Speedometer
The Difference is in the RPM.
For example, 2:1 is 60MPH = 2000 RPM and 2240:60 is
60 MPH = 2240 RPM
39-0933
FX-FXRS Gauge
Speedometers are the black plastic style. Complete units
include bracket. Bracket, replacement plastic lens, and fork
tube plugs to accept bracket mounting are sold separately.
VT No. Fits
Item
39-0372 10-150 MPH/
1982-83 FXR-FXRS Speedometer
31-3964 67316-74
39-0391
Clear Plastic Lens only, each
33-0133 71090-64
31-3964
39-0372