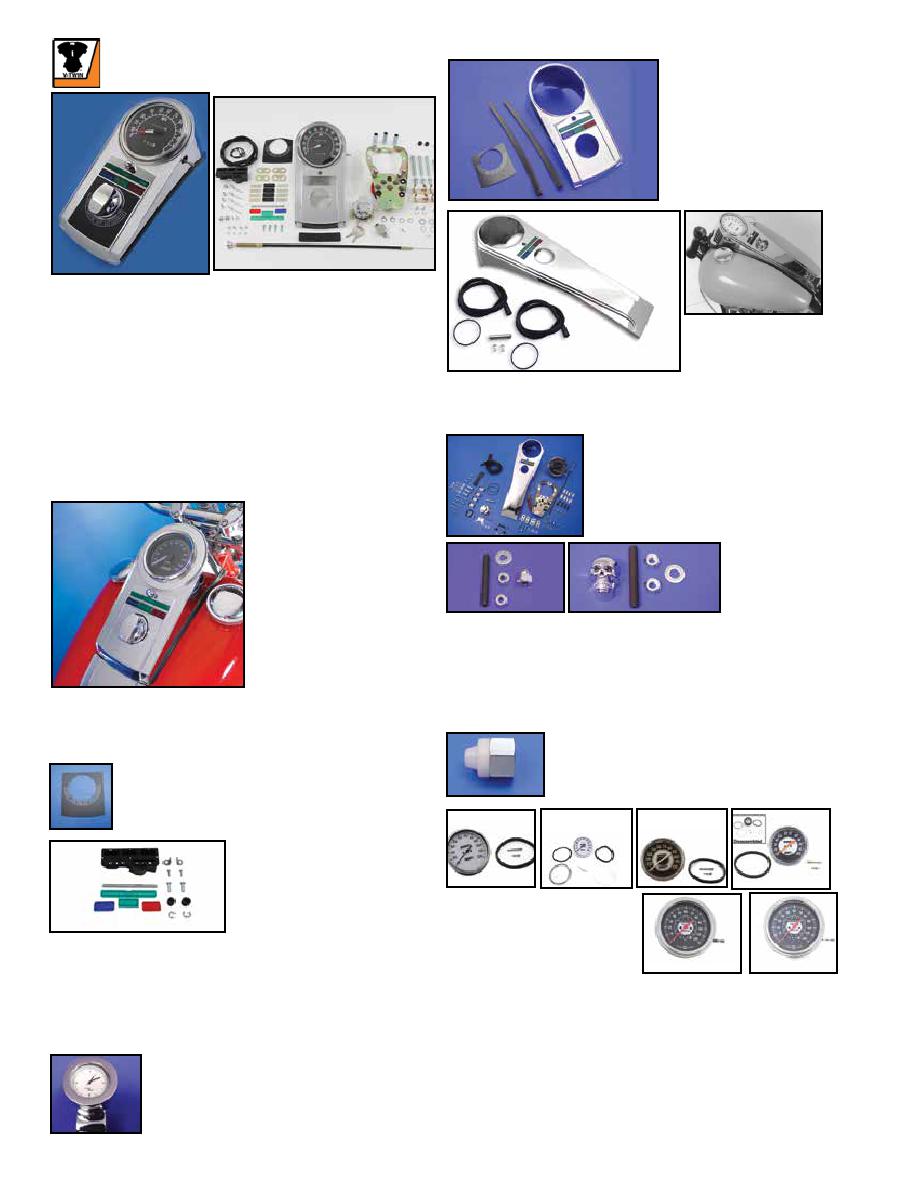 728
Chrome Long Rider Dash Panel is constructed of ABS plastic.
and fits bobbed tanks on 1968-95 FLH-FXWG-FXST models.
Rubber strip included.
VT No. 39-0450
Speedometer Adapter Ring
adapts to late model speedom-
eter into FLH style steel dash
cover. FLH Dash is shown
with adapter ring installed VT
No. 39-0130, adapter ring
must be affixed with an indus-
trial adhesive for a leak proof
seal. VT No's 39-0124 and
39-0192 include chrome ring
and bracket to mount electron-
ic speedometer in FLH style
dashes.
Dash Assembly
Chrome Cast Dash Panel
includes lens set for 1968-
90 models.
VT No. 39-0383
39-0383
FLH Dash Kit features chrome cast dash with lens and
hardware, 6-post switch, choke cable and knob, all mounting
hardware and trim strips. Stock on 1968-84 FLH. Can be
adapted to all 3.5 or 5.0 gallon tanks. Dash base has wiring
and sockets. Choose the proper speedometer cable for each
application.
VT No.
Type
39-0913
39-0914
39-0972
As Above without Speedometer
39-0967*
As Above without Speedometer
39-0919
39-0920
*Note: Includes plain unwired dash base.
39-0914
Chrome Dash Mount Stud Kit includes stud, nuts, nylon
washer and either skull or acorn nut kit. Fits 1968-up cast dash
panels on FXST-FL-FXWG when choke cable is not used.
VT No.
Type
37-9121 Acorn
37-9122 Skull
37-0573 Stud only
37-9121
37-9122
Choke Cable Nut Kit includes nut, and seal
for dash mounted choke on FL-FXWG-FXST
models.
VT No. 37-8942
39-0974
Late Dash Parts. Pieces fit late cast dash panel 1968-95
FLH-FXWG-FXST.
VT No.
Item
39-0345 Support
39-0347 Retainer
39-0348 Lens clip
1975-95 Dash Hardware Kit
includes parts pictured to fit
the FLH-FXWG-FXST cast
type dash, stock or
39-0383.
VT No. 39-0382
Dash Panel Decal fits 1979-93 FL-FLH-FXWG
models. Has a black matte finish, and an adhesive
back, 5 pack.
VT No. 48-0423
Chrome Billet Clock Assembly fits ⁷⁄₈" or 1"
handlebars.
VT No. 39-0785
39-0382
Long Rider Dash Kit with speedome-
ter and switch for 1948-95 Big Twins.
VT No.
Ratio
39-0973
39-0974
5" Fat Bob Speedometers
Unassembled Assembled Face Glass Needle Ratio MPH
39-0480
39-0487
39-0481
Bull Eye Dome White 2:1 120
39-0482
Police
39-0862
39-0868 39-0070 Police Flat Red 2:1 120
39-0864 39-0072 Police Flat Red 1:1 120
*Note: Personalized by Motor Shop
39-0450
39-0914
39-0480
39-0487
39-0481
39-0482
39-0070
39-0072
VT No. Fits
39-0130 FLH type, chrome
39-0124 1995-up XL and FXD includes mount bracket and
adapter ring to fit 2 or 3 light dash and cast dash.