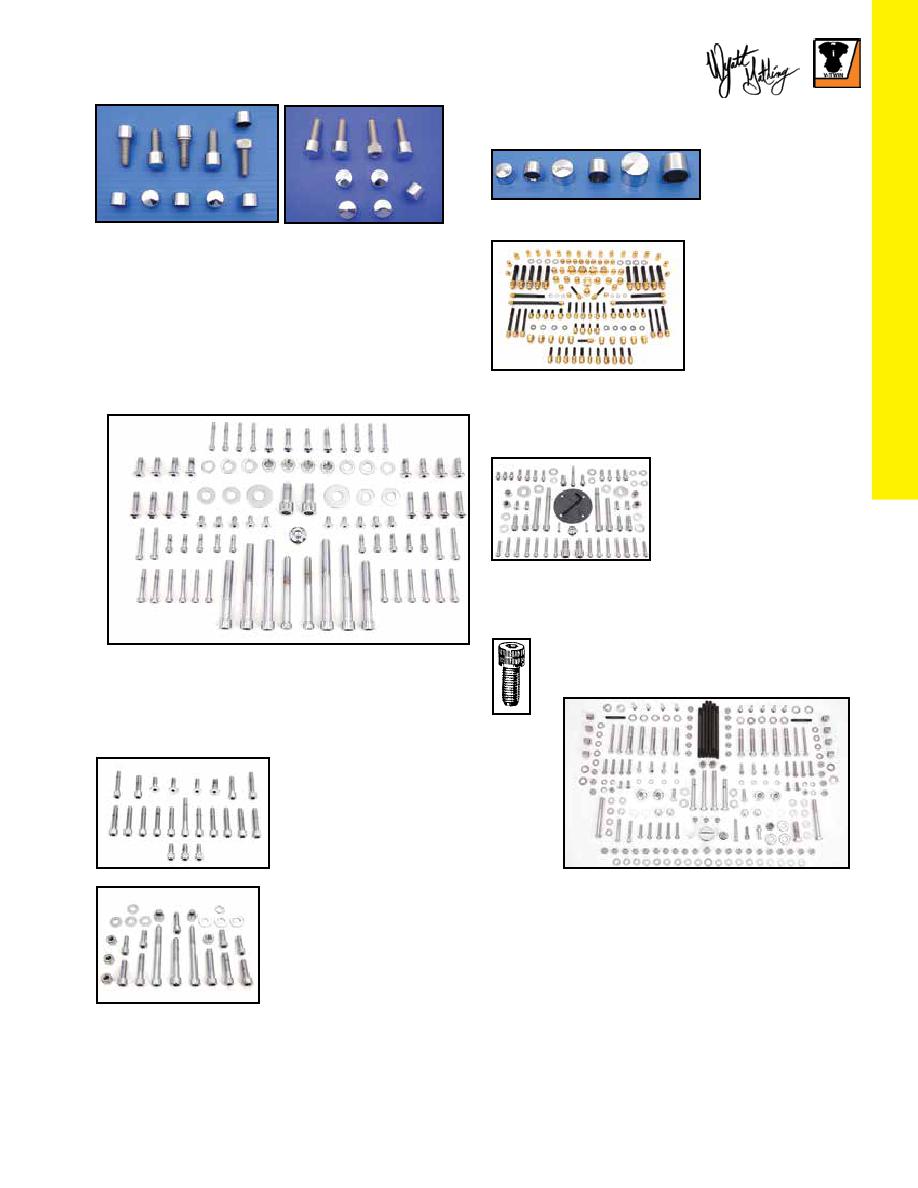 723
CLASSIC
VT No. Year
37-7490 1970-76
Cam and Primary Cover
Chrome Screw Sets for trans-
mission, chain, clutch or derby
provided where applicable. By
Gardner- Wescott. Fits 1970-84
FLH-FX All 4-Speed models.
VT No. 37-8505
Chrome Engine Case Allen Bolts fasten engine case
halves together on 1979-82 Big Twins.
VT No. 37-9190
Chrome Allen Screw Kit con-
nects engine mounts, front, top
and rear to frame on models listed
below. Knurled. Fits 1948-84 Big
Twin 4 Speed.
VT No. 37-9181
Chrome Caps snap on outside knurled allen screws for ease of
installation. Packs of 100.
VT No.
Fits
37-1502
37-1503
37-1504
37-1504
37-1503
Chrome Cap Assortment
includes 100 pieces each
¹⁄₄
VT No. 37-1505
Snap Cap
™ • Snap On
• Tight Fit
• Easy Installation
• Universal Use
300 Piece Assortment!
Panhead Allen Screw Sets.
VT No.
Year
Type
37-7492
Engine Set (Short Panhead Screw)
37-7493
Engine Set (Short Panhead Screw)
37-8507
37-9181
37-7493
Show Bike Kits are original
chrome detailing by Colony
for models listed. Includes
acorn or cap nuts for motor
and transmission area.
Cap
Acorn Acorn
Chrome Chrome Gold Year Model
—
—
7909-G 1936-39 Knucklehead
8505
—
7905-G 1936-39 Knucklehead
—
7915
—
Allen Screw Kit
7909-G
Stock Style Hardware Kit contains all the stock engine nuts,
bolts, washers and studs for your engine in choice of chrome or
cadmium plating. Kit includes primary cover screws, lifter base
screws, circuit breaker screws, case studs and nuts, timing plug,
cam cover screws, cylinder base nuts and washers, oil pump
nuts and bolts, trans side cover nuts and washers, transmission
top screws, transmission fill plug, generator screws, head bolts
and washers. For 1948-64 Panhead Kits, order proper length
Panhead cover screws separately.
Chrome Cadmium Year
Model
8311 CHR 8311 CAD 1970-75 Shovelhead
8312 CHR — 1976-78
—
8313 CAD 1979-80 Shovelhead
8314 CHR — 1981-84
8302 CHR 8302 CAD 1948-57 Panhead
8303 CHR 8303 CAD 1958-65 Panhead
8307 CHR 8307 CAD 1966-69 Shovelhead
8311 CHR
Big Twin Polished Chrome
Engine Sets include all side cov-
ers, lifter base, timing plug, inner
primary mount, top, front, and rear
engine mounts with stabilizing link
fasteners on FX and FL models.
Sets also include rocker box cov-
ers, header mount and points cover
or generator mount where applica-
ble with washers and nuts where
needed on 4 Speed Shovelheads.