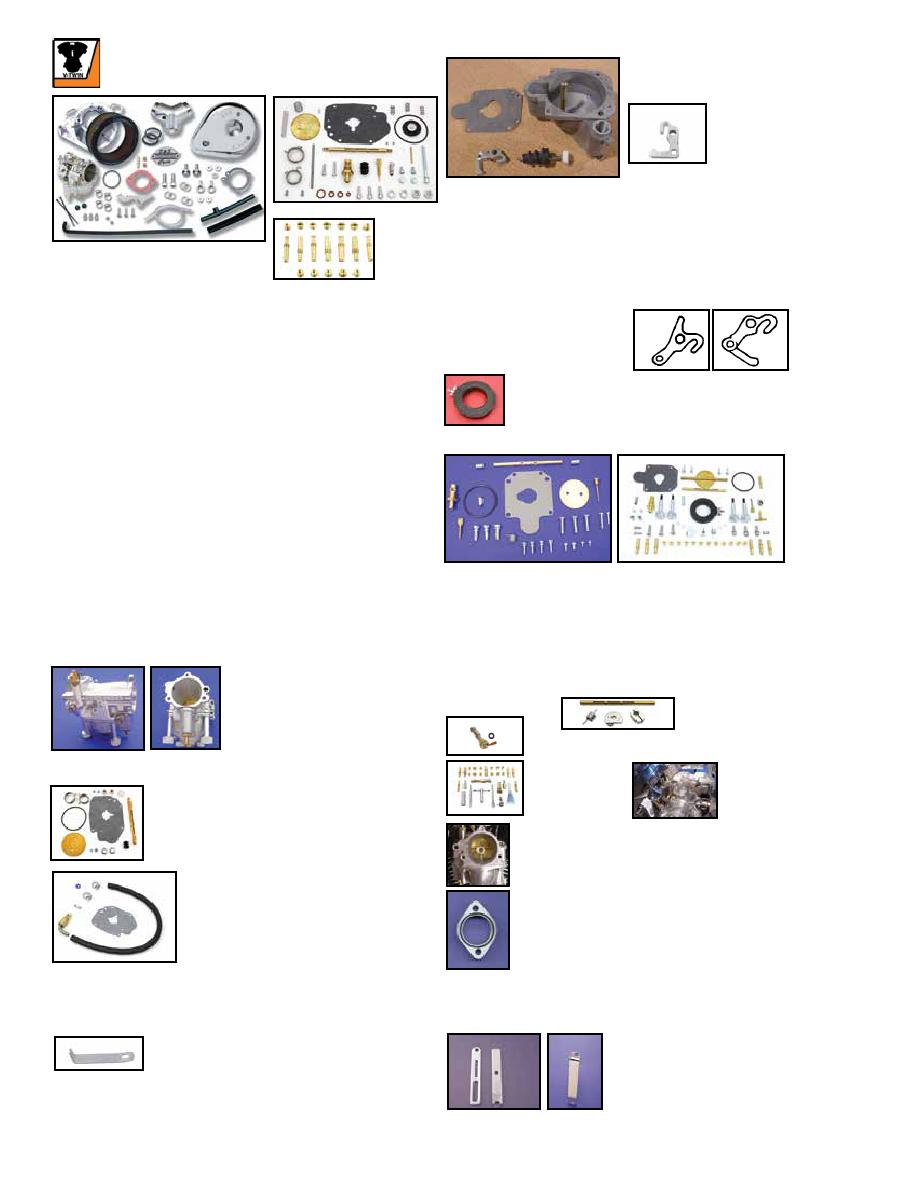 712
S&S 1⁷⁄₈ & 2¹⁄₁₆ Super 'G' feature adjustable volume pump,
enrichment device for ease of starting and a throttle spool
assembly designed for late 2 cable operation. Supplied with
tear drop air cleaner, mounting bracket and black fuel line.
Super 'E' carburetor is approximately 1⁷⁄₁₆" shorter than the
Super 'B' carburetor, making installation length of the Super
'E' the same as stock. Can be used with 3.5 or 5.0 gallon
Fatbob tanks. The 1¹⁄₈" is for street stock applications, 2
for big bore and race use. Intake manifold clamps or flanges
must be purchased separately when they are required.
1⁷⁄₈ 'E'
2¹⁄₁₆
'G' Fits
35-0001** —
Panheads, Knuckleheads w/O-Ring Manifold
35-0002 —
Pre-78 Big Twin with O-Ring heads
35-0003 35-9201 1978-84 Big Twin with Rubber band heads
35-0013* —
As Above with Notched Air Cleaner for
35-0471 —
35-1050 —
35-9355 —
35-0995 —
2596-13 —
35-0235 —
35-0102 —
*Note: Does not include intake manifold & can be use on 1966-82.
**Note: Plumber Style Heads Require 7344-6 manifold nipples to
be installed in heads for fitment.
Super 'E' & 'G'
35-0008
Quick Change Float Bowl
Screws for S&S Super models to
facilitate jet changes by easy bowl
removal. Includes four knurled
screws with large slots in satin
finish.
VT No. 37-8901
35-0995
35-9355
Super E Carburetor Body Rebuild Kit.
VT No. 35-0850
35-0548 Retrofit Fuel Line Kit includes a pre-
formed 17" x 5/16" black fuel line, needle
and seat inlet assembly with 90° swivel fit-
ting, hose clamps and a float bowl gasket.
Fits Custom application for S&S Super E
and G carburetors.
VT No. 35-0548
Throttle Shaft Kit
includes shaft, spring
and stop for S&S "B"
series carburetors.
VT No. 35-0981
Master Rebuild Kits. Complete carburetor restoration for
S&S Super B carburetors can be performed by using master
rebuild kit. Float not included. Year refers to when carb was
manufactured. 1983 and earlier has forked type floats.
VT No. Year
35-9142 1983 and earlier S&S
35-0204 1983-up V-Twin
35-0290* All Years V-Twin
*Note: Includes late needle and float.
Accelo Bowls for S&S carburetors. Accelo bowl accelerator
pump/float bowl kits improve the performance of S&S Super
B and D carburetors. Eliminates low end throttle hesitation &
Note: Some machining to carburetor body is
required, complete instructions included.
VT No.
Use
35-4571 Use on S&S Super 'B' & 'D' carburetors with two
cable throttle control. 1982-up
35-0203
35-0934
35-0362
35-0864
15-0298
Replacement Float fits all S&S Super B-E-G carbu-
retors. For use with wire type needle and seat.
VT No.
Brand
35-9189
35-9183 S&S
Fits S&S Super 'B'
Dual
Single
35-4571
35-0362
Carburetor Enricher for S&S "B" carburetors.
VT No. 35-0371
Throttle Cable
Adapter Block
VT No.
36-0546
"E" Series
Carburetor
Upgrade Kit.
VT No. 35-9191
Sifton Hop-up kit for S&S "E" Carburetor
includes emulsion tube and bomb sight annular
VT No. 35-0133
Air Cleaner Support Brackets fit
1
" S&S Super 'B' carburetors.
VT No. Fits
31-9918 All Adjustable type
Air Cleaner Support Bracket fits
S&S Super 'E' & 'G' 1966-82 FL-FX.
VT No. 34-0336
Support Brackets
34-0336
Support Brackets
34-0336
31-9918
Carburetor Spacers for S&S are available in 1"
or ³⁄₈" thickness for spacing out 1⁷⁄₈" carburetors on
models with five gallon tanks.
VT No.
Size
35-0105 1"
35-0086 ³⁄₈"
14-0957 Super 'E' Carburetor Base, O-Ring
Air Cleaner Support Brackets to fit S&S Super
'E' and 'G' on 1966-82 FL-FX.
VT No. 34-0336
35-0290
35-9142