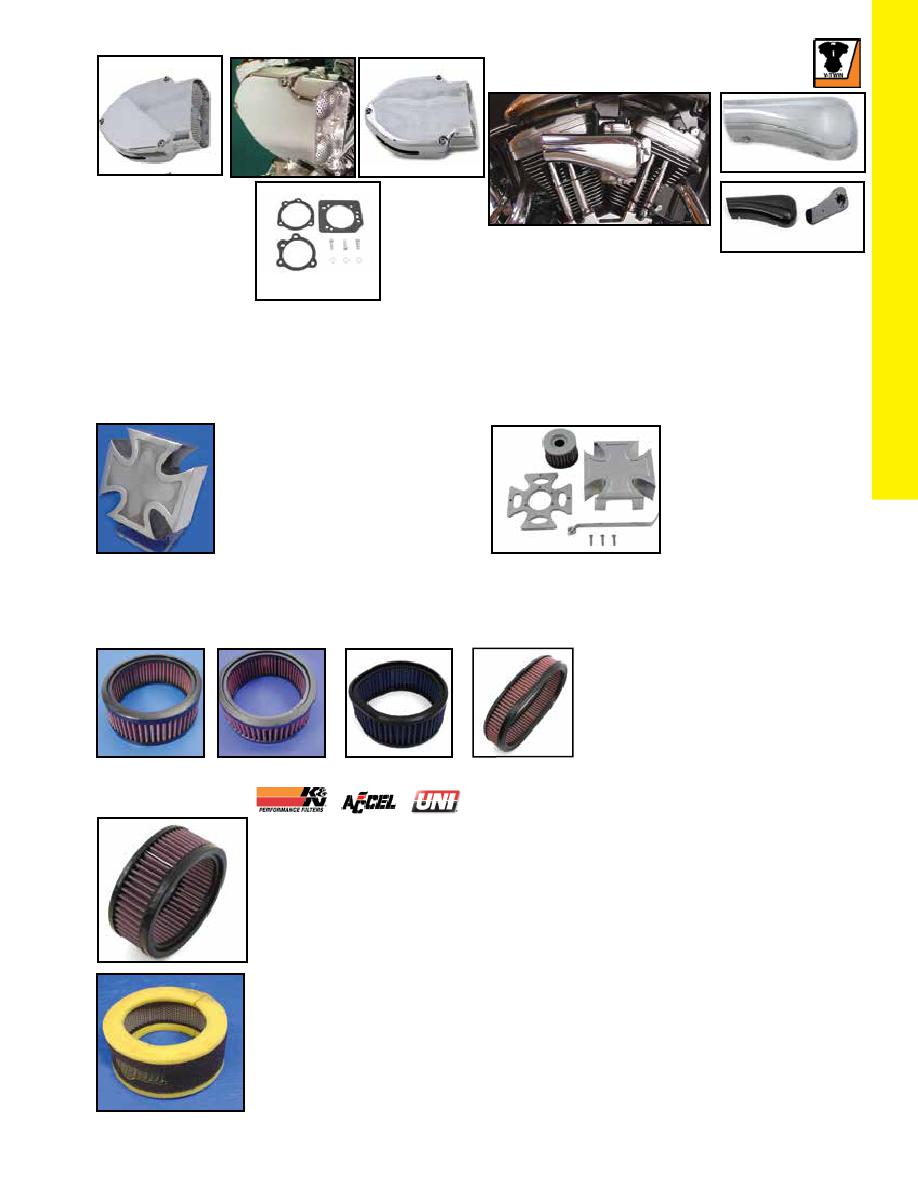 701
CLASSIC
V-Charger
TM
Chrome Air Cleaner features air scoop "blower"
design and includes a built-in chrome screen and filter element.
VT No. Carb Type
Cover
34-0466 S&S "B"
34-0599 Bendix Keihin
34-0620 S&S E
34-0560 Mount Kit
Chrome Maltese Air Cleaner
Kit includes backing plate, filter,
cover and bracket as required
to fit stock original carburetor.
The center portion of the cover
is matte chrome finish. Fits
1966-85 Big Twin with Bendix
Caburetor.
VT No. 34-1149
Air Cleaner & Filter
Replica Paper Air Filters feature original shape
and styling for exact fit. Washable construction.
VT No. OEM
Fits
34-0935 —
34-1176 —
34-0251 —
34-1248 29036-72 1967-75 FL, FX
34-0935
34-1176
Replica Air Filter
Air Filters are available in three types; K&N paper, Uni Filter foam and Accel 2-stage foam. All have
K&N
Accel Uni-Foam OEM
Fits
For Aftermarket Models
34-0960 —
34-0905
—
—
34-0916
As Above, Import, S & S & 7" Round Style
34-1010
— 34-0984
—
—
34-0906
—
—
34-0915
—
—
34-0977
34-1009
—
—
Mikuni HSR-40 smooth bore
34-1040
—
—
34-1066* —
—
*Note: OE Brand
For Big Twin Models
—
— 34-0912
34-0954
— 34-0903
1982-83 FXR, Late1978-81 FX-FL
34-0953
—
34-0902
34-0952
34-0967
34-0901
34-0951
— 34-0900
34-0975
Maltese Carburetor Cover and Backing
Plate. Center portion of cross has a matte
finish. Order filter and brackets separately.
Chrome Polish
Carburetor Type
34-0608
34-0610
34-1168 34-1168
34-1130
34-1248
34-0466
34-0599
34-0620
34-0560
34-1010
34-0251
Early Style Carburetor Breather Snoots feature cover without filter.
Bendix Keihin and CV is 3 bolt pattern. CV requires use of 35-0125 for
2000-up Big Twin or 35-0122 for 1993-99 Big Twin.
Chrome Black Type
Year
34-1331 34-1450 CV Kit
34-1046 34-1449 Bendix-Keihin
34-1045 34-1448 Linkert
34-1081 34-1398 CV
34-1253
34-1254
34-0659 34-1332 Cover Only
Black
Chrome