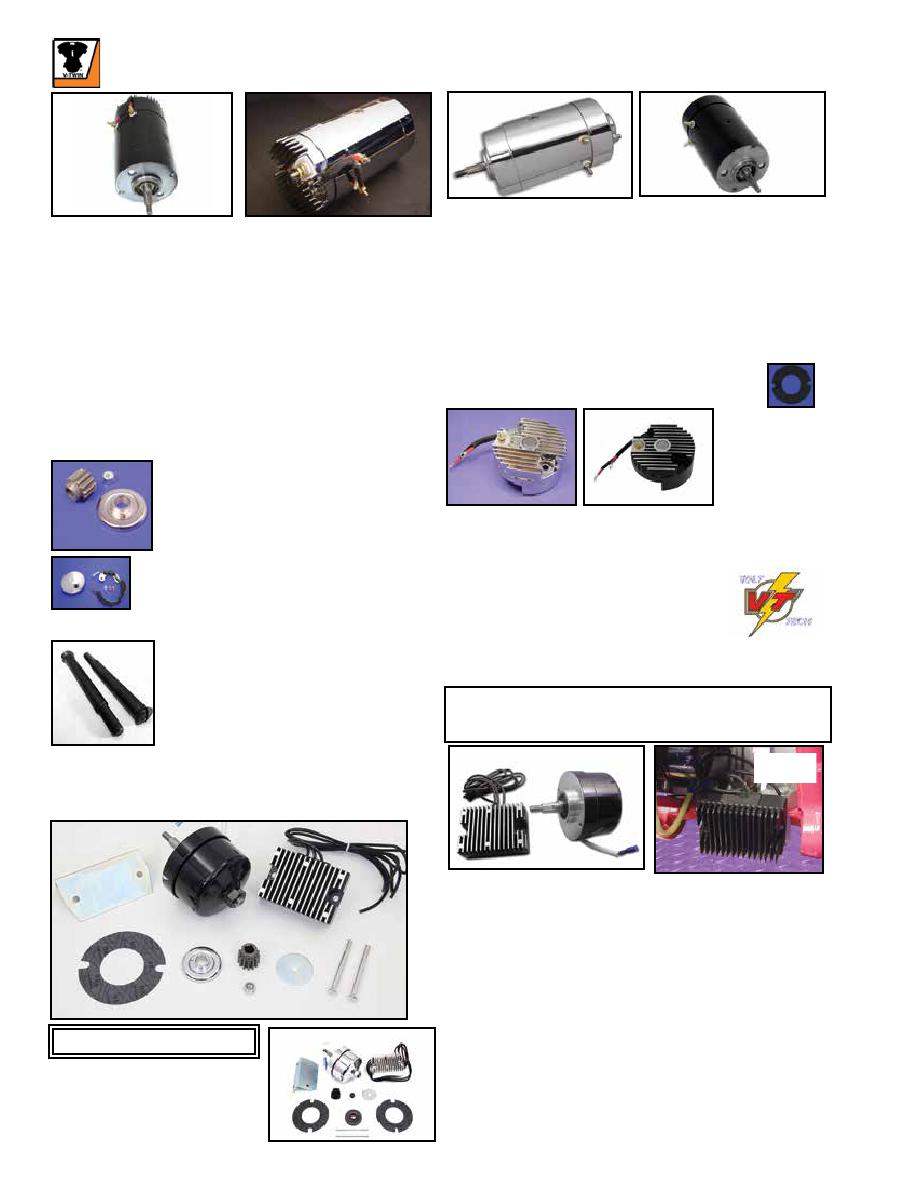 690
2-Brush Style Generators with built-in regulators by Cycle
Electric or Volt Tech brand.
All styles fit 1936-69 FLH including
Flatheads. On pre1958 models, engine case must be drilled to
" size mount bolts. Order gear kits separately. Order
VT No. 32-0204 for gear kit to complete the installation. Units
noted as low output are for use with VT No. 53-0505 mini 12
VT No. Volt
Type
Finish
Brand
32-0212 12
32-0790 12
32-0787 12
32-9000 12
32-0788 12
32-0789 12
32-9001 6
32-0204 Big Twin Gear Kit 13 Tooth
32-0787
32-0790
Mount Gasket fits 1958-84 2 brush generator.
VT No. 15-0150
Warranty Information
Volt Tech Brand Electrical Products Warranty claims are serviced through our
Missouri Facility. Cycle Electric warranty claims are returned to Cycle Electric Co in
Ohio. Allow extra time for claims. All electric items will be repaired and replaced at
manufacturer's discretion, and no credit will be issued for these returns.
2 Brush Generator Gear Kit is available as
complete installation kit. Kit includes gear and
deflector nuts. Fits 1958-69 74 FL. 13 Tooth.
VT No.
Item
32-0204
32-0220
32-0204
Regulator End Cover features solid state components in gen-
erator end cover. Cover with needle bearing installed is black
with fins for all 29975-65A 12 volt and 29975-61A generators.
VT No. Volt Type
Brand
32-7768 12
32-0795 12
32-0785 12
32-9282 12
32-0786 12
32-0785
32-0207
2-Brush Generator 1936-69
32-0967
2-Brush Replica Generator by Cycle Electric or Volt Tech. All
styles fit 1952-81. Order gear kit separately.
VT No.
OEM
Volts
Type
Finish
32-8999 29975-65A
32-8998 29975-65A
32-7526 29975-65A
32-0967 29975-65A
32-0207 29975-65A
32-0213 29975-61A
32-0214 29975-61A
Alternator Generator
Conversion
COMPACT DESIGN REPLACES EARLY 6 OR
12 VOLT GENERATORS
Alternator Conversion Kit.
VT No. Finish
Fits
32-1672 Black
32-1675 Chrome 1948-69 FL
32-1672
32-1675
Solid State Generator Regulator features die-
cast chrome end cover which mounts to all 1965-
77, 12 Volt, 2 brush generators. Small solid state
regulators fits behind cover for a clean look.
VT No. 32-7757
Generator Screw Kit will install 3 brush gen-
erators with 1/4-24 threads to cases that have
been drilled out for 5/16" bolts. Fits 1936-57
Big Twins.
VT No.
Finish
2990-2 Cad
2991-2 Parkerized
2991-2
Alternator Conversion Kit replaces original generator and
regulator. Compact, high output alternator, is 3¹⁄₄" long, weighs
only 3lbs. Features include high power output, billet housing
for strength and accurate alignment, stress proof shaft which is
stronger than stock. The kit includes alternator unit in chrome
or black, black voltage regulator and instructions. It fits 12 volt
1965-83 XL as well pre 1965 which have been converted to
12 volt electric. Kit can used on earlier models if generator bolt
holes in case are drilled out to ⁵⁄₁₆. Cannot be used with mini
(12N55A-3B) battery.
VT No. Item
32-0390 Chrome Alternator
32-0372 Chrome Alternator
32-0371 Black Alternator
32-0667 Replacement Regulator
14-0034 Seal
32-0371
Installed
32-0371
32-0795