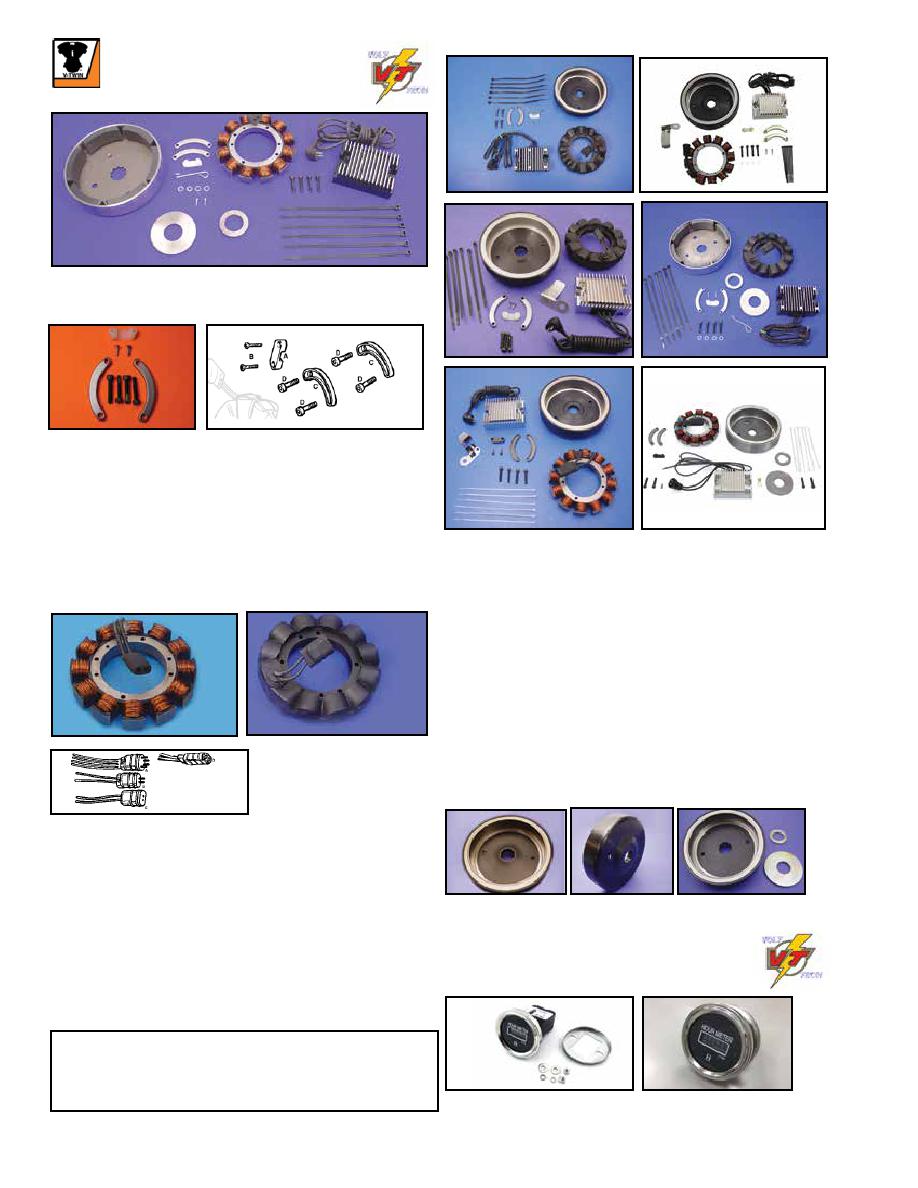 688
22 Amp High Output Alternator Kits fit all 1988 and earlier
models. Stock on all 1983-88 models. Replaces 29982-81.
VT No. 32-7776
Alternator Kits
"Volt Tech" Alternator Kit fits 1970-95 Big Twins. It includes
stator, rotor with stainless liner "to seal magnets in place" except
VT No. 32-7500 chrome regulator and mount kit.
18 Amp Kits
VT No. Stator
Amp
32-7781 Molded
22 Amp Kits
32-0776 Exposed
32-0796 Molded
32-7500 Molded
32-7776 Exposed
32 Amp Kits
32-7807* Exposed
32-0775 Exposed
32-8927 Exposed
32-7775 Exposed
*Note: Reinforced rotor spline
32-0796
32-7500
Stators replace stock units for models listed in molded (M) or unmo-
lded (U) type.
VT No. Brand
Pin
Type
1970-75 Big Twin, Replaces 29965-70, 18 Amp
32-8082 Volt Tech A Unmolded
32-9039 Accel
1975-80 Big Twin, Replaces 29965-75, 18 Amp
32-0601 Volt Tech B
32-9040 Accel
1981-88 Big Twin, Replaces 29965-81, 22 Amp
32-0602 Volt Tech C (USA) Molded
32-8081 Volt Tech C
32-9042 Accel
32-9041 Accel
Plug End & Wire Only.
VT No.
#
32-0593 A
D Shown For
Reference Only.
Stator Assembly Kit for Big Twins 1970-88 includes (2)
29988-73 locks, (1) 29954-71 retainer, (4) 2653 screws and (2)
2216W screws.
VT No.
#
OEM
Item
32-0598
32-0604 A 29954-71 Nylon Retainer, 10 pack
32-0603 B 2216W
37-8812 C 29988-73 Lock Plate, 10 pack
37-8811 D 2653
37-9003 D 2712
Screw, with Lock Patch, ⁷⁄₈"
37-9126
Screw, with Lock Patch, 1"
Warranty
All Electrical Components sold as individual pieces or in kits are
covered under our warranty "Replacement Only" Provision. All
electrical related item part numbers begin with a 32 prefix. No
credit will be issued for these items as they are exchange only.
Unmolded
Molded
Alternator Rotors feature vibration proof magnet construction,
as magnets are held in place by stainless steel non-magnetic
insert for durability.
*Note: Reinforced Spline Area.
VT No. Year
Model
Amp
32-0758* 1970-90 FL-FX
32-0759 1981-00 FL-FX
32-0758
32-7776
32-7807
32-7781
32-0759
32-0775
32-0776
Hobbs Meter for calculating engine running time for 12 Volt 2
Cylinder applications.
VT No. 32-1809
1970-up