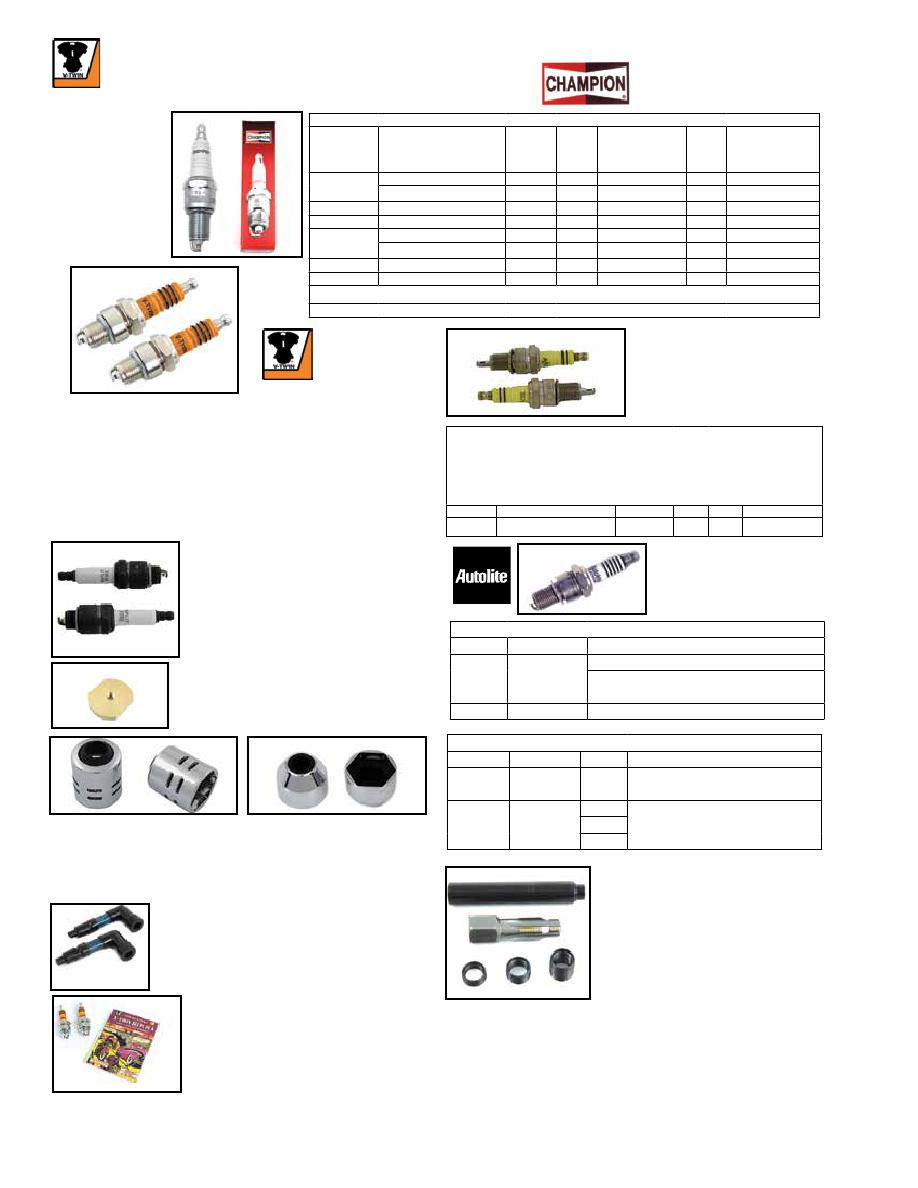 674
Autolite Platinum Plugs, sold as a pair.
VT No. Autolite#
Fits
32-9231 AP4265DP2 1978-81 1340cc All Models
1975-80 1200cc FLH-FX-FXE-FXEF-
FXF
32-9234 AP4275DP2 1948-74 1200cc All Models
Chrome Sparkies to fit perfectly on a spark hex for Big Twin
14mm, pair.
VT No.
Fits
37-8952
32-1670
SplitFire Spark Plugs incorporate a pat-
ented Split-V Electrode which creates
an aggressive flame kernel for improved
combustion efficiency. Spark plug is
for standard heat range. Fits 1948-74
Shovelhead.
VT No. 32-8923
V-Twin Performance Spark Plugs features a copper
core electrode for a longer service life, nickel plated
housing, 95% pure alumina insulator and a heat crimp-
ing process to ensure a leak free seal.
VT No. Mfg#
Fits
32-6692 5R6A
32-6693
As Above One Heat Range Hotter
32-6694
As Above One Heat Range Colder
32-6695 3-4
Spark Plug Indexer fits 14mm plugs
allows electrode to be placed for in proper
position.
VT No. 16-0623
HeliCoil Sav-A-Thread repairs spark
plug holes for 14mm short or long
reach plugs on aluminum heads.
Includes items pictured. No drilling
necessary.
VT No. Item
U/M
16-0044 Complete Kit
16-0043 ¹⁄₂" Insert
16-0042 ³⁄₄" Insert
16-0044
Accel Spark Plugs are available in U-Groove or Platinum
type. U-Groove features a U-shaped electrode, sintered alumi-
na insulator and a copper/nickel alloy electrode. Platinum type
features a platinum tip electrode and a pure copper center
electrode.
Engine Fits
Accel No. Gap Plug U-Groove
32-0148
Spark Plug
Champion Spark Plug Application Chart
Engine
Fits
HD#
Gap Copper
Plus
Champion
Qty
Copper Plus
VT No.
Shovel
1340
32-7541
32-7540*
32-7541
32-7602
Shovel
1200
32-7540*
32-7543
32-8074**
32-7603
*Note: RN13LYC may also be used
**Note: One heat range hotter than stock replacement plug
Blue Lightning Bug Spark Wire Ends are
neon gas filled, glow as strobe lights. Fit plugs
with screw terminal fittings only, pair.
VT No. 32-1552
32-1552
Autolite Standard Spark Plugs
VT No.
Autolite# H-D#
Fits
32-9296 4275
1948-74 Panhead, Shovel, 10
pack
32-9298 4265
5R6
5A6A
37-8952
32-1670
Panhead Spark Plug Set and Book Kit
replaces 3-4 Harley plugs with 2 V-Twin
Manufacturing plugs for 1948-1965
Panhead and includes a Panhead parts
book.
VT No. 32-1246