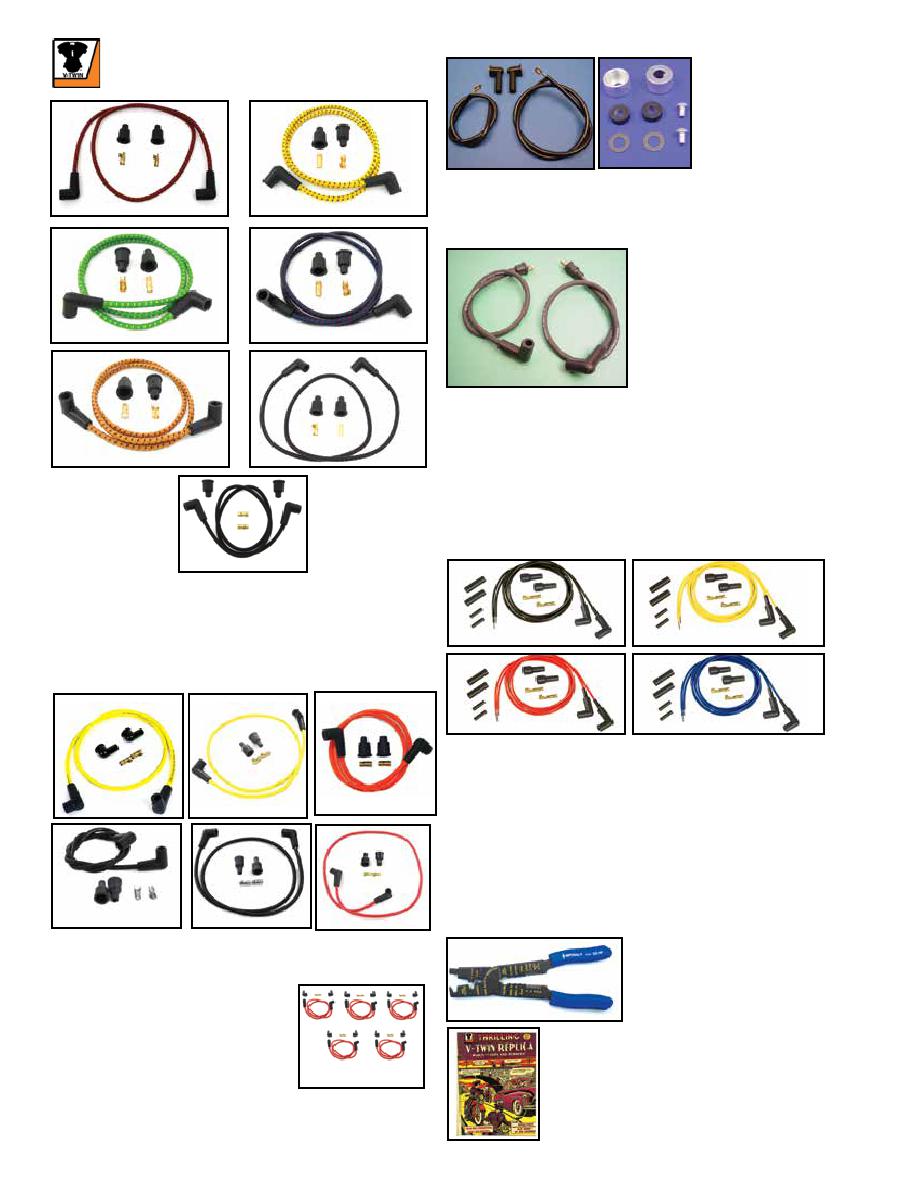 672
Spark Plug Wire Set
Spark Plug Wire Tool strips 7
and 8 mm ignition wire, crimps
spark plug and distributor termi-
nals.
VT No. 16-0514
Universal Wire Sets are 40" long with double 90° spark boots.
Simply cut to the desired length and install coil terminal clips
supplied. Available in copper or suppression core.
VT No.
Color
Type
32-0647 Yellow
32-0648 Yellow
32-1463 Yellow
32-0650 Orange Copper
32-0651 Black
32-0696 Black Copper
32-7133 Red
32-1123 Red
32-0650
32-0648
8 mm Blue Streak XXX Silicone
Wire Sets features quality con-
struction of silicone throughout
the jacket, insulation and core.
This assures high temperature
resistance and high durability.
Silicone wire sets also offer max-
imum RFI suppression. Copper
core wire sets are for point type
ignition systems only and feature a copper core wire to allow
for special improved electrical conductivity and mechanical
strength. All wire sets are supplied with electrical boots and OEM
style terminals that lock onto the spark plug.
Copper Core Sets
VT No.
Fits
32-0252 1965-78 FL/FLH/FX/FXE
VT No.
XXX Silicone Sets
32-0253 Universal Application Self Make Kit
32-0254 1980-84 FLH, 85-99 FXST, 91-98 FXD
8 mm
7 mm
7 mm
Accel Thundersport 5mm Ignition Wire features half the
diameter of stock wire and is extremely flexible. Easy to run
through cylinder heads, rocker covers and frame tubes for a
hidden look. Packaged with two 5 foot leads, coil ends and 90°
spark plug end. Coil end must be terminated. These wires are
a 5 mm high gloss silicone wire that is rated for over
550° F and 150 ohms per foot.
VT No.
Color
32-9360 Black
32-9361
32-9362
32-9363
32-9362
32-9360
32-9361
32-9363
Vintage Style Braided Silicone Spark Plug Wire, 7mm (inner
copper core). Each kit is 40" long with two 90° angle boots.
VT No. Color
32-1212 Black/Pink
32-1213 Yellow/Blue
32-1214 Green/Yellow
32-1215 Blue/Pink
32-0647
32-0651
32-0696
32-1123
32-7133
32-1218
32-1213
32-1216
32-0670
Replica Spark
Plug Cable Set
replaces 31965-30
rubber molded ends
for 1930-60 Twins.
Order coil packing,
nuts and washer kit
separately.
32-0670 Wire Set
7804-6
32-0813 Plug Boot Set
32-0829 Wires Only
7804-6
V-Twin Panhead Parts Dope Reference
Guide for 100% V-Twin restoration components
and tips for 1948-65 Panhead models. 272
pages.
VT No. 48-1364
32-1214
32-1215
32-1217
32-1212
32-1216 Orange/Black
32-1217 Red/Black
32-1218 Black/Black