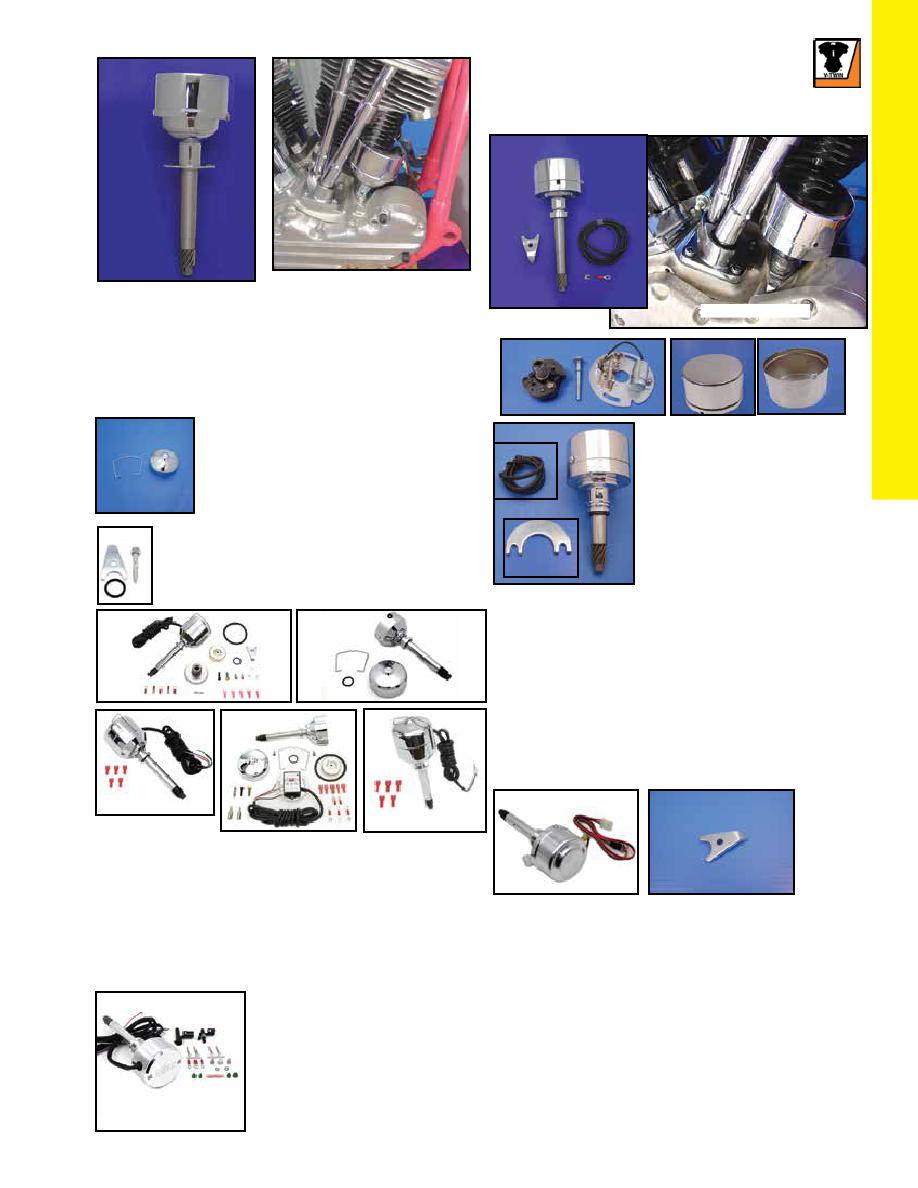 665
CLASSIC
VT No.
OEM
Fits
Type
32-0546 32502-66A 1966-69 Big Twin Complete, Chrome
32-8217 As Above Zinc
32-7558 32506-70 1930-73 Side Valve Complete
42-0300 32589-65 Fits 32-0546
42-1279
32-0135 32516-66 1966-69 Big Twin Clamp
13-0166 32604-64 1965-66
13-0162 32605-67 1967-69
31-3966 32515-66 1936-73 Side Valve Clamp
32-0281 —
1966-69 Big Twin Points Lead Wire
Auto Advance
Distributor
32-7797
42-0340
Installed 32-0546
Auto Advance Distributor features a chrome body and top.
These are completely assembled with gear and all internal
parts. Distributor has a two bolt mount flange to fit all 1936-64
Big Twin cases.
VT No. Item
32-8072 Chrome, Complete Kit
32-8213 Zinc, Complete Kit
42-0340 Cover fits 32-8072 distributor
32-8072 Installed
32-8072
Distributor Cover includes hold down clip.
Use on 1936-64 45", 61", 74" 80". Also KH.
Chrome Cadmium Item
42-0301 42-0533 Kit
42-0382
Note: Stainless
32-0133 32-1125 Clip
32-1286
Electronic Ignition Distributor Complete with billet chrome
body and top features electronic internals with shaft and gear
completely assembled. Fits 1936-69 Big Twin models. VT No
Order mount clamp VT No. 32-0169 mount clamp separately.
VT No. Item
32-1540 Distributor Kit
32-1498 Distributor
32-0072 Distributor, Complete
42-0563 Top
12-1497 Gear Reverse
Electronic Advance Distributor
with rev limiting for 1936-69 Big
Twins. Features adjustable elec-
tronic advance curves, single or
dual fire modes, CNC machined
billet housing, and can be installed
without removing cylinder head.
Use with a 3 ohm coil.
VT No. 32-7803
Accel Unilite Distributor with billet aluminum housing is a
dual fire type, includes gear and features 12 volt electronic per-
formance. The electronic ignition module fits inside distributor,
so no external box is required. There are no points to adjust or
replace. Spark plugs can use larger gaps up to . 040. The top
can be removed without the removal of front cylinder head.
VT No. Item
Model
Year
32-0170 Mallory Distributor Big Twin
32-0135 Distributor Clamp Big Twin
1966-69 Big Twin Distributor Mount Clamp Kit
includes zinc plated clamp, stud, O-ring and nyloc nut.
VT No.
Item
32-0169 Kit
12-0547
32-0170
32-0072
32-0072
Auto Advance Distributor features a
chrome body and top. These are com-
pletely assembled with gear and inter-
nal parts. VT No. 32-0546 unit uses
stock hold down 32-0135 and fits all
1966-69 Big Twin Overhead Valve. The
32-7558 type fits 1930-73 45 and UL
models and requires VT No. 31-3966
hold down clamp. Units require removal
of front head for installation.
32-7558
31-3966
32-0072
32-0135
32-1540
32-1498
32-0546