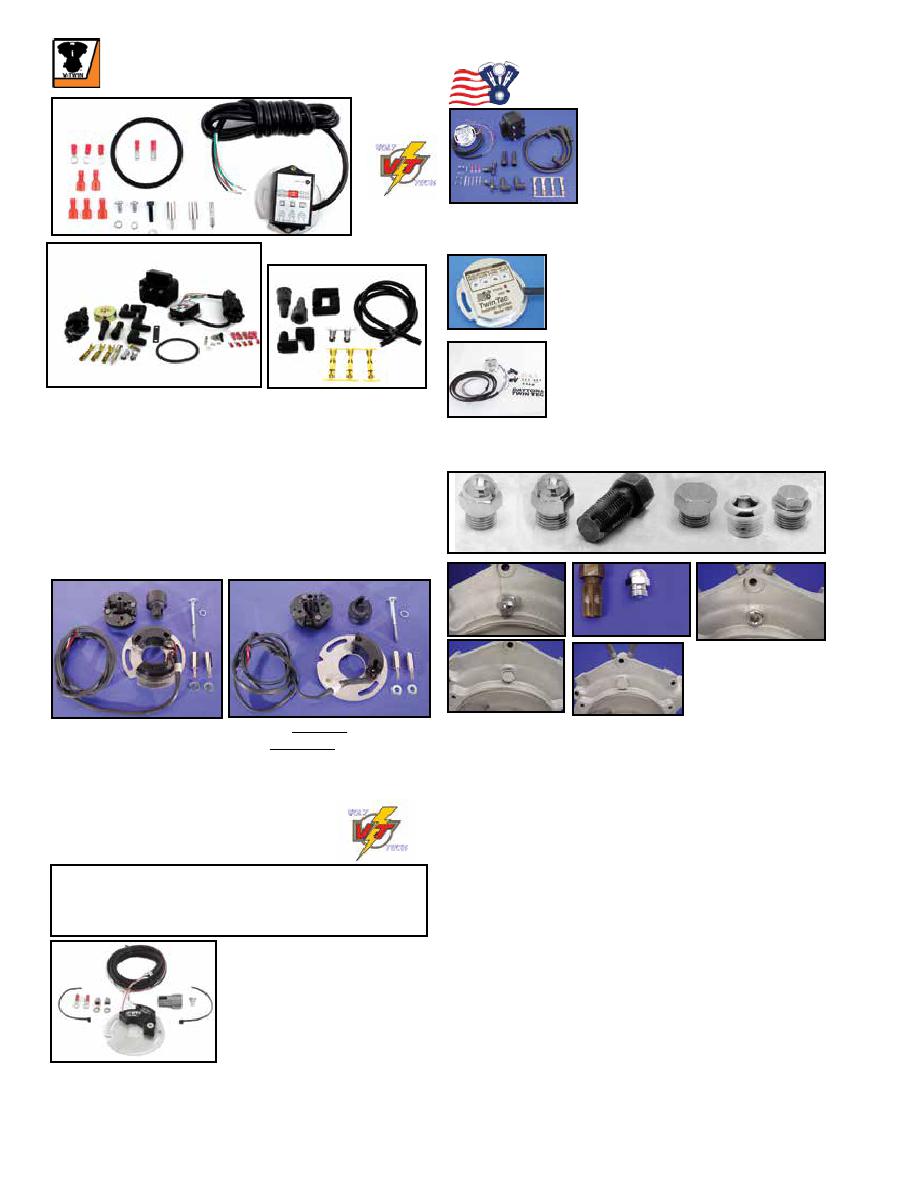 662
Daytona Twin Tec
Daytona Twin Tec Internal Ignition Kit
for 1984-99 Evolution Big Twin, 1970-
84 Shovelhead Big Twin and 1971-97
Sportster models. Kit includes ignition, coil
and spark plug wire set.
VT No. Item
32-3015 Kit
32-3054
As Above, ARB compliant E.O. No.
Twin Tec Internal Ignition for 1970-99 mod-
els. Two advance curve families with adjust-
able advance slope accommodate stock to
highly modified engines. It features digitally set
RPM Limit (100 RPM Steps) and selectable
single or dual fire mode. Coil outputs are pro-
tected against short circuits.
VT No. Item
32-1005 Ignition
32-3053 As Above ARB E.O. No. D641-1
32-2013 3 Ohm Coil Single Fire
Ignition System
Volt Tech Ignition Systems fit all 1970-98 carbureted mod-
els and requires sensor cup for 1982 and earlier applications.
Order tach interface, sensor cup and screw separately if
required.
Note: Order Coils When Required.
VT No. Fits
32-9500 Single Fire Ignition fits Evo, Shovel and Sportster to
1997. It can be set for Street or Race-Electric or
Kick Starter includes rear cylinder timing adjustment
for rate of advance. Compatible w/single fire coils.
32-9503 Single Fire Ignition Kit fits As Above
Includes coil and 8.5mm wires.
32-0588 8.5mm Wire Set
32-9500
32-0588
32-9503
Crane Hi-4 Replacement Rotors.
VT No. 32-9292
Timing Plugs
7500-2
9402-1
A
B
E
C
7106-1
A
C
D
E
B
8114-1
8610-1
D
Timing Plugs are available in stock size ⁵⁄₈ — 18 thread unless
noted as oversize (O.S) which is ¹¹⁄₁₆ — 16 thread.
A. Acorn style plug fits all models Big Twin models timing plug
VT No.
Type
7106-1 Chrome
B. Acorn style plug with oversize thread and one tap for reth-
reading stripped out timing hole. Fits all timing holes.
VT No.
Type
7500-2
7501-1
9407-1
C. Stock timing plug.
8114-1
8115-1 Cadmium
9404-1
9304-1
9714-1
9502-1
9504-1
Parkerized as above, ⁷⁄₈" Hex
9503-1
D. Functional and custom design plug fits all Big Twin models
and Sportster timing plug holes and oil tanks.
8610-1 Chrome
8611-1 Cadmium
E. Allen style plug use on all 1970-84 replaces 720.
9402-1 Chrome
9403-1 Cadmium
37-9206 Chrome by Gardner-Wescott
9960-1
Daytona Twin Tec External
Ignition Kit for 1970-84 FL and
1971-84 FX models. Dual fire elec-
tronic ignition system which includes
trigger rotor for mechanical advance
mechanism. Features a digital set
RPM limiter in 200 RPM steps from
5,200 to 7,000, status LED for stat-
ic timing, electronic dwell for maximum ignition energy at high
RPM, reduced current draw at low RPM, and a simple two wire
hook up. Reliable starting in all conditions by operating down to
below 6 volts, and is rated to operate at 260°F.
VT No. 32-1036
Single Fire: Just the spark plug for the piston that is in its compression stroke will be fired.
The other piston, being in its overlap position will not be ignited.
Dual Fire: Both spark plugs are fired simultaneously at the time only one piston is in its com-
This is the way the stock motor works on pre TC-88 motors.
Single Plug: One spark plug in each head. Total of 2 spark plugs in one engine.
Dual Plug: Two spark plugs in each head. Total of 4 spark plugs in one engine.
32-0469
32-0468
V-Tech Ignition Kits are available in dual fire where there
are 2 sparks at the same time and
single fire where there is
1 spark for each cylinder when it is fired, (separate). Each kit
includes a mechanical advance unit and all hardware. Order
coil separately 32-0467 coil has 2 separate coils inside to fire
independently.
VT No.
Item Type
Coil
32-0468
32-0511
32-0469
32-0467
32-3053