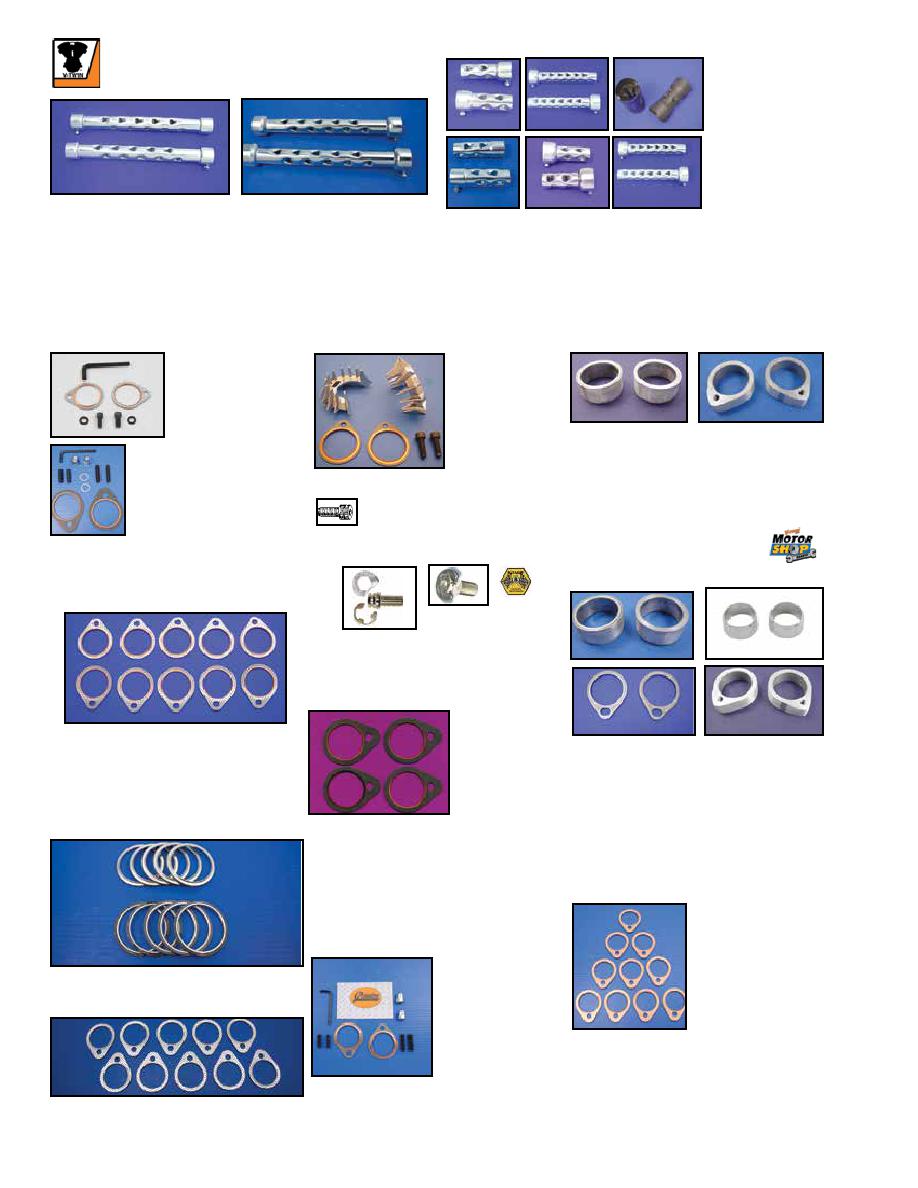 660
"Fire-ring"
Exhaust Gaskets
features a com-
pressed outer
portion and brass
inner for max-
imum sealing
power. Gasket area keeps exhaust gases
from escaping and the brass ring ensures
a good seal between exhaust pipe and cyl-
inder head. 1966-84 Shovel Big Twin.
VT No.
Type
Qty
15-0195 GB
15-0196 GB
15-1073 James
Copper-Clad
Exhaust Gaskets
for Shovelhead are
heat proof material
sandwiched between
two sheets of copper,
the ultimate sealing.
Copper donuts are
compressible for better
sealing on uneven pipe flanges.
VT No.
Type
Qty
15-0197
15-0198
15-0660
15-0759 Copper Gasket only
Shovelhead Exhaust Port Flange
Gasket stock style replaces 65834-68.
VT No. 15-0191
Exhaust Stud Nut and
Gasket Kit for 74" and 80"
prevents thread stripping in
head using permanent studs.
Includes two studs, two sure
seal flange gaskets, two
chrome nugget nuts and lock washers.
VT No.
Type
15-0615
15-0195
Exhaust Port Lock Kits. Special bolt
and lock tabs secure pipes for good. Fits
1966-84 Shovelhead. Order 15-0195
separately.
VT No. 37-8255
Exhaust Repair Ports. Aluminum cast-
ings to be welded on broken or damaged
heads. Pipe flange is steel and is to repair
Shovel pipe flanges, pairs.
VT No.
Years
Models
30-0098 1948-65 Panhead
30-2104 As Above Motor Shop
30-0105 1966-84 Shovelhead
31-2123* 1966-83 Shovelhead
*Note: To repair pipe ends.
Allen Bolt Exhaust
Stud Kit includes two
allen bolts, gaskets
and allen wrench.
VT No. 37-7275
Exhaust Flange Mount Bolt.
Allen type replace 3201W on
1966-84 Shovelheads, 10 pack,
black.
VT No. 37-8854
Chrome Sharks
Teeth cover
exhaust flange on
1966-84 Shovel
to dress up and
reduce heat build
up. Fits 1
VT No. 42-0024
15-1541
30-0098
30-0105
30-2104
Exhaust Port Replacement Service.
Available for both Pan and Shovelhead
applications. Ship in old disassembled
cylinder heads and the broken or stripped
exhaust ports will be replaced with new
factory style exhaust ports. Service
includes ports as shown.
VT No. Replacement Service
60-0162 Panhead
60-0163 Shovelhead
James Shovelhead
Exhaust Kit
includes four studs,
two fire ring gaskets,
and two chrome
nuggets.
VT No. 15-1075
VT No. #
Size
Length
30-0101 A
30-0102 A
30-0103 A
30-0216 B
30-0217 B
30-0372 C
Pipe Baffles fit
inside straight
pipes, sold in pairs.
Note: Baffle size
denotes size of
pipe into which it
fits.
A
B
C
30-0372
30-0217
30-0102
Blunder Buss Pipe Baffle is full 12" long steel, pair. Note:
Baffle size denotes size of pipe into which it fits.
VT No.
Size
Length
30-3180 1³⁄₄"
30-3181
30-1405 1³⁄₄"
30-1407
30-1405 2¹⁄₄"
Steel Core Exhaust Gasket fits 1966-83
Shovelhead, 10 pack.
VT No.
Type
Brand
15-1074
15-1541
15-1098
15-1237
Exhaust Baffle
Pan
30-3180
30-3181
Shovel
Steel Core Exhaust Gasket.
VT No. 15-0889
31-2123
30-0101
30-0103
30-0217
1966-84 Exhaust Gasket
Exhaust Port Stud, Nut and Gasket Kit
VT No. 15-0450