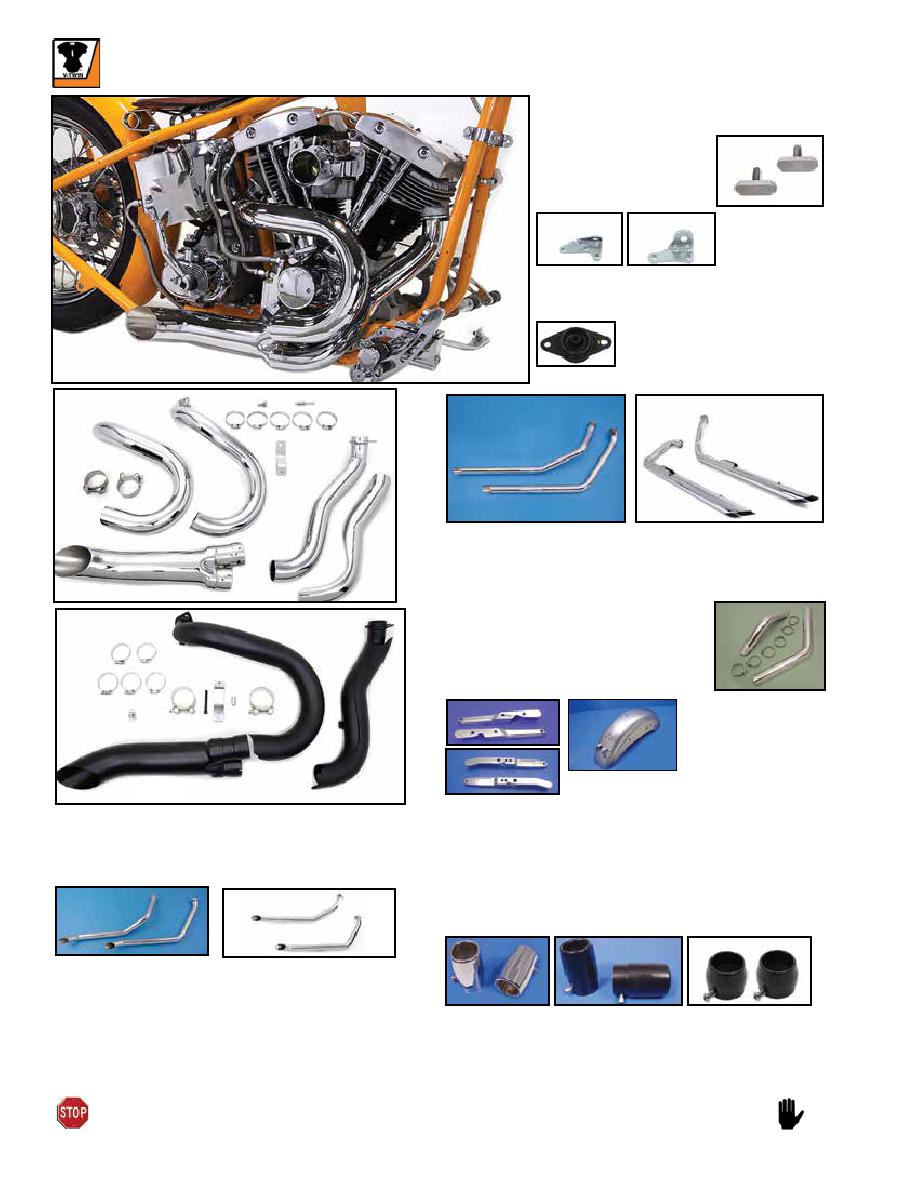 644
Radii 1³⁄₄" Drag Pipe Sets for 1971-1984 FXE models. Pipes
are 38" long with slash cut ends and have channel mounts for
mounting. Available with chrome with black tips or full chrome.
Order channel mounting bracket and heat shields separately.
VT No. Item
30-3017 Chrome Pipe Set
30-3101 Chrome Pipe Set with Black Tips
31-4050 Black Mounting Bracket
31-4058 Chrome Mounting Bracket
30-3237 Chrome Heat Shield Set
1³⁄₄" 1971-84 FX-FXE Exhaust
30-3237
30-3381
Goose Style Drags. Retro chopper styling in 1³⁄₄" diame-
ter slash cut ends, and a length of 35" long. Use 31-2101
P-Clamps for mounting. Fits 1970-84 74 and 80 FXE.
VT No. Brand
30-3381 Wyatt's
30-3019 VT
Billet End Tips fit 1¾" straight cut drags.
VT No. Finish
30-0796 Chrome
30-0797 Black
30-0800 Black, taper
30-0797
30-0800
30-0796
29-0822
2:1 Exhaust Headers for use forward controls. Fits 1970-84
Shovelheads.
VT No.
Finish
29-0822 Chrome
29-0824 Black
29-0822 Installed
29-0824
Important Note:
Some items on this page may be emission-related parts subject to California or other emission control laws. Please see
note for important information regarding emission control regulatory compliance and warranty information.
2:1 Chrome Exhaust
Header Slip-On Set.
Down Slash fits 1971-
1984 FX.
VT No. 30-0439
T-Bolt Set is a replacement for all of our muf-
fler pipes which have channel type mounting.
Supplied with nut.
VT No.
U/M
31-2116
31-0223
31-1971 Pair
Note: For models with forward controls only
FXR Exhaust Bracket Mounting
Block fits 1982-86 FXR models.
Sold as each.
VT No. 28-0229
FXR Exhaust
Pipe Brackets,
zinc plated.
31-0189
50-1106
30-3019
Stock Type Rear Fender fits 1981-up FXR-FXRS models.
Replaces 59634-81A.
VT No. Item
Year
50-0768 Fender
Struts
Chrome Polished Fit
50-1064 50-0286 1982-86 FXR
50-1106 50-0285 1987-94 FXR
30-3017
30-3101
50-1064
50-0768
VT No. OEM
Type
31-0189 65670-82 Front
31-0188 65671-82 Rear
31-0188