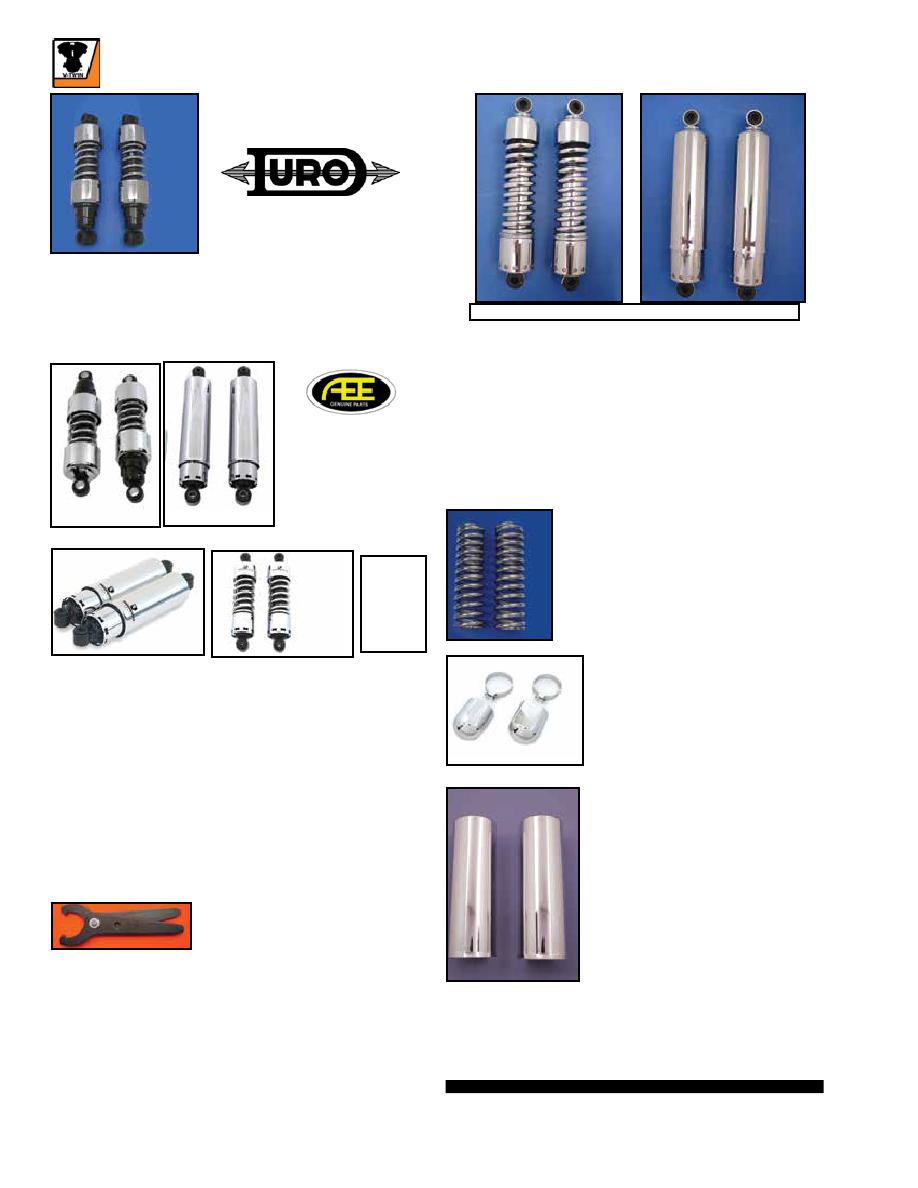 638
Chrome Shock Springs convert FL to FX
style exposed chrome springs or to replace
springs on FX models. Springs are stock ten-
sion. Sold as a pairs.
VT No.
OEM
Lgth Years
54-0151 54570-67 13.5" 1967-72 FLH
Shock Sets for FL-FLH-FX-FXE except FXR-FLT.
VT No. Style
Length Year
Type
54-0112 Stock
54-0113 Stock
54-0108* 1" Shorter
54-0107* 1" Shorter
*Note: Feature chrome body and springs, lower bike.
FL-FLH-FX
54-0110 54509-71A
54-0111 54500-67
28-0220 All
54-0112
54-0113
All shocks are measured eyelet to center of eyelet.
Shock and Shock Cover
Chrome Shock Covers are a 1950's
style top cover. They fit all models of
swing arm with stock shocks including
Electra Glide 1958-64, 1965-82 without
saddlebag guards. Replaces 54704-52
and 54705-52.
VT No. 54-0154
Chrome Shock Spring Covers.
VT No. 54-0155 and 54-0157 fit V-Twin
shock assemblies 1967 and later, with
upper spring retainers. VT No. 54-0402
is replica type for shocks which disas-
semble at lower eye.
VT No. OEM
Fits/Length
54-0155 54702-67 1967-72 FL-FX
9
54-0402 54702-56 1956-66 XL and

54-0156 54702-73 1973-84 Big Twin
Shock Tool for 1958-81 FL-FX scissor
type. Replaces 94700-65.
VT No. 16-0100
Duro Exposed Shocks feature nitrogen charge pump to fit
1973-84 Big Twins.
VT No. Length
54-0028 11"
54-0029 12"
54-0089,
54-0087
54-2004
54-0156
13.5" Shock Sets fit
1958-72 Big Twins.
VT No. Type
54-0027 Exposed
54-0030 Covered
Mount Studs not included with shock sets.
54-0027
54-0028
54-0030
Progressive Suspension 412 Series Chrome Shocks are manufac-
tured from the finest material available. Magnum 412 Series shocks
are nitrogen charged with six-stage automatic damping and an adjust-
able spring preload. Available with chrome spring and end caps. Shock
cartridge is not chrome. All shocks are measured eyelet to center of
eyelet.
Year/Model
12.0"
13.5"
54-2004*
without
cover

54-0089*
54-0087*
with cover
*Note: Denotes stock length shock. When installing other than stock
length shocks, tire to fender clearances must be checked.