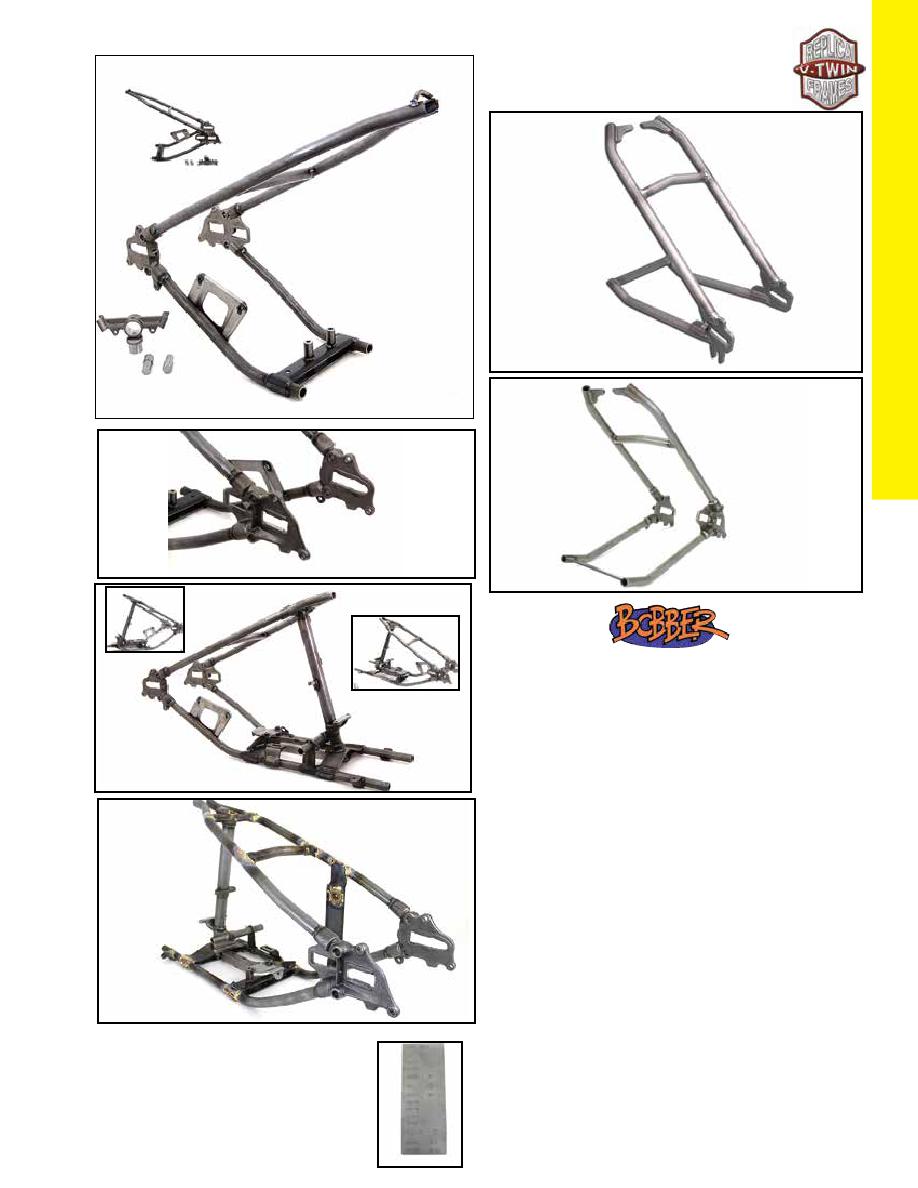 635
CLASSIC
51-0920
Hardtail
51-0781
51-0457
51-0823
51-0457
Exact
Replica!
51-0457
The Bobber Replica
The "Bobber" style was perhaps the first mainstream customized
motorcycle following the motorcycle's evolution from utilitarian
form of transportation to a vehicle used for recreation. From the
Harley–Davidson 'Shop Dope' , Nov. 16, 1937: "Suggestions for
preparing 1937 & 1938 'WLDR' model motorcycles for long- dis-
tance racing such as 200-mile race at Daytona, Florida. Remove
headlight, horn, muffler, speedometer, front mudguard, and rear
half of rear mudguard. (Some riders make up short narrow front
fender for sand kicked up by the front wheel.)." There are an
additional 12 points concerning the turning & preparation of the
motorcycle for racing, you can see the beginning of the bobber
style. It wasn't a big step for racing enthusiasts to copy the racers
of the day, strip off all unnecessary parts from there stock bikes to
reduce weight and make them at least look fast and lean. This was
the birth of the "Bobber", a styling cue named for the 'bob tailed'
rear fender and based more upon what's not there, a minimalist
form- follows function exercise. Plus it was a financially economical
look; any kid from the early 1950's could buy a beat up or army
surplus motorcycle for a few bucks, take off the some sheet metal
and the muffler and have a hot rod. Add a fancy paint job and
you have custom motorcycles to go along with the chopped and
channeled hot rod cars of the day. 'Speed' lines borrowed from the
art deco era & graphic embellishments like scallops made them all
look like they were going 100 mph whole standing still. Scallops
got longer and evolved into flames. Bobbers eventually evolved
into choppers, where frames were chopped & raked to accom-
modate extended front ends, everything got chromed, and the
motorcycles were customized from the frame out. But the Bobber
was where it all started.
Tedd Cycle
first use in
2003
Big Twin Weld-On Hardtails fit to stock frames for 1958-85.
VT No. Drive
Style
51-0920 Replica Chain
51-0781 Replica Drum
51-0457 Replica Assembly
51-0823 Replica
51-0827 Knuckle Rigid
51-0068 Forging Number Set
51-0827
51-0827