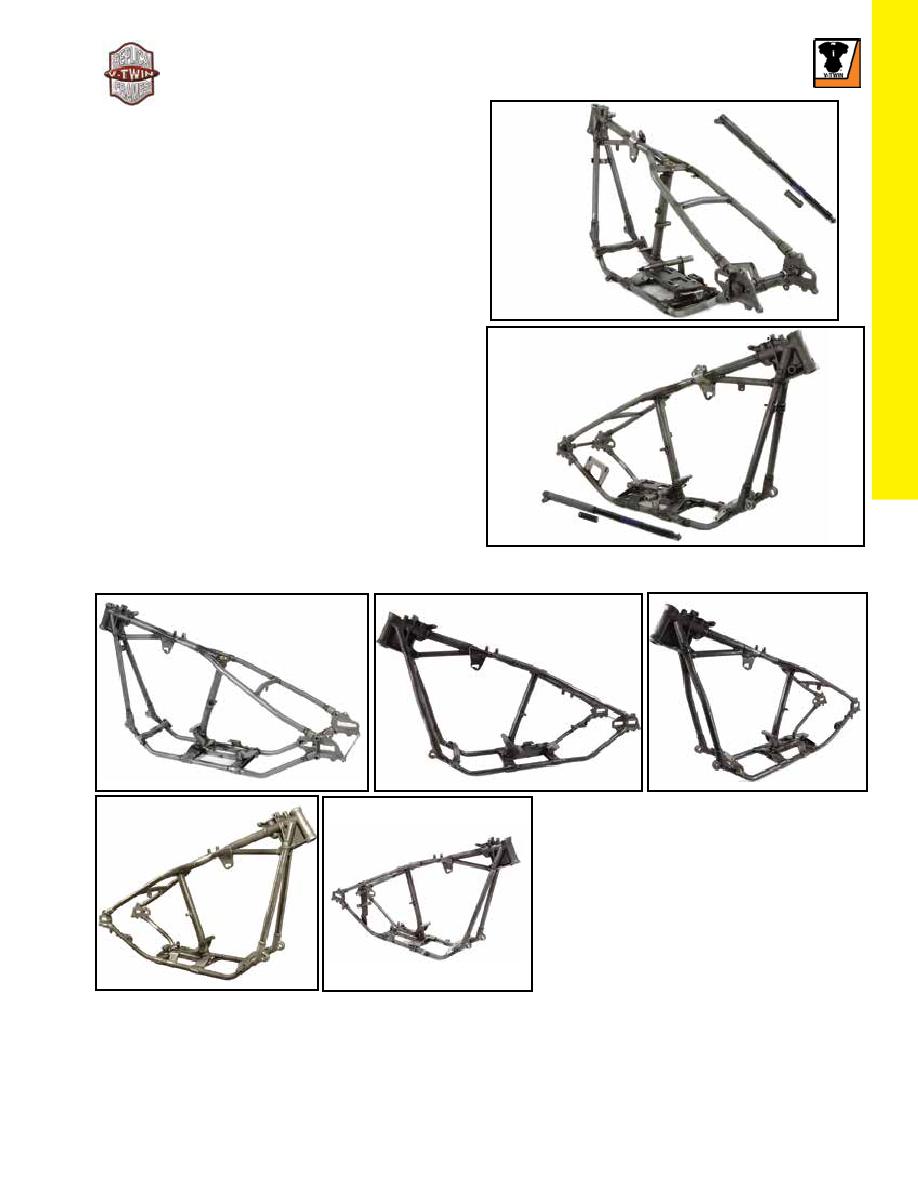 633
CLASSIC
V-Twin Replica Straight Leg Frame
Replica Straight Leg Rigid Frame with cross tube is for
chain drive models. This frame is an authentic reproduction
of the 1955-1957 straight leg frame with a stock 30° neck
rake. Details include forged parts as original neck, front and
rear engine mount, side car mounts, top seat yoke, axle, seat
post and footboard tabs. Front engine mount spacer will allow
installation of a Knucklehead or Flathead engine. The frame
has an indent on the left lower rear frame bar from tooling fix-
ture. A Bill of Sale is supplied. Frame will accept Panhead and
Shovelhead motors.
Note: Cross shaft, seat post, transmission
plate and rear axle assembly included.
Replica Authentic
51-1956 51-1955
51-1956
51-1956
V-Twin Mfg. is the sole
maker of Rigid Frames
Since 1995...
Over 10,000 Served!
Tire Style
Type
51-1957
51-1948 Disc
51-0096 Mechanical
51-0097 Mechanical
Related Components
VT No.
Item
Note
17-0945
19-0399
Transmission Sprocket Only
19-0447
Transmission Sprocket Kit
19-0448
Transmission Sprocket Kit
Frame will accept:
• Flatside tanks
• Softail oil tank
• 230 rear tire with chain
• 200 rear tire with belt
• +2" raised neck
• Stock rake, 30°
• Order related parts separately.
31-0859 oil tank bracket
• 44-1942 axle
• 51-0625 TC-88/Evolution rear
engine mount adapter
• 44-1946 axle collars
Retro Rigid
51-1957
Replica Retro Rigid Frame features original style
construction including forged parts in neck, side car
mounts and rear axle areas. Order rear mount for
TC-88 models separately. This retro rigid frame can
be fitted with a Panhead or Shovelhead engine with
a 4-Speed transmission. A tin inner primary 42-0617
must be utilized for this application. Use of a ¹⁄₂" offset
transmission mount plate and ¹⁄₂" offset motor sprocket
with splines will offer clearance to use a 200 or 140
rear tire with a chain rear drive. Additional clearance
can be achieved with the addition of a ¹⁄₄" offset trans-
mission sprocket.
*Note: For Evolution/TC/Shovelhead/Panhead engines.
51-1948
51-1957
51-1948
200
51-0096