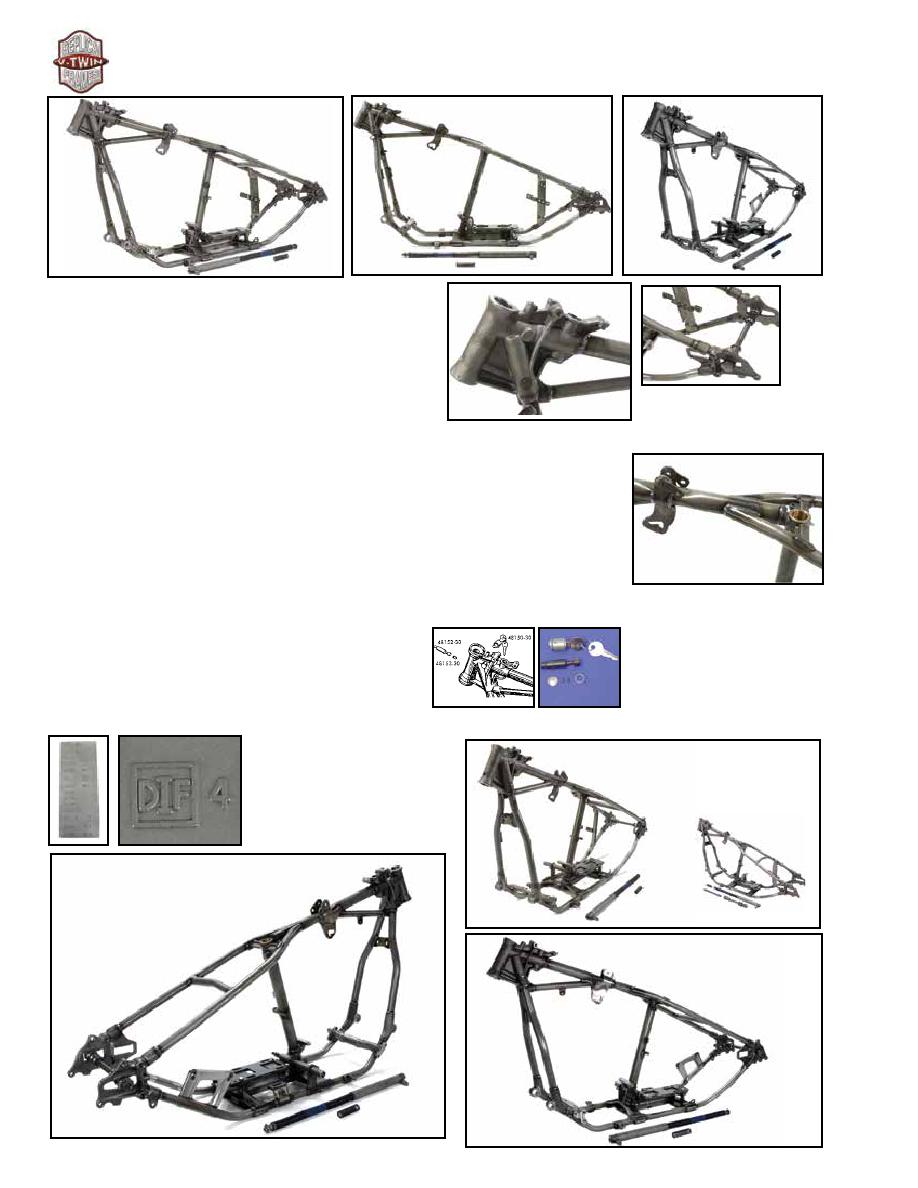 632
V-Twin Replica Wishbone Frame
Seat Area utilizes cast yoke
to accept stock seat post
bushing which is included.
Rear down tube has cast
front oil tank mount and
coil mount blocks installed.
Lower tube bushing is weld-
ed to secure lower seat post
lock nut.
Rear Section demonstrated
forged rear axle plates and
replica tool box mount for
authentic look.
Our replica frames are available for Big Twins from 1936-
99 for the original look and style of the factory.
V-Twin
TM
Replica Wishbone Frames are authentic reproduc-
tions of Big Twin rigid frames. Details include forged parts as
original in neck, front and rear engine mounts, side car loops,
top seat post yoke, footboard tabs and rear axle plates. Exact
blanked and formed stampings are utilized in their respective
places. Neck will accept steering key lock. Mechanical brake
cross shaft bushings, correct tool box mount and grease
fittings are installed. The 1949-52 model has lugs on inside
front down tubes to accept horn, 1948 model does not. Frame
will house Panhead or Shovelhead engines and a 4 Speed
transmission. Complete kits include seat post, axle and trans-
mission plate.
51-1953
51-1200
V-Twin Mfg.
TM
Replica Wishbone
Frame.
Immediate delivery
51-1200
51-1953 1953-54
Style features later
style top motor mount
and tool box mount.
51-1949
Complete Steering Head Lock
Assembly Kit includes cylinder
lock, two keys, pin, frame plug,
spring and plunger.
VT No.
Item
37-9021
51-0610
37-9021
"HM"
Replica Authentic Fits
51-1200 51-1951
51-1953R 51-1954 1954
51-1949 51-1250 1948
51-1956 51-1955 1955-57
Hallmark "HM" Series is with Forging Hallmarks!
Raw Steel Frame Forging
Hallmark Plate is an accurate
investment for reconstruction and
restoration of 1936-1957 rigid
frames, includes various forging
logos and numbers.
VT No. 51-0068
51-1953
"HM" is our updated version with forging hall-
marks on many of the components. The follow-
ing forged parts with Hallmark numbers and
marks: seat yoke, front motor mount, side car
loops, rear axle plates and transmission front/
rear mounts.