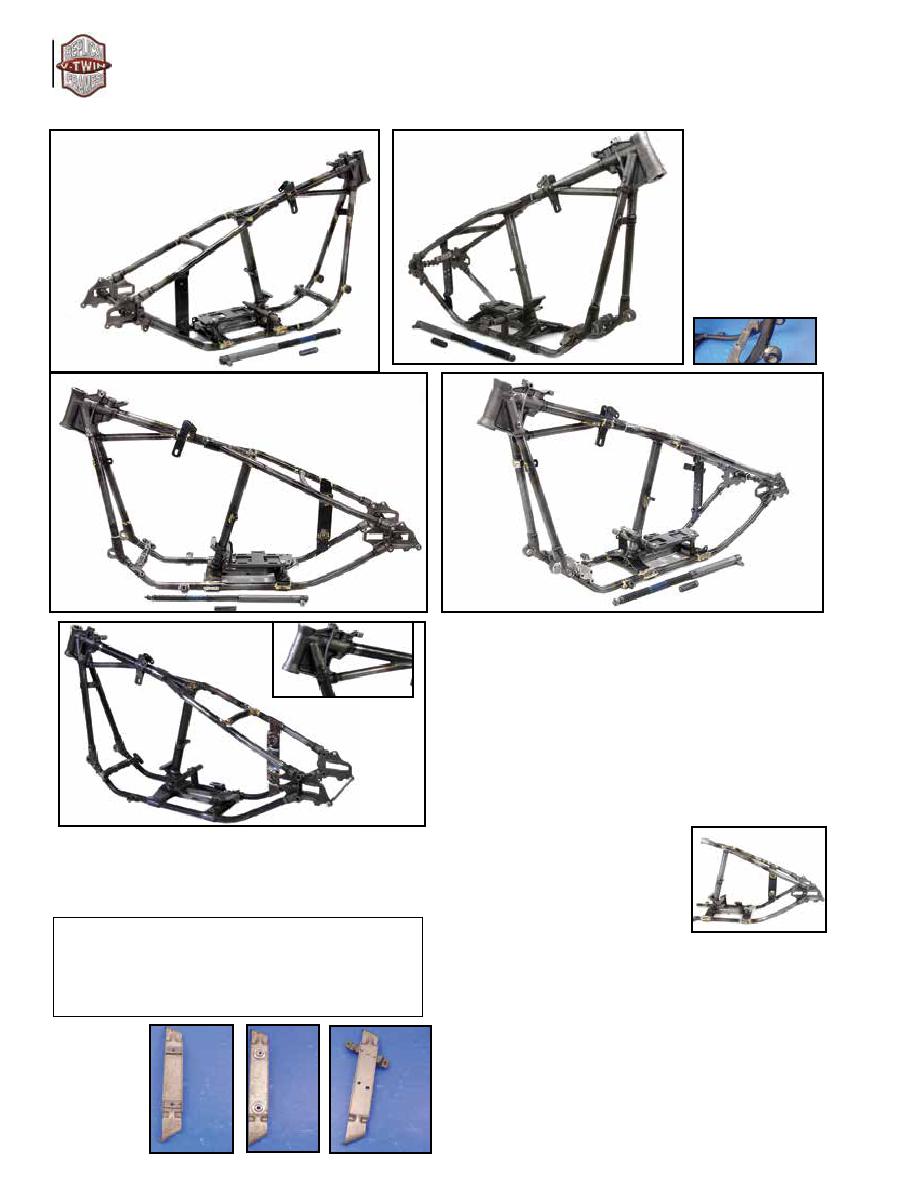 630
Replica Frames...the difference is
REAL!
The Construction
V-Twin™ Replica Frames feature steel forgings in neck, front and rear engine
mounts, rear axle plates, swingarm and shock mounts. In this process, the steel
is first fired as red hot ingot, next huge hammers compact and orient the grain
structure into a rough shape of the parts. Subsequent hits form the part into its
final shape, after which it is machined and heat treated which results in increased
strength and resistance to wear. The related components used in construction are
accurately formed stampings and drawn over mandrel seamless tubing which is tig
welded together during final assembly.
Over 5200
Served
Since
1995!
Use replica mount
kit for mounting
coil.
V-Twin Replica Knucklehead Frame
V-Twin
TM
Replica Knucklehead Frame is an authentic repro-
duction of the factory style frame. Details include forged parts as
original in neck, front and rear engine mounts, side car loops, top
seat yoke, footboard tabs and rear axle plates. Exact blanked and
formed stampings are utilized in appropriate areas. Rear fender
cross bar is supported by exact duplicated "saddles" brazed at
each end. Seat post and mechanical brake cross shaft bushings,
correct tool box mount and grease fittings are installed. The 28°
or 29° neck angle will accept inline spring forks. The frame will
accommodate Knucklehead or Big Twin Flathead Engines and 3
or 4 Speed transmission only. Knucklehead frames require pur-
chase of clamp on coil bracket kit VT No. 49-0099.
*Note: Includes seat post, transmission plate and axle assembly.
51-1041
Knucklehead Frame
VT No. Year
Rake #1
#2
#3
51-1040 1936 28° Rectangular Tool Box Pads No 5th Mount 7/8 Tank Brace
51-1039 1937 28° Rectangular Tool Box Pads 5th Mount
51-1041 1938-40 28° Round Tool Box Pads
51-1947 1947 30° 2 Tool Box Holes
Square
1936-37
Round
1938-40
2 Bolt
1941-47
Toolbox
Bracket
Details
51-1947
51-1040
Accepts Knucklehead or BT Flathead engine and 3 or 4-speed
transmission. Includes seat post, brake cross shaft, rear axle
assembly, transmission plate and a motor alignment plate
for safer shipping. Cross shaft bushings, tool box mount and
grease fittings are installed. Forged parts: Neck, front and
rear engine mounts, yoke and rear axle plates. Brazed parts:
Top motor mount, front tank mount, sidecar loops, footboard
mount, transmission strap, center post strap, rear fender cross
bar saddles, oil tank mount and upper rear frame bars at tank
tube.
*Note: For original look on rear axle plates, the rear brake slot
on the left side must be cut out at the front. We have left this
closed for builder to remove as desired.
*Note: Seat post and
cross shaft bushings may require further reaming for proper fit.
Therefore frames will not be accepted for return
Welded Brazed Brazed Joints Year
Rake
Joints 13
Places Update
51-1936 51-1040* 51-1936
51-1039*
51-1041 51-1938* 51-1939
51-1941 —
51-1942
51-1947* 51-1946
51-0827
51-1938
51-1942
51-0827