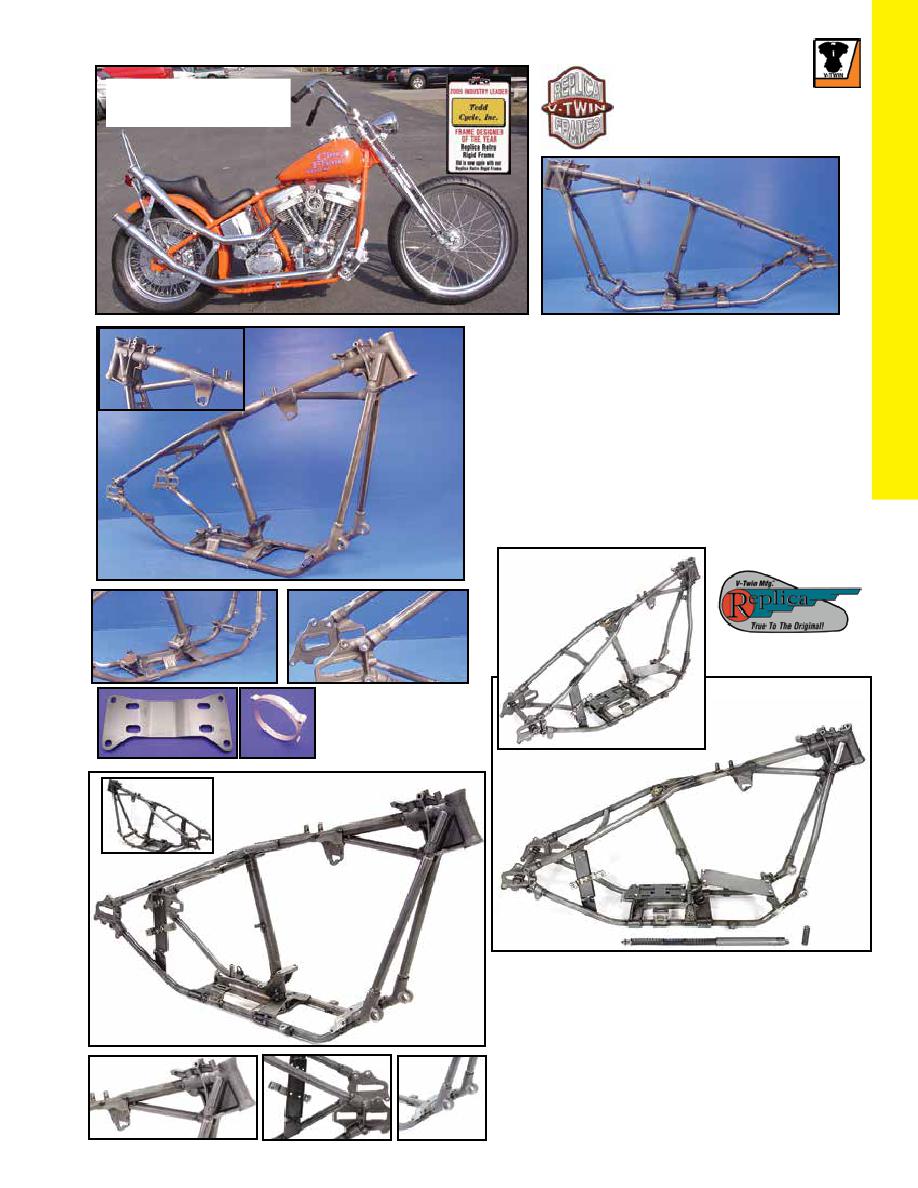 629
CLASSIC
51-1948
Replica Retro Rigid Frame fea-
tures original style construction
including forged parts in neck, side
car mounts and rear axle areas.
10³⁄₄" between the rear axle plate.
Order rear mount for TC-88 mod-
els separately.
Frame will accept:
• Evolution or TC-88 engine,
Shovelhead, Panhead, Knucklehead
• 5 or 6 Speed Softail Transmission
• Flatside Tanks
• Softail Oil Tank
• 230 Rear Tire with chain
17-0859
19-0570
51-1957
Related Parts for 1" off-
set.
VT No.
Item
17-0859
19-0570
51-1957
Cincy Flyer from the 2008
show, built with the 51-1957
frame.
19-0570
Retro Replica Rigid Frame are available with cross shaft
tube to accept stock mechanical brakes and star hub wheel.
Replica retro rigid frame original style is updated to accept flat
side tanks. Original forged parts include: neck, side car mounts
and rear axle area plates. For all Big Twin engines with 4, 5
or 6 speed transmission. Features +2" raised neck and 10.75
between the axle plates. Will fit mechanical brake drum assem-
bly with a 160 x 16" tire.
VT No. Style
51-0096 Straight Leg
51-0097 Wishbone
51-0096
51-0097
• 200 Rear Tire with belt
+2" Raised Neck
• Stock Rake, 30°
• Order related parts separately.
• 44-1942 axle kit
•
44-1946 axle collars
VT No. Style
51-1948 Wishbone
51-1957* Straight Leg
*Note: Will not accept seat
post