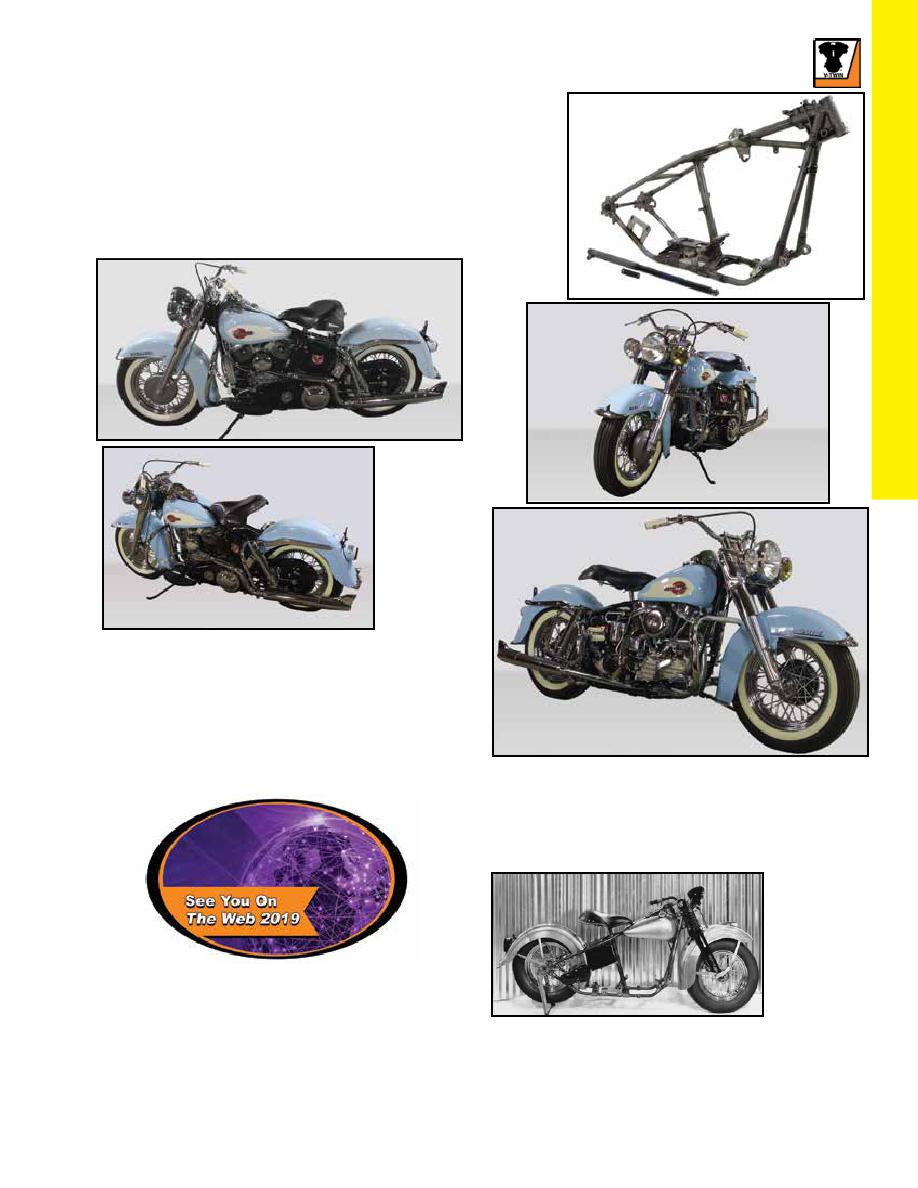 627
CLASSIC
You'll want to
take a closer
look.
Original styling!
Want a really dif-
ferent look ...
How about
"STOCK"?
1959 Duo-Glide Replica Kit includes fully assembled motor,
transmission, wheel assemblies and fork. All parts included
except paint and assembly. See web parts build list.
VT No. 55-1959
V-Twin Mfg. Replica Swingarm Rolling Chassis Kit features
and appropriate style components for each
year as listed. Accepts a Panhead or Shovelhead engine.
VT No.
Year
Model
55-2525 1958-59
55-2567 1960-65
55-2566 1966-72
55-2526 1973-84
55-1959 1959
55-2018
Replica 1959 Duo-Glide Kit
55-1959
Sold unassembled
and unpainted.
55-1959
1957 Panhead is an authentic style reproduction of the orig-
inal, complete with all parts to assemble a motorcycle. Parts
may be substituted as requested for each build. Kit is sold
unassembled and is not provided with a title for registration.
Kit can be assembled with ordinary mechanic's tools and
includes parts book and maintenance manual. This is a com-
plete kit with foot shifter and chrome accents. Transmission
and 74" V-Twin replica motor are assembled and factory test-
ed. Check your state for registration and title requirements.
Manufacturer's Statement of Origin is supplied for the frame
and engine.
VT No. 55-1957
V-Twin Mfg. Rigid Replica Rolling Chassis include Replica Fork
ed components as appropriated for model years listed. Available in chrome or restoration (resto)
finish. Available in hand or foot shift style tanks.
HandShift Handshift Footshift Footshift
Chrome Resto Chrome Resto
Year/Model
—
55-1937
—
—
55-2536
55-2539
55-2529
55-2522
55-2532
55-2523
—
—
55-1956
—
—
—
55-2537
55-2546
55-2524
55-2533
55-2531
55-2527
55-1946
—
1947 Replica Knucklehead "Bull"
55-2538
55-2541
55-2528
55-2534
Rolling Chassis Kits
Replica Straight Leg Rigid Frame with cross tube is for chain drive mod-
els. This frame is an authentic reproduction of the 1954-1957 straight leg
frame with a stock 30° neck rake. Details include forged parts as original
neck, front and rear engine mount, side car mounts, top seat yoke, axle,
seat post and footboard tabs. Front engine mount spacer will allow installa-
tion of a Knucklehead or Flathead engine. Cross shaft may be removed for
use with hydraulic or disc brakes. Disc or drum brake tabs are available sep-
arately. Seat post bushing and mechanical brake cross tube bushing may
require reaming prior to assembly. The frame has an indent on the left lower
rear frame bar for tooling fixture. A Bill of Sale is supplied.
VT No. 51-1956