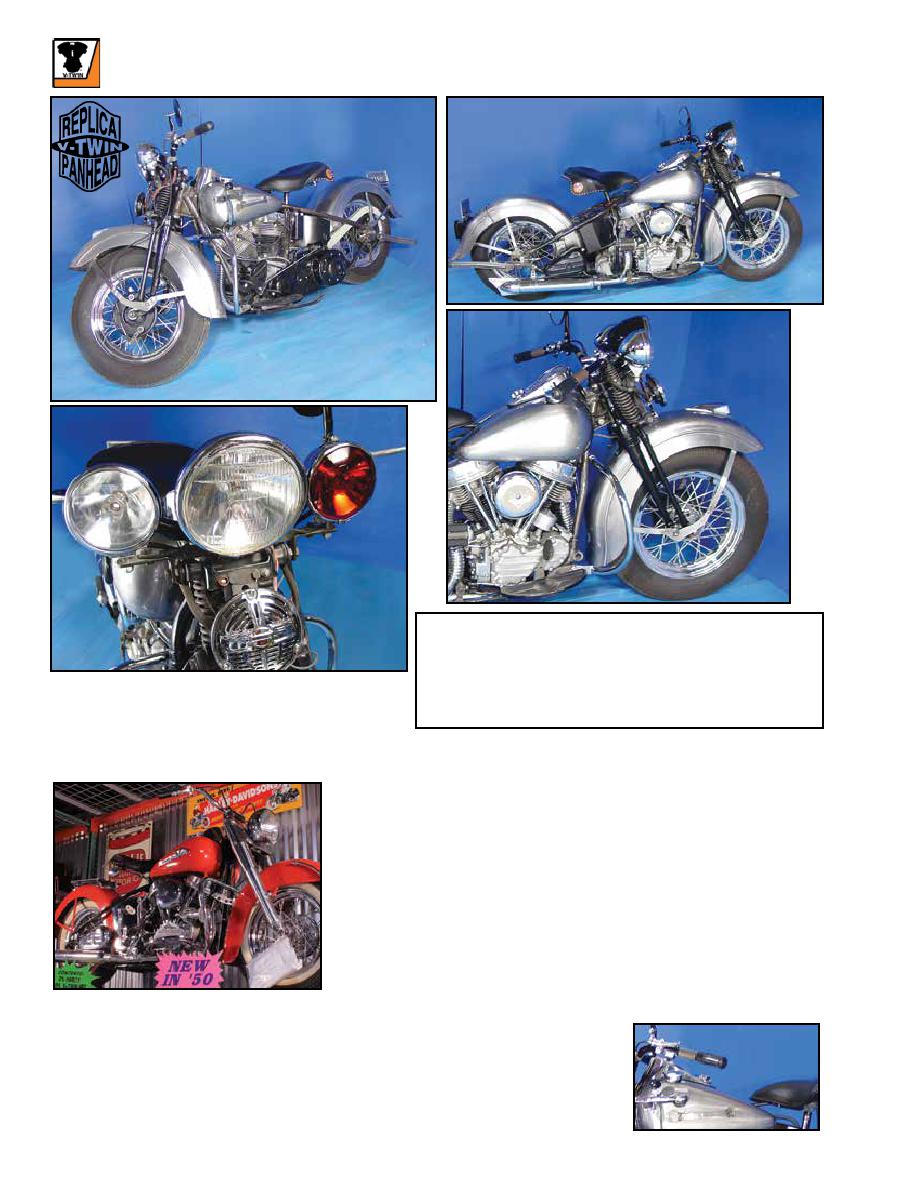 626
1948 Replica Panhead
• Available as a complete project kit based on an authentic V-Twin Replica
Wishbone Frame.
• Unassembled kit is available with parts necessary to complete an entire
Exemplar Panhead.
• Kits are available in either chrome, with chrome plated components and
accessories, or as a restoration style with restoration finishes of black and
parkerized components.
• Choose hand or foot shift control assemblies for desired configuration.
• Supplied with a completely assembled and test run 74" V-Twin Replica Panhead
engine with either aluminum or chrome detailing.
• Pre-wired dash base assembly
• Parts book and maintenance manual included
• 4-Speed early transmission is assembled into the V-Twin
gear box, complete with ratchet top and chrome or restoration particulars.
• See the V-Twin Mfg.
catalog for details on all items included in this kit.
• Replica Motorcycle Kits are sold as component parts. Manufacturer's Statement
of Origin (MSO) is supplied for the frame and engine.
• Check your state for registration, title and licensing requirements
Handshift
Handshift
Footshift
Footshift
Chrome
Resto
Chrome
Resto
55-5003
55-5008
55-5002
55-5007
55-5009
55-5010
55-5011
55-5012
55-5013
55-5014
55-5016
55-5017
Kits include all parts
necessary for complete
construction!
Our Replica is supplied with all the options included. There are
no extras. There is nothing else to buy. You can plan your con-
struction project up front and actually be able to visualize the
end result. You will not end up spending extra time and money
searching for parts that are virtually impossible to find. In the
long run, you would spend more time and money on parts than
you would the V-Twin kit.
Left Side Detail
includes Rocker
Clutch and
Diamond Primary
Authentic Fork
Look!
Accessories include original style
Spotlamps!
Just Add...
Industry First!
First Assembly done Raw
Finish in 1998!
1955 Panhead Replica. Museum quality.
VT No. 55-1520