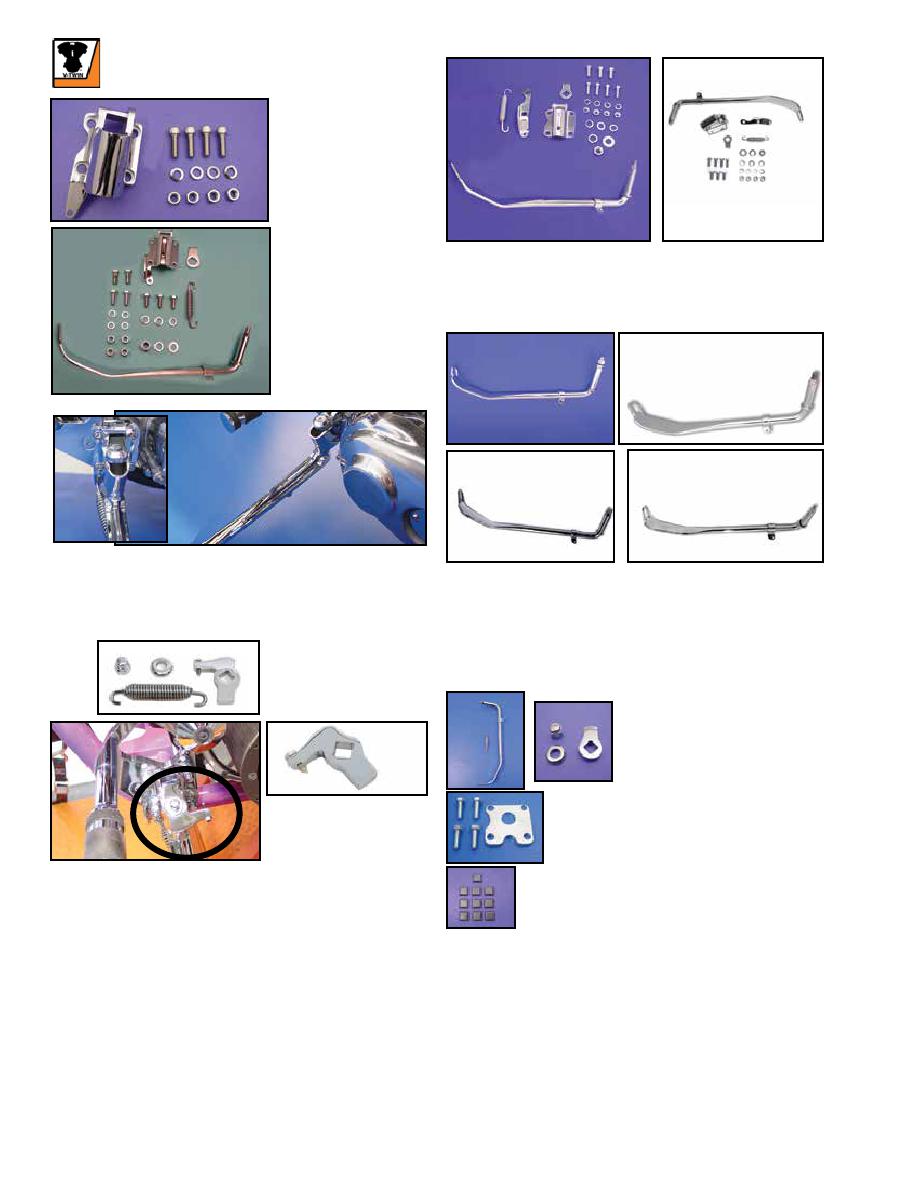 618
618
Chrome Kickstand Assembly as shown is for 1936-85 Big
Twin-FL-FX-FXWG and for 1984-99 FXST.
VT No.
Year/Type
27-1555 1936-85 Stock
27-1617 1936-85 Extended for 2-4" Front Fork
Chrome Kickstand
Assembly fits 1936-85
models. Kit includes late
style mount bracket with
built in spring plate, lock
tab, spring and flat bot-
tomed forged side stand
with mount hardware.
VT No. 27-1720
Forged Big Twin Kickstand is made of heat treated steel
and chrome plated. It features a flattened base as original.
Extended types fit extended fork lengths as noted.
VT No.
OEM
Length
27-1511 50061-36 Stock
27-1603
27-1512 Extended 2-4"
27-1513 Extended 4-6"
27-1603
27-1511
Chrome Smooth
Kickstand Bracket is
one-piece forged design
with recessed mount
hardware.
VT No. 27-0250
Kickstand Bumper Pad is for use on all 1970-
85 Big Twins with aluminum primary. Adhesive
backed for quick installation. Sold in a 10 pack.
VT No. 28-0704
Kickstand Lowering Wedge fits under the
mount bracket to change the angle of the
bracket and assembly, when using shock or
fork lowering kits.
VT No. 31-0215
Kickstand
27-1555
Custom Kickstand Assembly features full forged construction
with chrome smooth contour design, including recessed mount
screws for 1936-99 Big Twin, 4-Speed, 1984-up Softail models.
Stock length.
VT No. 27-0253
Forged Kickstand with spring fits
1936-84 Big Twin.
VT No. Item
27-0976 Stand Kit
27-0546 Lock Kit
27-0546
27-0976
27-1617
27-1512
27-1513
Chrome Adjustable
Kickstand Locktab fits
1936-up Big Twin models.
Prevents stand from hitting
primary cover.
27-0514
27-0779
VT No.
Item
Year
27-0514
27-0779
Dan Henke Hard to Find Parts
VT
No.
OEM
Item
Finish
37-1213 490
37-1214
37-1215 7030
37-1216
37-1217 7035
37-1218 42280-35
37-1219 50634-14
Footboard Bolts Parkerized
37-1220