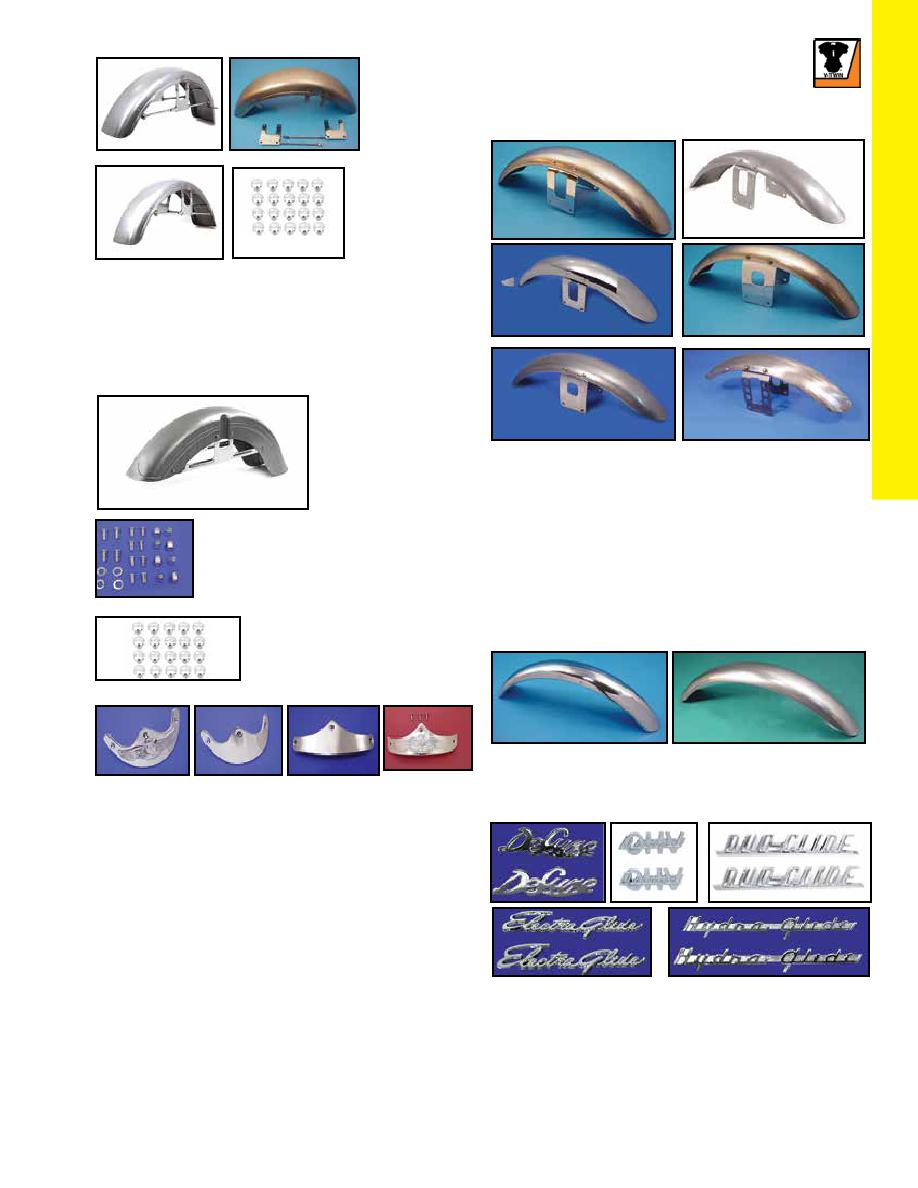 611
CLASSIC
Front Fender for
35 and 39mm Fork
Chrome Front Fender Allen Head Screw
Kits contain all the necessary screws for
mounting front fender brackets to fender and
bracket to fork legs. Use on all 1973-up FX
stock type front fenders.
VT No. 37-6367
Springer Style Fender
fits 1973-up 35 and 39
mm models with 19" or
21" wheels.
VT No. 50-0116
Emblem Sets feature threaded studs to attach to fender as
original accessory, but can be mounted to fenders and sad-
VT No. OEM
Finish
Type
38-6674 11530-46 Nickel
38-0923
38-6675 91583-52 Nickel
38-6676 91582-50 Chrome Hydra-Glide
38-6680 59195-58 Chrome Duo-Glide
38-6555
37-8842* 7613A
Chrome Fender Tip is stamped or smooth. Fits fender width
as noted.
VT No. Style
Width Type
50-1055 Eagle 4"
50-1050 Smooth 4"
50-1049 Smooth 5"
50-0915 Eagle 5"
50-1055
50-1050
50-1049
50-0915
Universal Sport Style Front Fender is rolled on edge and in
front. The brackets are not included.
VT No.
Type
50-0133 Chrome (drilled)
50-0195 Plain
50-0195
50-0133
Fender Rivets fit 1973-up FX-XL
models, stainless, pack of 25.
VT No. 37-6370
50-0392
50-0119
Narrow Type Front Fenders for 35 or 39mm forks feature
a raw or chrome steel finish with brackets riveted on. VT No.
50-0122 fits 19" wheels on 1973-90 XLX models, 50-0164 fits
1973-up models with 21" wheels and 1991-up with 19" or 21"
wheels.
VT No. Finish
Wheel
Brackets
50-0122 Plain
50-0136 Plain
50-0123 Chrome
50-0164 Raw
50-0165 Raw
50-0889 Raw
50-1140 Raw
50-0122
Front Stock Type Fender in raw steel, has chrome tubular
type brackets riveted in place.
VT No. Year
Type
Cable Bracket
50-0392 1970-83 Assembled Left
50-0119 1970-83 Bobbed
50-0789 1984-91 Assembled
37-6370 —
50-0136
50-0123
50-0165
50-0889
50-0164
50-0789
37-6370