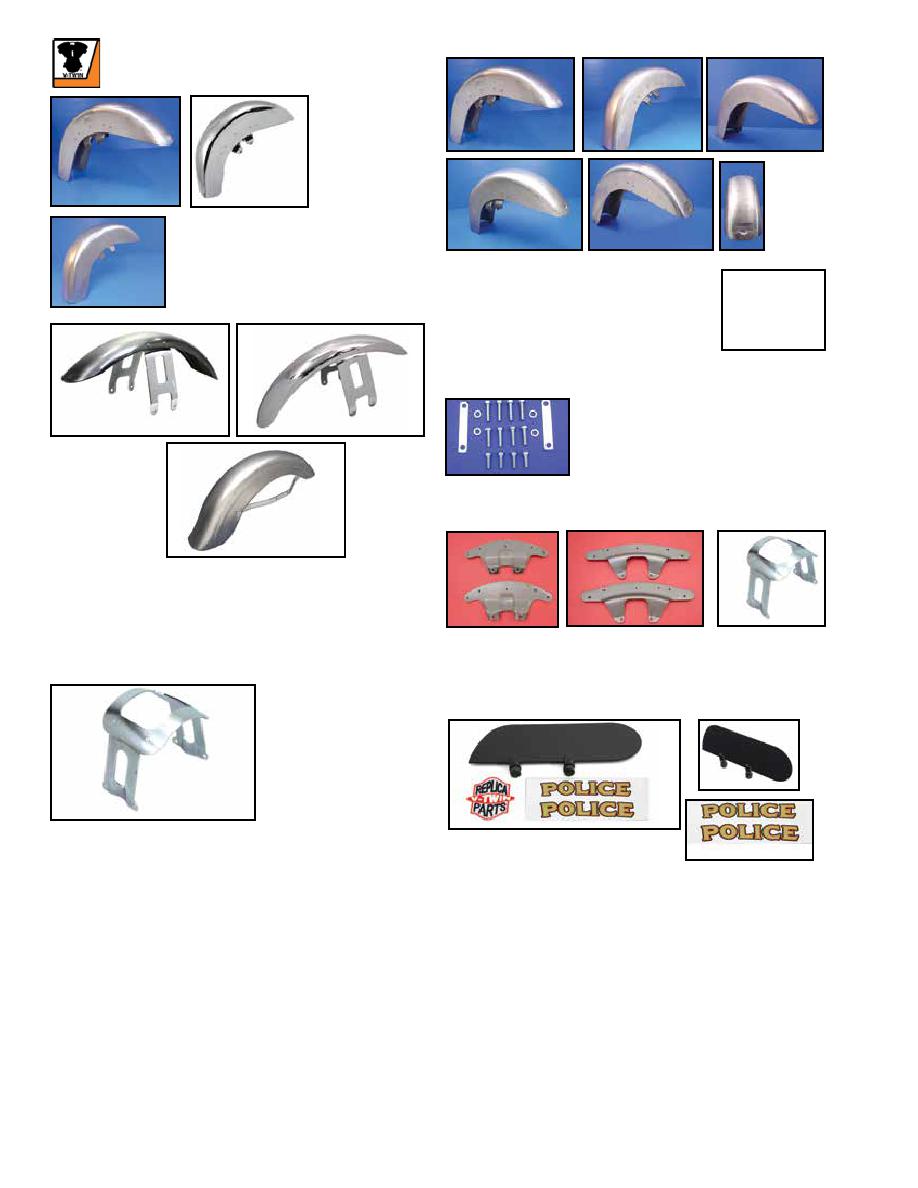 610
Glide Fender
FLH Front Fenders fit 1949-84 Wide Glide type forks for 16"
wheels.
VT No.
Type
Note
50-0124 Replica Raw Without trim holes
50-0137 Replica Raw With trim holes
50-0117 Replica
50-1081 Replica
1979-84 with fender tip indent
50-0140 Replica
Glide Fender Brackets replace braces on 1948-84 FLH fend-
ers for repair or mounting on custom 7" wide fenders.
VT No.
Year
31-3967 1958-84
31-0539 1949-57
50-1148
Replica Glide Raw Finish Front Fender
replaces 59000-48A with early type brack-
ets riveted on. Fits 1949-57.
VT No. 50-0742
All fenders
listed fit 41mm
wide style
glide fork
assemblies.
Front Fender Mount Kit attaches fender
to original style assembly.
VT No. Model
Year
Finish
37-0830 FXWG
50-1086 FLH
2292-8 FLH
17-0941 FL Locktabs 1975-84 Zinc
37-0895 FLT
50-1086
50-0124
50-0137
50-1081
50-0117
Replica Fender for
1949-84 FLH.
VT No. Finish
50-0124 Raw
50-1144 Chrome
50-0124
50-0140
50-1144
Police Fender Marker Plate fits 1936-84 45" and Big Twins.
Order decal set separately.
VT No. Item
50-1530 Marker Plate
48-1981 Decal Set
50-1541 Set
50-1541
50-1530
48-1981
Glide Fender Bracket,
zinc finish.
VT No. 50-1148
50-0127
50-0115
50-0128
Glide Type Fenders are finished as noted, include chrome or
raw braces riveted on. Fit 19" and 21" tires only for 1949-84
FL.
VT No. Fender
Braces
50-0127 Plain
50-0128 Chrome
50-0115 Raw Springer Type
31-0539
31-3967
50-1148