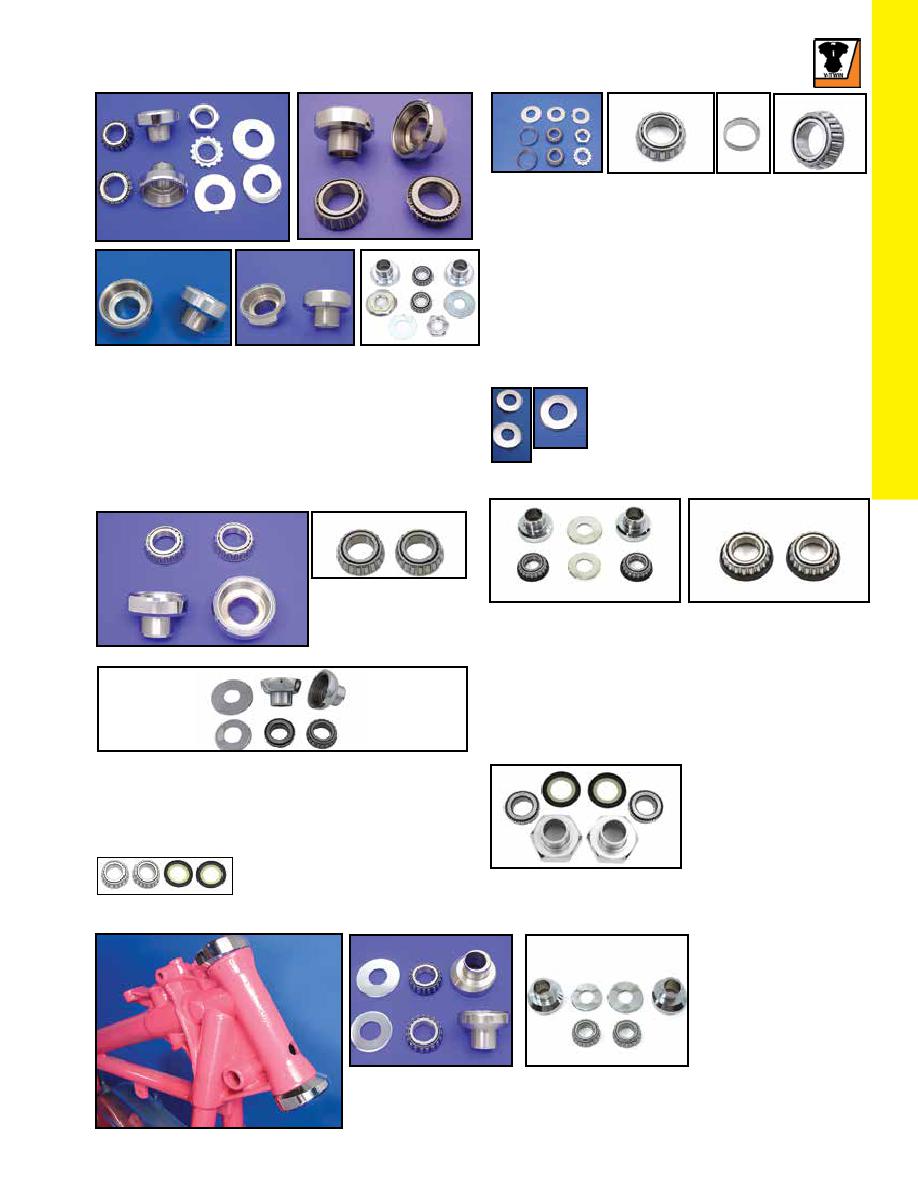 607
CLASSIC
Big Twin Neck Kit
Big Twin Neck Cup Assembly available as a complete kit which
includes chrome neck cups with races installed and a chrome top
nut. Available as component parts for 1948-86 Big Twins.
VT No.
Item
24-0122 Kit, Complete with chrome cups
24-1751 Kit, Complete with zinc cups
24-0253 Kit with cups
24-0121 Cup Set, zinc
24-0119 Cup Set, chrome
24-1071 Without races, Cup Set, chrome
Dust Shields.
VT No. Finish Fits
Model
24-0618 Chrome
24-0112 Zinc
24-0624 Zinc
24-0117 Zinc Upper & Low 60-up FX-FL
24-0114 Chrome Upper & Low 60-up FX-FL
Fork Stem Bearings and Races.
Order separately as noted.
VT No.
Item
Type
U/M
24-1282
12-0334
12-0365
24-0118
VT No. Brand Year
Item
U/M
12-0384 Peer
12-0823 VT
12-0335 Timken 1960-up Big Twin
12-0348 Timken 1960-up Big Twin
12-0383 Peer
24-0253
24-0122
24-0119
24-0624
1960-84 Chrome Cup Set
for use with early fork tins.
24-0126 Cup Set
24-0118 Bearing, pair
24-0112 Lower Cover
"Raked" Fork Neck Cup
Kit replaces existing remov-
able cups to provide 3° rake
when installed. Kit includes
cup set, bearing set and
dust covers with instructions.
Fits 1949-87 Big Twin.
VT No. Finish
24-0274 Stainless
24-0283 Chrome
Hexagon Neck Cup Kit
includes 1" neck bearing set.
VT No. 24-0305
Chrome Smoothie Neck Cup Kit includes races, 1" bearings
and dust cover set for Big Twins.
VT No. Item
24-0322 Kit
24-1156 Top Cover
24-0112 Lower Cover
Sealed Timken Neck Bearings feature built in rubber seal
where bearing contacts top of race. Available as a complete kit
with chrome cups that includes dust shields or as bearings only
that can be used to update models where races are pressed
into frame neck.
VT No. Item
24-0103 Chrome Cups with races and Sealed Bearing Kit

24-0102 Two Sealed Bearings; 1989-up FXST, 1989-94 FXR

24-0103
Raked Kit
24-0126
24-1282
24-0121
Note: Rake neck kits are for
show applications only and
require longer fork tubes to
be installed.
12-0348
24-0274
24-0118
Sealed Bearing Set for 1" stems.
VT No. 24-0089
24-1751
12-0823
24-0102
Steering Stem Bearing Kit
VT No. 24-1750
12-0334
24-0283