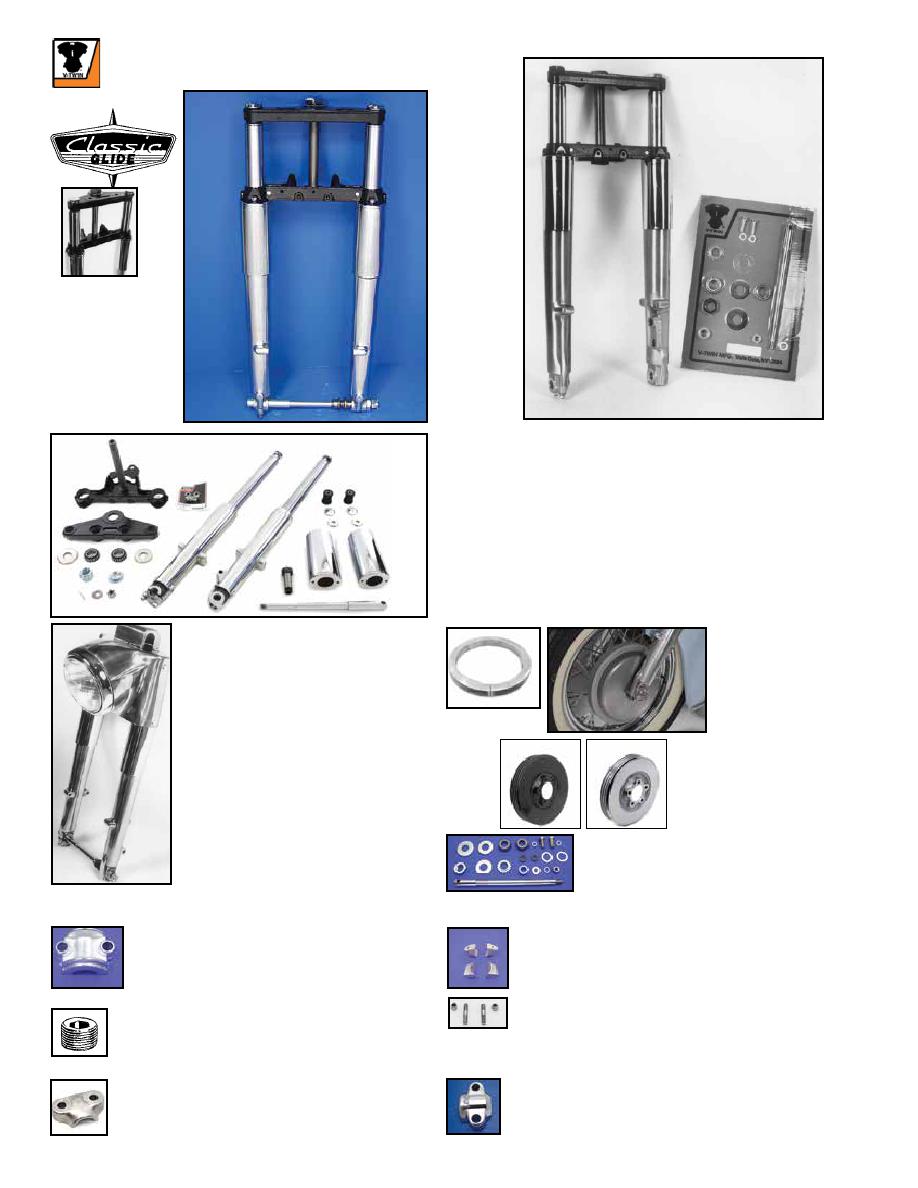 596
Glide Drum Brake Fork
Complete Fork Assembly
VT No. Year
Brake Side Slider
24-0789 1949-59 Left
24-0790 1949-57 Left
24-0755 1949-59 Left
24-0756 1960-66 Left
24-0757 1960-66 Left
24-0866 1967-68 Left
24-0880 1969-71 Right
Leg Assembly Only
24-0791 1949-68 Left
24-0754 1949-68 Left
24-0845 1969-71 Right
24-0846 1969-71 Right
DRUM
1949-59 Units
feature early style
solid mount trees.
24-0789
Weld On Tabs of cast alloy are used to restore
FLH Glide legs to accept fenders, they must be
welded on to stock or turned down legs. Sold as
four piece set.
VT No. 24-0152
Glide Axle Leg Caps are cast for 1949-77 FLH
type. They replace 45836-48.
VT No. Finish
24-0327 Zinc
24-0337 Chrome
Lower Leg Drain Allen Plug replaces 45830-48 on
1948-76 FLH lower legs.
VT No. Finish
37-8777 Zinc
9909-2 Chrome
37-0062 Stainless Steel
Fork Installation Kits for 1949-66 FLH.
VT No. 24-0777
Hardware
Big Twin Glide Lower Leg Cap fits 1977-99.
VT No. OEM
Finish
24-0328 45832-77 Polish
24-0336 45832-77 Chrome
Chrome Fork Slider Bottom Cap Stud and Nut
Kit includes locknuts and studs.
VT No. Year
Model
8813-4 1949-77 FLH Wideglide
8826-6 1973-up Showa and Kayaba
24-0327
Glide Fork Assemblies feature black lower triple tree without lock tab and
accept a left or right side drum brake assembly with chrome or polished slider.
The 1960-71 Style has a black top tree with 3" center to center spacing which
will accept rubber bushing kit
VT No. 28-0221. VT No. 25-2134 riser clamp fits two piece bars. VT No.
25-2132 Riser Kit fits one piece bars.
Both VT No.'s 25-2134 and 25-2132 riser kits allow the use of 24-0250 handle-
bar clamp cover on aluminum cowl. Both forks accept VT No. 24-0251 alumi-
num cowl set or 3 piece chrome VT No.'s 24-9913 or 24-9909 stainless panel
set, not included. Includes slider covers VT No. 24-0190 in chrome. Both have
polished aluminum lower sliders with late 1977-up type internals installed in
41mm stock length hard chrome fork tubes. Axle nut, neck bearing, top crown
nut and dust covers included.
Cooling Ring
clamps to brake
drum on 1949-72
Big Twins.
VT No. 24-9982
24-0880
Cast Drum with fins.
Fits 1949-66.
VT No. Finish
23-0081 Black
23-0083 Chrome
23-0083
Chrome Fork Slider Axle Cap Right Side is alloy mate-
rial with natural finish and fits models with 35 and 39mm
fork tubes.
VT No. 24-0507
23-0081