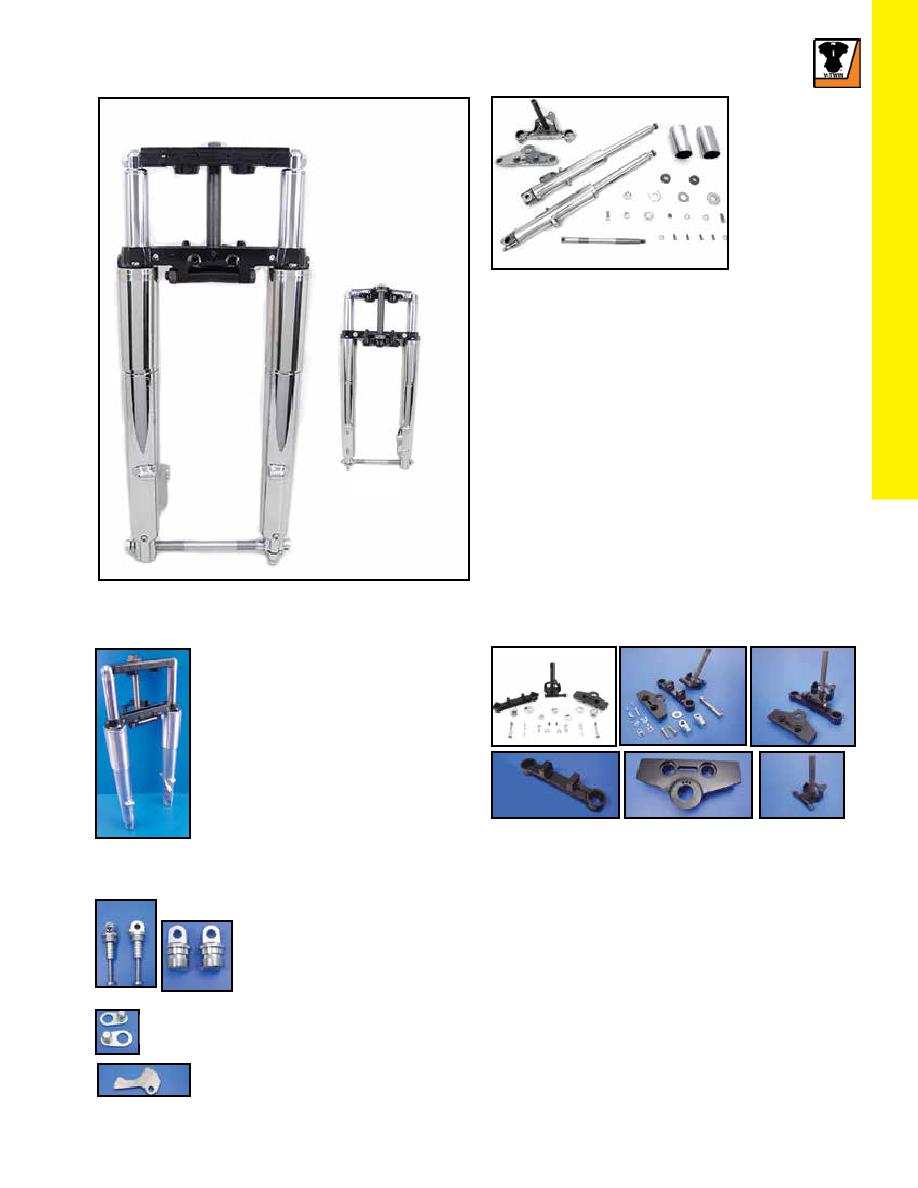 595
CLASSIC
1973-84 FLH Glide
VT No. Item
Slider
24-0520 Kit
24-0795 Kit
24-9943 Kit Custom Forks include 24-0829 black trees
which have a solid mount top. Trees with
4 3/4" center to center riser mount holes.
24-9904 top tee cover and tins
24-1240 Kit
24-0519 Leg Assy Right and Left with Chrome Lower Sliders
24-0087
*Note: V-Twin fork assembly is shipped complete with axle,
nut, spacer, top nut, bearing, cone nut and dust cover. Sliders
Adjustable Fork Assembly
Adjustable Fork Assemblies. FLH include
black adjustable rake triple tree set, polished
sliders with 1977-up type internals installed,
stainless slider covers, axle and nut, fork
bearings, and cone nut. VT No. 24-2525 and
24-0790 accepts 23-2219 caliper. 24-0550
accepts left side brake component kit VT No.
23-9218. Units accept VT No. 28-0221 riser
bushing sets and VT No. 24-9910 top tree cover
which place riser stems 3.5" center to center.
VT No. Type
Year
24-0550 Left 1949-66
24-1865 Left
24-1866 Right
24-2525 With Chrome Sliders 1972-84
24-0790 Polished
FLH Style Fork
Assemblies are
available as single
disc model 1972-84
type, which accepts
large banana caliper
to accept a 10" brake
disc. They include
chrome slider covers,
and chrome triple
trees that accept alu-
minum cowlings and a lower tree that includes a padlock tab.
Also included axle and nut, neck bearings, top nut, crown nut,
chrome tapered aluminum sliders with stock length tubes and
all 1977-up type internals installed. Lower sliders and tube
assembly with internals also available in pairs.
Note: When
using a 1972 wheel order axle 44-0228 separately.
Adjustable Fork Tube Plugs.
VT No. Year Finish
24-9957 1950-76 Zinc
24-0828 1977-84 Zinc
24-1828 1977-84 Chrome
24-2525
24-0828
24-9957
Adjustable Position Tab Set replaces 45710-58 on
all adjustable forks 1950-up.
VT No. 24-0124
Fork Stem Lock Tab for 1948-84 FLH-FXWG.
Replace broken, bent or missing tabs on stock
lower triple trees, to be welded on.
VT No. 51-0103
Black Adjustable Fork Tree Kit is available for 1949-76 FLH,
1977-84 FLH, 1980-86 FXWG 41mm fork legs. Showa type
is 1977-up. Kits feature swivel type plugs which are included.
Lower tree has two positions for changing rake and fork lock tab.
Kits use VT No. 28-0221 rubber bushing kit and VT No. 24-9910
VT No.
Fits
24-0799
1949-76 FLH Complete Set, Black
24-0797
1977-84 FLH 80-86 FXWG Complete, Black
24-0004
24-1055
24-5001
24-0817
24-0852
Lower Tree only with Stem without steering damper hole
24-0852A
As Above with Stem with steering damper hole
24-1069
Lower Cross Bar without Slider Cover Tabs
24-1320
24-0928
Lower Tree only with Stem with damper
24-0124
45710-50 Adjustable Position Tabs
24-9957
45777-50 Early Top Plugs 1949-76, pair
24-0828
45777-77 Late Top Plugs 77-84 Showa type, pair.
37-9170
Top Tee Bolts with Lock Tabs, Kit
17-0936
24-0197
37-1545
24-0797
24-0004
24-1055
24-1069
24-0817
24-0852
24-0520
24-0790