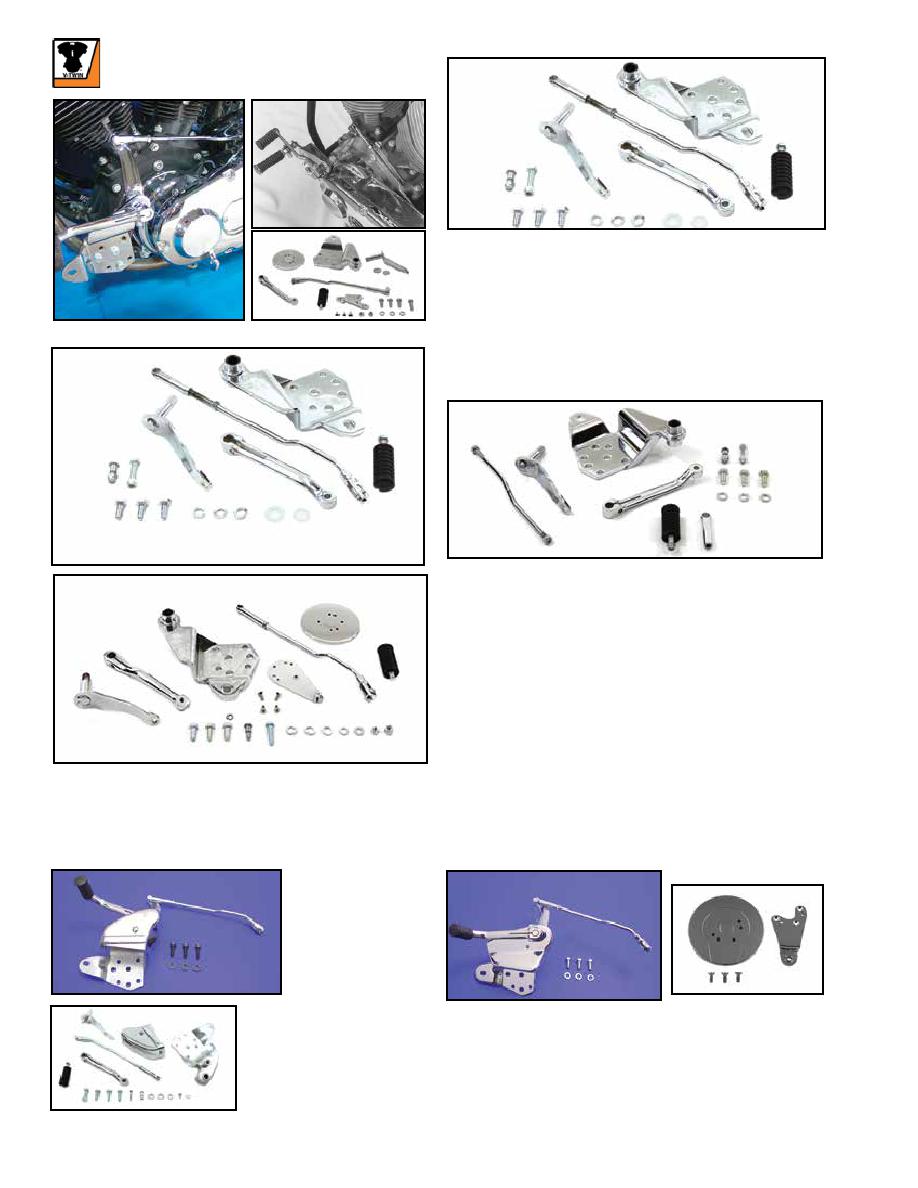 568
FLH-FXWG-FXST Forward Shifter Control is for 1979-84
FLH-FXWG with down turn shifter arm. It does not include the
ratchet arm and dust cover. Also, it can be used on ratchet top
4-speed 1952-79 models, when it is not desired to remove the
arm and dust cover.
VT No. 22-0802
Original Forward Shifter Control Kit. FLH type allows the use
of foot pegs or footboards. Order complimenting forward brake
control on opposite page. Units allow 1 down and 3 up shifting
pattern. The 22-0801 and 22-1055 kits include proper ratchet
arm and dust cover. All other kits attach to existing components
on shifter mechanism. Instructions and diagram are included
with each kit. Kit is display packaged!
VT No.
Fits
Speed
22-0801 1952-79 FL-FLH 4

22-0802 1979-up FLH
22-1055 1974-78 FXE
22-1015 1979-99 FX-FXE 4

Forward Shifter Kit
22-0801 Installed
Replica Foot Shifter Kit for 1970-84 Big Twin includes chrome
bracket and cover and chrome rod assembly. Order chrome
ratchet drum cover kit for 1970-Early 79 models only.
VT No.
Fits
22-0809 1970-84
21-0208
21-0208
Replica Foot Shifter
Kit for 1952-69 Big
Twin includes black
bracket, cadmium rod
assembly, zinc inner
arm, chrome cover, and
shifter lever.
VT No. 22-0805
22-0805
Replica Foot Shifter
22-0802
22-1015
22-0805
22-0801
1952-78 FLH Type
22-1055
22-0802
No Mix-Ups No Searching One Kit Does It All For Less!
Shifter kit on this page is compatible with VT No. 22-0500, 22-0501,
22-0505, 22-0506, 22-0510 and 22-0512.
Note: FLH models 1979-83
rotary trans tops have the down turned shifter top arm. Check motorcy-
cle or your factory parts book for correct application.
22-0809