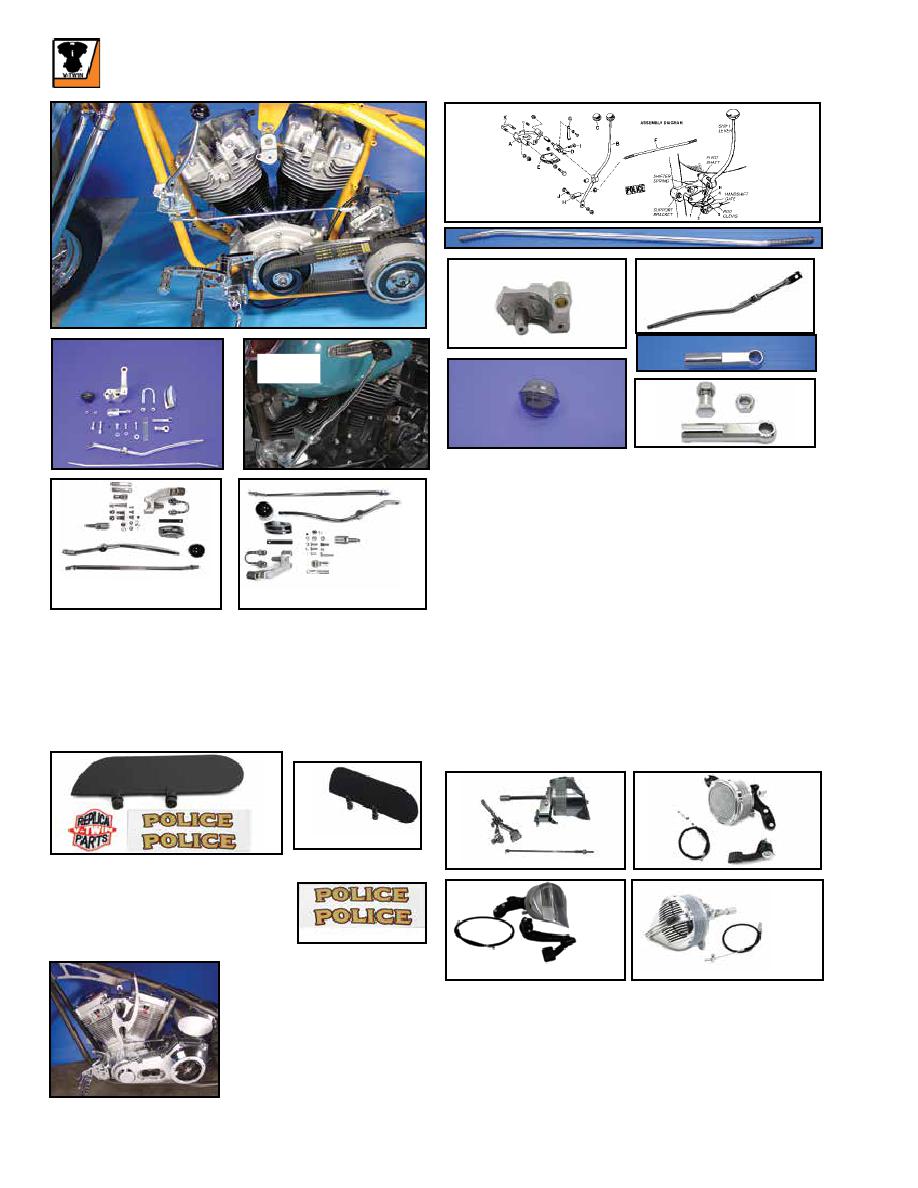 566
Police Jockey Shifter
VT No. Year
Fits
Model
22-0710 1936-79 only
22-0711 1952-79 Big Twin Ratchet Top FX-FLH

22-0712 1979-84
22-0737 1979-84
22-0712
22-0712 Installed
Police Jockey Shifter Kit clamps to all Big Twin front frame
tubes. VT No. 22-0711 features a smooth gate for shifting. Use
either rocker clutch pedal or jockey pedal for operating clutch.
22-0711
Installed
50-1541
Police Fender Marker Plate fits 1936-84 45" and Big Twins.
Order decal set separately.
VT No. Item
50-1530 Marker Plate
48-1981 Decal Set
50-1541 Set
48-1981
Police Siren Complete Units include brackets for units.
VT No. Fits
Cover Wheel
49-0390 1973-84 FL Rear
49-0391 1949-52 W
49-0400 1941-57 FL Rear
49-0406 1936-84 All Front
Police Jockey Shifter Hardware List
VT No. # OEM
Item
43-0124 A 33631-66 Support Bracket, Alloy
21-1988 B 33676-66 Shifter Lever, 3 and 5 Gallon
21-1936 C 33745-31 Shifter Ball, Small
21-2011 C
21-1992 D 33776-66 Pivot Shaft
21-1990 E 33789-66 Guide 4 Speed
21-1991 E
21-1935 F 33857-52 3 and 4 Speed Reverse Rod
21-1994 F
21-2044 F 33857-66 Shifter Rod, 3 Speed and Reverse

G 33865-66A Spring, Shifter Lever
21-0204 H 33870-51 Shifter Rod, End
21-1995 I 33875-66 Shoulder Bolt, Lever
21-0205 J 33879-36 Shoulder Bolt, Rod End
21-0315 K 38460-52 U Bolt, Bracket
23-0421 42269-30 Clevis Pins, 10 pack
21-0962
21-0231 1941-64
50-1530
49-0391
49-0400
49-0406
22-0710
22-0737
F
43-0124
21-1988
21-1936
21-0204
Billet Jockey Shifter Kit includes
top motor mount to fit 1986-99 Big
Twins.
VT No. Item
21-0180 Kit
21-0129 Handle
49-0390
21-0231