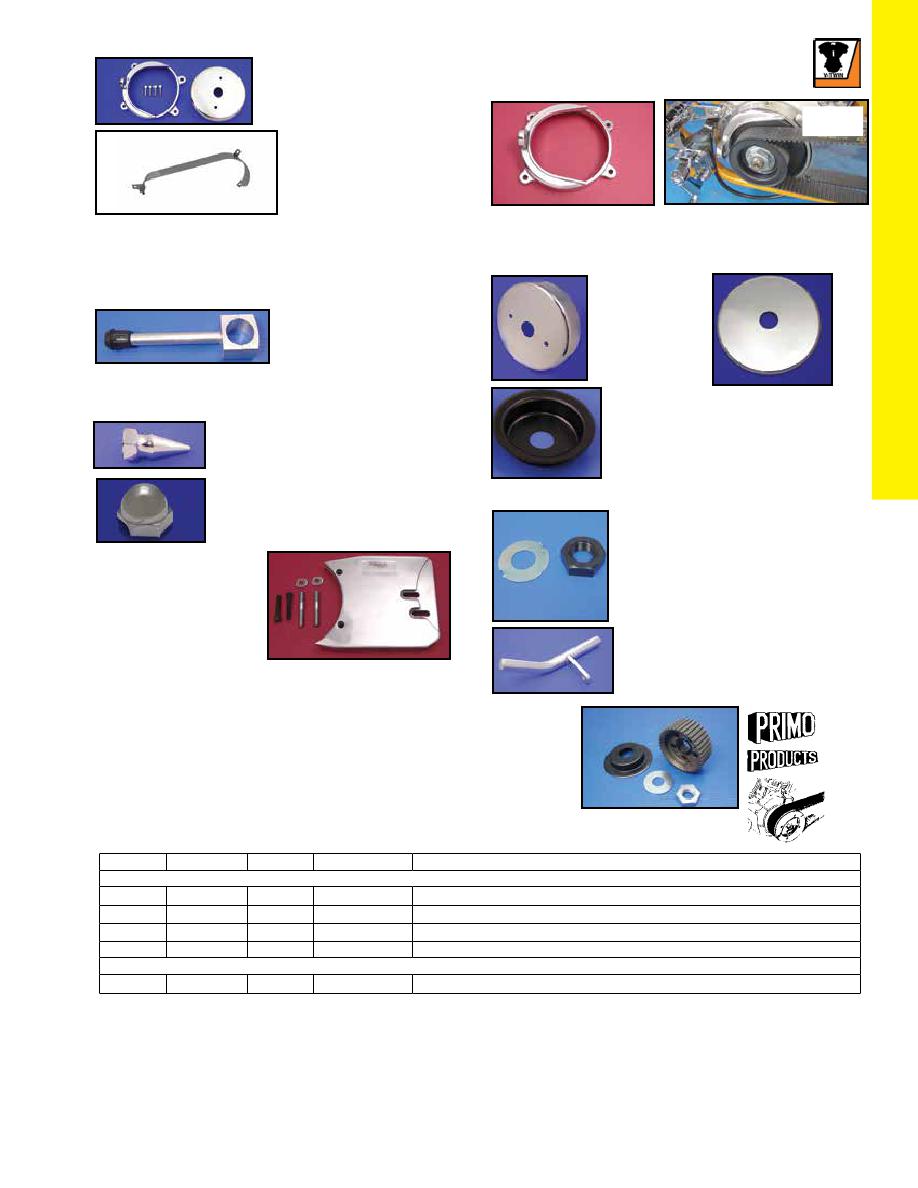 561
CLASSIC
Chrome Alternator
Rotor Cover fits major
brand belt drive and open
primary set ups. Installs to
completely cover the steel
alternator rotor.
VT No. 20-0238
Polished Alternator Cover for Big Twins is for use on all Cone
motors. Designed to protect your alternator, also helps cooling
by acting as a heat sink. It has a mounting lug for belt shroud
built in.
VT No. 20-0330
Chrome Big Twin
Alternator Rotor
Cover presses
over 1981-up
rotors for tight fit.
VT No. 20-0216
Belt Shroud and Side Guard Kit is for alternator Big Twins
with 1¹⁄₂", 2" or 3" open belt drives. The kit includes chrome belt
shroud.
VT No. Item
Fits
20-0222 Belt Shroud Generator Big Twin with 3" Drive
20-0220 Belt Shroud Generator Big Twin with 1¹⁄₂" or 2" Drive
Chrome Pike Motor Nut fits 1955-up
Big Twin sprocket shaft.
VT No. 37-0890
Alternator Cover Set includes pol-
ished outer housing and chrome
rotor cover.
VT No. 20-0337
20-0331
Installed
20-0330
Sprocket Nut and Lock Tab Set for 1955-
up Big Twin allows locking of nut by utiliz-
ing two tabs which fit into sprocket holes
when non-compensator sprocket is used.
VT No.
Item
17-0945
12-0504
Acorn Engine Nuts for all Big Twins.
VT No. Year
7107-1 1936-54
7816-1 1955-76
Nerf Bar is constructed of 1" chrome
bar, bolts to left side for primary protec-
tion. Fits 1958-84 FL.
VT No. 20-0305
Outside Belt
Guide Plate is
for all Primo 8, 11
and 14 mm front
pulleys except
taper shaft.
VT No. 20-0230
Equalizer Engine Plate designed for open primary on all
1970-up cone motors, connects engine and transmission for a
rigid unit, when eliminating the inner primary. Alternator cover,
engine plate, idler assembly and bearing support sold sepa-
rately. This plate is without the idler slot.
VT No. 20-0307
17-0945
20-0307
Frame Mount Kickstand Stop for use on all open belt drive
Big Twin by clamping to frame tube. Fits 1³⁄₈" and must be cut
to desired length.
VT No. 27-1729
Belt Drive
27-1729
20-0556
Front
VT No.
Primo#
Year
Type
Belt
Primo 8mm Front Pulleys 74 and 80 HD
20-0555
Tapered Shaft 1¹⁄₂" Belt (Use with Adjustable Transmissions)
20-0556
1¹⁄₂" Belt (Use with Adjustable Transmissions)
20-0558
20-0561
Tapered Shaft 3" Belt (Open Installation)
Primo 8mm Rear Pulleys 74 and 80 HD
20-0567
1¹⁄₂" Belt (Electric Starter, Closed Primary, 4-Speed)
Primo Replacement Pulley
20-0220