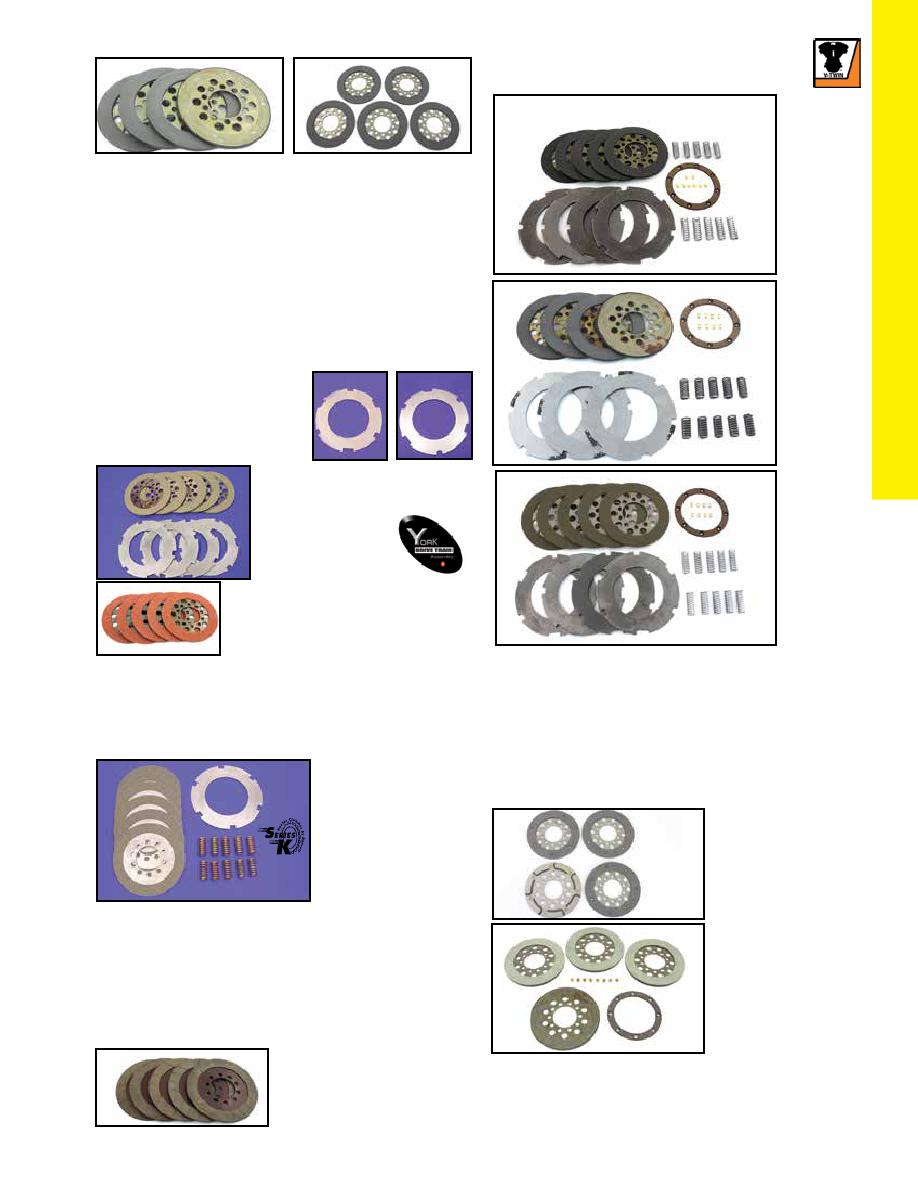 549
CLASSIC
Red Eagle Clutch Set by Alto is avail-
able in fibers and steel. Sold as V-Prene
or Red Eagle type. Both are bonded to
steel.
VT No.
Year
Type
18-0225
18-8277
Red Eagle, requires extra steel plate
18-8279
18-8280 1968-83 V-Prene
Carbon Fiber Clutch Sets by
Barnett features good energy
absorption. For wet or dry prima-
ry. Fits 1941-83.
VT No. 18-3692
Extreme Duty Police Service Clutch Set is an original molded
fiber over metal replacement clutch set for Big Twins 1936-84. It
is superior to stock or competition units in that fiber is integrally
molded to plates, not glued on and holds constant thickness
under heat. The1968-84 type is also available bonded to alloy
plate for lighter weight. Use steel plate VT No. 18-3652 when
installing.
VT No. Years
Type Plates Material
18-1124 1936-67 Steel 3¹⁄₂ Fiber
18-1121 1968-84 Steel 5
18-0150 1968-84 Steel 5
18-1122 1968-84 Alloy 5
Replica Dry Clutch 3¹⁄₂ Plate Set for 1941-67 Big Twin
includes linings riveted on with flex grooves in the outer plate.
Replaces 37930-41 and 37950-41.
VT No. Brand
18-0151 Replica
18-0157 VT
Clutch Set
V-Prene Clutch Kit for 1941-84 Big
Twin includes 5 friction and 4 steel
plates.
VT No. 18-0172
Fits 1941-83. Note: Made to run wet or dry in a sealed primary.
Incidental oil from primary chain will not affect clutch operation.
One extra steel plate is required for 1967 and older models.
Rivets are sold in a pack of 25.
VT No. Item
Year
18-3667 Kit
37-8808 Long Brass Clutch Rivets
37-8807 Short Brass Clutch Rivets
37-0477 Brass Clutch Rivets
18-1129
Steel Plates. Note 18-8301 has smaller lug cut.
VT No. Style Year
Brand
18-1129 Smooth 41-84
18-8288 Smooth 41-84
18-8301 Smooth 41-84
18-1126 Rattler 41-67 Replica
18-8287 Rattler 41-67 Alto
18-8288
18-3644
18-1121
18-1124
18-3664
18-3649
18-0151
18-0157
Clutch Pak-Kit. Heavy duty factory type for Big Twins.
Complete kit includes our five piece original bonded to steel
police clutch or Kevlar friction and four steel plates, clutch hub
liner with rivets, and ten springs. VT No. 18-3664 includes 3¹⁄₂
bonded plates and three steel plates with rattlers, springs and
hub liner.
VT No.
Item
Year
Type
18-3664
18-3644
18-3649
Series K Clutch performs
flawlessly under extreme
heat conditions with
smooth precise shifting.
The steel backing plates
have maximum strength
and V-Prene friction plate
is the most durable friction
material made.