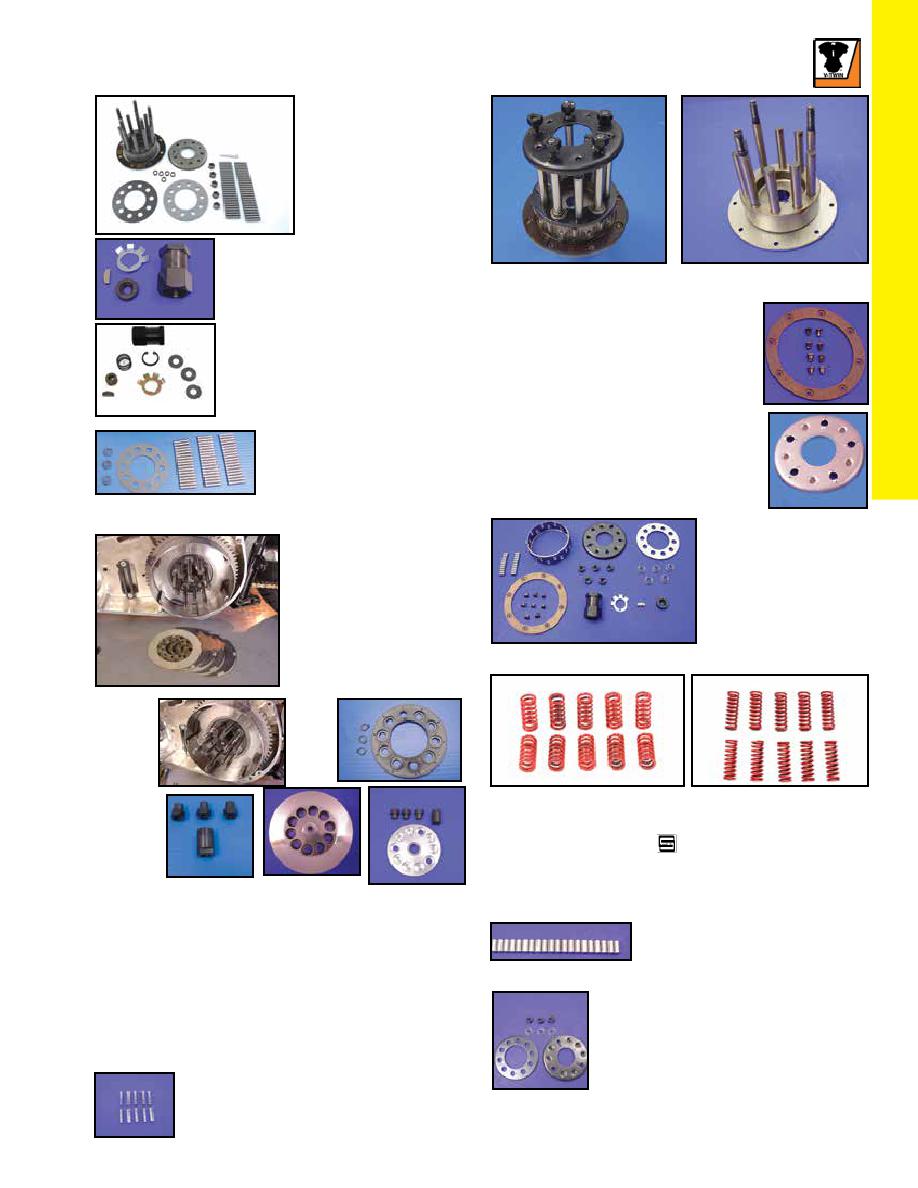 547
CLASSIC
Rollers Only.
20 Pack 100 Pack OEM
Size
12-0344 12-4590 9540A Standard
Sifton Clutch Spring Sets are heavy duty ten piece sets with
red coating.
VT No. Fits
13-0788 1941-67
13-0789 1968-84
2481-6 Nuts
12-0509 Black
12-0580 Chrome
Clutch Hub
Big Twin Stud Clutch Hub
fits 1941-Early 84 and fea-
tures 53 long rollers, outer
spring plate and nuts.
VT No.
Stud
18-1216
18-1218 3
Big Clutch Hub Hardware
Kit for 1941-84 includes
20 rollers with cage, liner
with rivets, retainer springs,
outer pressure plate with
either 3 or 5 adjusting nuts.
VT No. Hub Type
18-3638 3 Stud
18-3639 5 Stud
Big Twin Clutch Hubs for 1941-84 are available assembled
with rollers, liner, top plate and adjusting nuts. They are also
available as bare hub only.
VT No.
# Item
18-3153 A Complete 3 Stud
18-3154 A Complete 5 Stud
18-3151*
18-3150*
18-3111 C Outer Plate 3 Hole, Black
18-3235 C As Above, Chrome
18-3112 C Outer Plate 5 Hole, Black
18-3236 C As Above, Chrome
18-3113 C Outer Plate 10 Hole, Black
18-1125 B Hub Liner, Stock with rivets
*Note: Sold as bare hubs.
A
B
C
18-3151
The Big Fixx for 74 and 80 Clutch
contains 52 roller bearings which
take the place of the offset roller
bearings and bearing retainer, result-
ing in a smoother more positive, wobble-free clutch operation.
VT No. 20-0229
Chrome Clutch Spring Set for use on 1941-84,
when exposed on belt drive models. Ten pieces
per kit. These are our late style springs with
durable chrome finish.
VT No. 13-0200
Clutch Stud Nut and Plate Kit includes
slotted nuts, roller retainer plate, outer pres-
sure plate and retainer springs in proper
amounts for hubs listed 1941-84.
VT No. Item
18-3611 3 Stud, Stock
18-3620 5 Stud
18-3621 10 Stud
18-3611
12-0344
Sifton Retainer Kit includes a
clutch drum retainer designed
to smooth clutch operation of
all 1941-84. The retainer cures
the problem of the uncontrol-
lable "Grabby Clutch" found in
the clutch system.
VT No.
Item
18-3116
12-1195
Spring Collar Assembly for 1941-84 eliminates wobbly pres-
sure plate, gives a balanced spring load, providing a smooth
positive clutch operation with a minimum number of adjust-
ments. The nuts go through the spring collar which strength-
en and stabilize it. Assembly is available for 3 and 5 stud
hubs. Outer spring plate is available separately.
VT No. Item
20-0300 Kit, 3 Stud
18-8242 Plate, 3 Stud
18-0795 3 Piece Nut Set
20-0332 Polished Outer Plate
20-0332
18-8242
18-3116
18-3116
Installed
18-0795
Clutch Hub Nut and Seal Kit for use on
all 1941-84 Big Twins. Includes nut, seal,
and lock tabs. Packaged.
VT No.
OEM
Item
17-0121 Kit
14-0103
12-0508
17-0904
12-0208
17-0881 Kit
2548-8 Nut
17-0881
17-0121
13-0788
13-0789