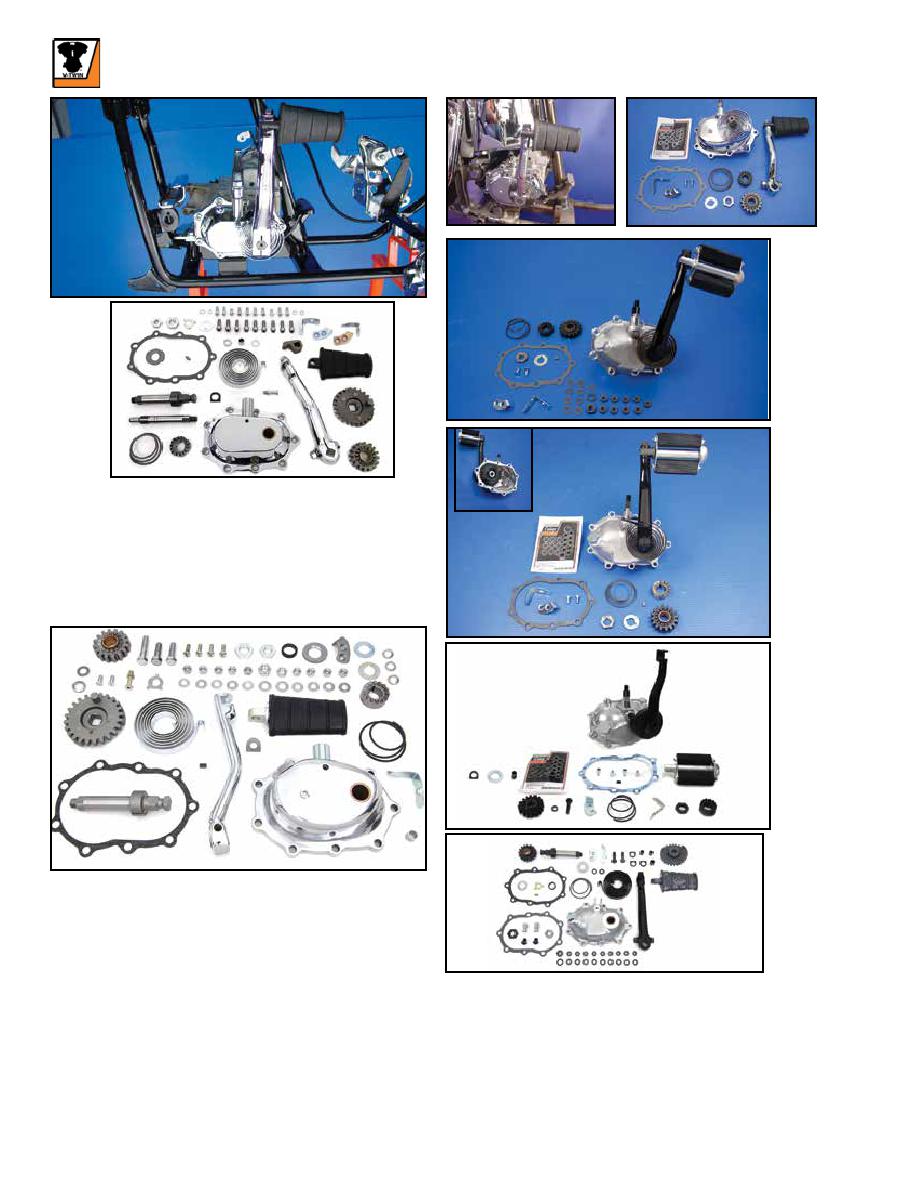 538
4-Speed Kick Starter Kit
Heavy Duty Kick Start Kit features a chrome smooth thick wall
kick cover and heavy duty kick starter arm. Fits all 4-Speed Big
Twin 1936-84. Requires use of wafer type release bearing kit.
VT No. Item
Year
22-1020 Kick Starter Kit 1936-84
22-0834 Kick Starter Kit 1941-84
18-3203 Release Kit
18-3204 Release Kit
18-3607 Release Kit
22-1042
Installed
22-1042
22-1047
22-1020
Installed
22-1124
22-0834
V-Twin Complete Kick Starter Kit fits 1936-84 models. Kit
includes a reinforced kick cover, chrome arm and all gears and
hardware to make conversion complete. Kit available with a
polished or chrome plated kick starter cover.
VT No. Type
22-0301 Chrome
22-0302 Polished
*Note: When Installing any type of our 74-80 kick starter kits
on 1980-85 4-Speed, our VT No. 17-0101 late bearing retainer,
which incorporates a kick starter stop built in is required.
Our Original Kick Starter Kit Developed in 1979!
22-0302
Kick Starter Kit fits 1936-84 4 Speed Big Twin. Kit includes
cast cover, black arm and parkerized nut set as shown and
comes partially assembled with finger shaft and clutch release
finger. Kit also includes gasket and chrome hex nuts.
VT No. Year
Type
22-1042 1941-64 Chrome
22-1124 1941-64 Replica
22-1047 1936-84 Replica
22-0212 1941-64 Replica
22-1157 1941-52 Replica
17-0458 1954-63 Replica
22-0212
17-0458