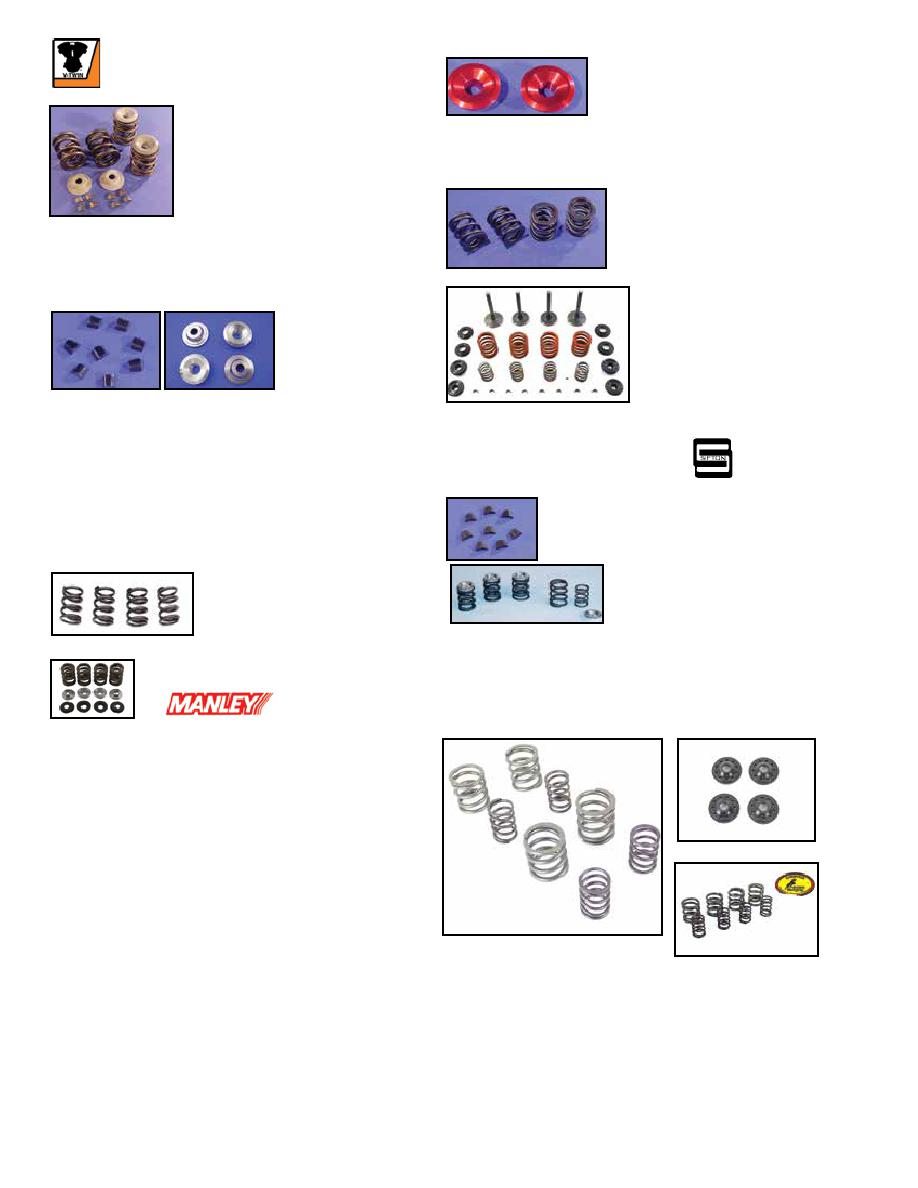 518
S&S Valve Spring Kits Pan-Shovelhead 1948-84 Big Twin to
be used with stock style guides and lower spring collars, stock
³⁄₈
f" diameter valves, and stock keepers. By grinding .060 to
.090 off the tops of the valve guides cams with lifts up to .550"
may be used. Kit includes four aluminum top collars and four
of each inner and outer springs.
VT No. 13-9226
Manley 1948-79 Valve Spring Kits 74 and 80 FL-FX .495 Lift Kits
except Evo
Collars Combined Coil Recommended
VT No.
Top
Loads
Bind
Cam Lift
11-9229 Titanium
The above ".495" lift kits do not require cylinder head machining for
installation. These kits are supplied with lower collars that allow addi-
tional spring travel as compared to stock collar and provides these kits
the ability to accept camshafts up to .495" lift. Note: 11-9229 is for stock
Manley Valve Kits.
74 and 80 FL-FX .500"-.600" Lift Kit except Evo

Combined Coil
Recommended
VT No.
Loads
Bind
Cam Lift
11-9612
The above kit features tri-spring (outer-intermediate-inner) interference fit to
reduce harmonics and control spring surge. Additional machining is required
to lower the height of the valve guide to avoid interference with the top collar.
Springs have more pressure than stock but can be used with .500" lift or .600" lift
cams. Includes titanium top collars.
74 and 80 FL-FX .465" Lift Kit except Evo

Combined Coil
Recommended
VT No.
Loads
Bind
Cam Lift
11-9613
The above kit does not require machining for installation. However, do not exceed
.465 lift due to the potentially high stress on the springs. The springs are interfer-
ence fit to help the harmonics. Supplied with steel top collars. Use with stock stem
diameter valves only.
Valve Spring
74" and 80" Shovelhead, 1966-84
VT No.
Type
13-2110 Has 160 lb seat pressure, up to .600" valve travel.
Hard-anodized aluminum retainers. Uses stock
13-2115 Has 160 lb seat pressure up to .600" valve travel.
Titanium retainers. Uses stock lower collars.
Kibblewhite Lightweight Valve Spring
Kits include springs, keepers, retainer,
and lower collars unless noted.
Kibblewhite Big Twin Valve Spring
Set for high lift cams can be used with
stock retainers and lower collars for up
to .600" lift. Fits 1948-84.
VT No. 13-2000
13-2110
Kibblewhite Valve Spring Retainers and Keeper Sets. Keepers
are CNC machined and then heat treated.
Keeper Set
11-2021 Pan/Shovelhead
Upper Retainer Sets
11-2020 Pan/Shovel Titanium Offset 0.70" to allow more
11-4248 Pan/Shovel aluminumoffset 0.70" to allow more
11-2022 Lower collar set. Pan/Shovelhead machined to work
with .562" diameter guide seals and counter
Bored for added clearance.
Sifton Valve Keepers. 1941-84 FL-FX steel
valve keepers fit stock ³⁄₈" valve stems. Sold in
sets of four.
VT No. 11-9623
FL-FX Upper Collar for fitment of the
double matched springs, color coded,
for stock valve stem diameters, fits1941-
84 Big Twin models, in set of 4.
Red Collars used most often by combining ease of installation
and good spring pressure, which will accommodate most cams.
Allows spring to sit .080 higher than green collars.
VT No. 11-9621
Sifton Valve Spring Kits feature
four double matched competition
springs. Fits 1941-84 FX-FL, order
top colored collars separately from
this page. Mfg# 3030.
VT No. 11-9618
Valve and Spring Kit by Sifton
for Shovelheads includes two
intake and two exhaust valves
with nitrated finish, complete
spring set and keepers with
upper and lower collars. Four
piece valve set available sepa-
rately.
VT No. Year
Item
11-0794 1966-79
11-0795 1980-81
11-0796 1982-84
11-0679 1966-84
Valve Spring
Kibblewhite Stock Replacement Style Valve Spring and
Collars for stock lift cams.
Fits 1948-65
Spring Kit Upper Collar
Lower Collar Keepers
11-1469
11-1472
11-1475
11-1478
11-1470
11-1473
11-1476
11-1479
11-1471
11-1474
11-1477
11-1480
11-1469
11-1472
11-1470