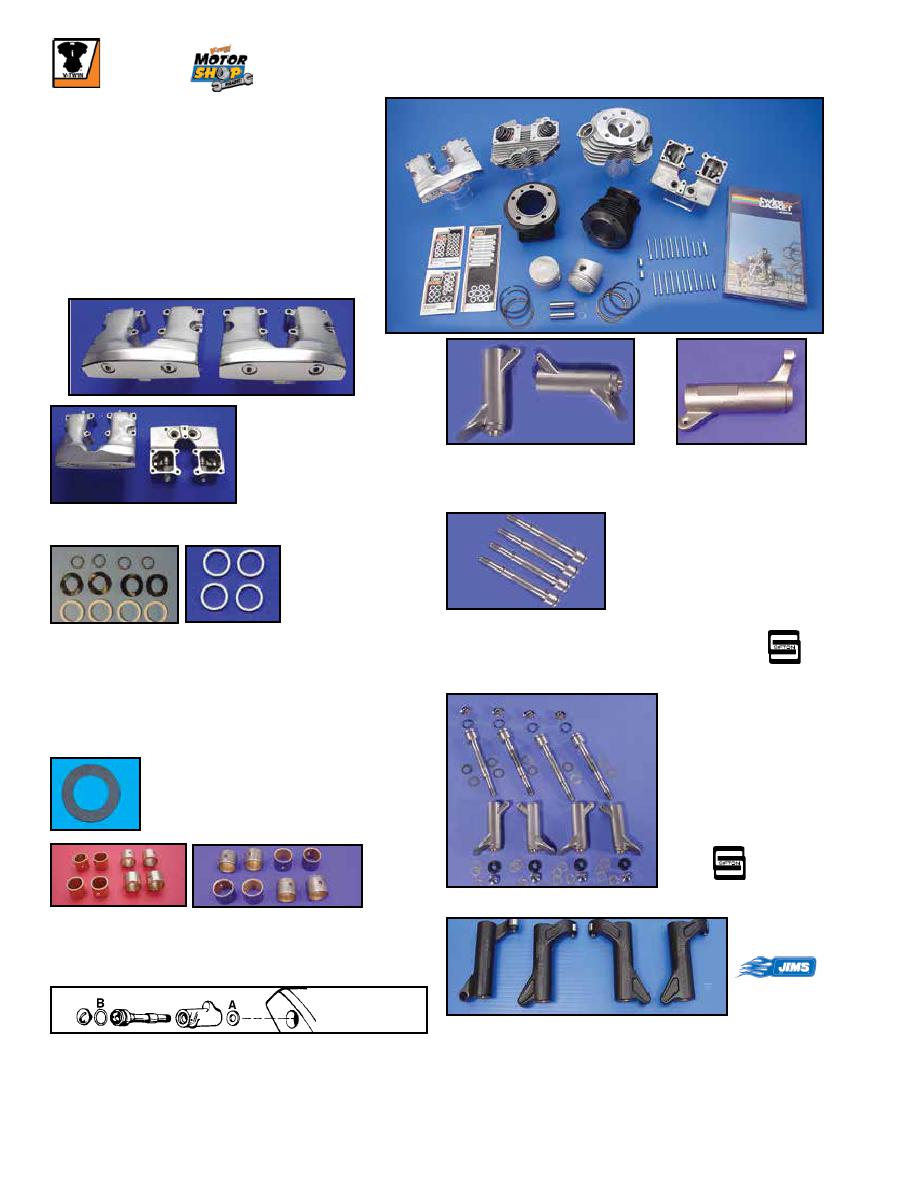 510
Rocker Arm
Rocker Arm Shaft for 1966-84 Big Twins.
VT No.
OEM
Brand
U/M
11-0570 17611-66A Sifton
11-0519 17611-66A V-Twin Each
11-0539 As Above
Rocker Arm Shims fit 1966-84 Big Twin.
VT No.
Size
12-0704 .005
12-0710 .007
12-0715 .015
Rocker Arms for 1966-84 Big Twin include bushings installed.
VT No.
OEM
Type
11-0520 17360-66
Rear Exhaust, Front Intake
11-0521 17375-66
Front Exhaust Rear Intake
Sifton Rocker Adjuster Kit stops top end clatter on all 1966-
84 Shovelheads. Kit includes four steel spacers, four tempered
pre-load spring washers and four no-leak rocker seals. No-leak
seals are machined of high grade nylon to replace O-Rings on
1966-84 Big Twin. Will not crack, melt or shrink.
VT No.
Item
11-0517 Complete kit
14-0148 No-leak seal sets
Rocker Box Assembly for
1966-84 Shovelheads includes
covers in chrome or polished
finish, four arms, four shafts
and chrome end shaft nuts.
Assembled.
VT No.
Finish
11-0577 Chrome
11-0578 Polished
11-0577
11-0520
11-0577
Sifton Rocker Arm and
Shaft Kit fits 1966-84
Shovelheads includes four
rocker arms with bush-
ings installed, four shafts,
shims, spacers, chrome
replica end caps and nuts.
VT No. 11-0819
Jims Roller Rocker 4 Arm Set features greater strength in
critical areas, 660 Bronze bushings with a hardened steel roller
tip. Use stock type rocker arm shafts. Fits Shovelhead 1966-84
1.50 ratio.
VT No. 11-0573
11-0570
Rocker Arm Spacer and Shims.
VT No. OEM
# Model
Item
Qty
12-2115 17452-66 A 66-84 Big Twin Spacer
12-2122 17450-73 B 66-84 Big Twin Shim
14-0501 11101
Rocker Arm Bushings replace 17428-57. Use on 1966-up Big
Twin models.
VT No.
Type
10-0700
10-2106
10-0700
10-2106
14-0148
11-0517
11-0521
Shovelhead Top End Kits include
• Prefitted cylinder set
• Late style assembled heads
• Cylinder base nuts
• Assembled rocker boxes in chrome or polished finish
• Rocker box studs and nuts
• Top end gasket set
VT No. Size
Rocker Box
Comp
11-0860 74"
11-0861 74"
11-0862 80"
11-0863 80"
Shovelhead Top End Kit