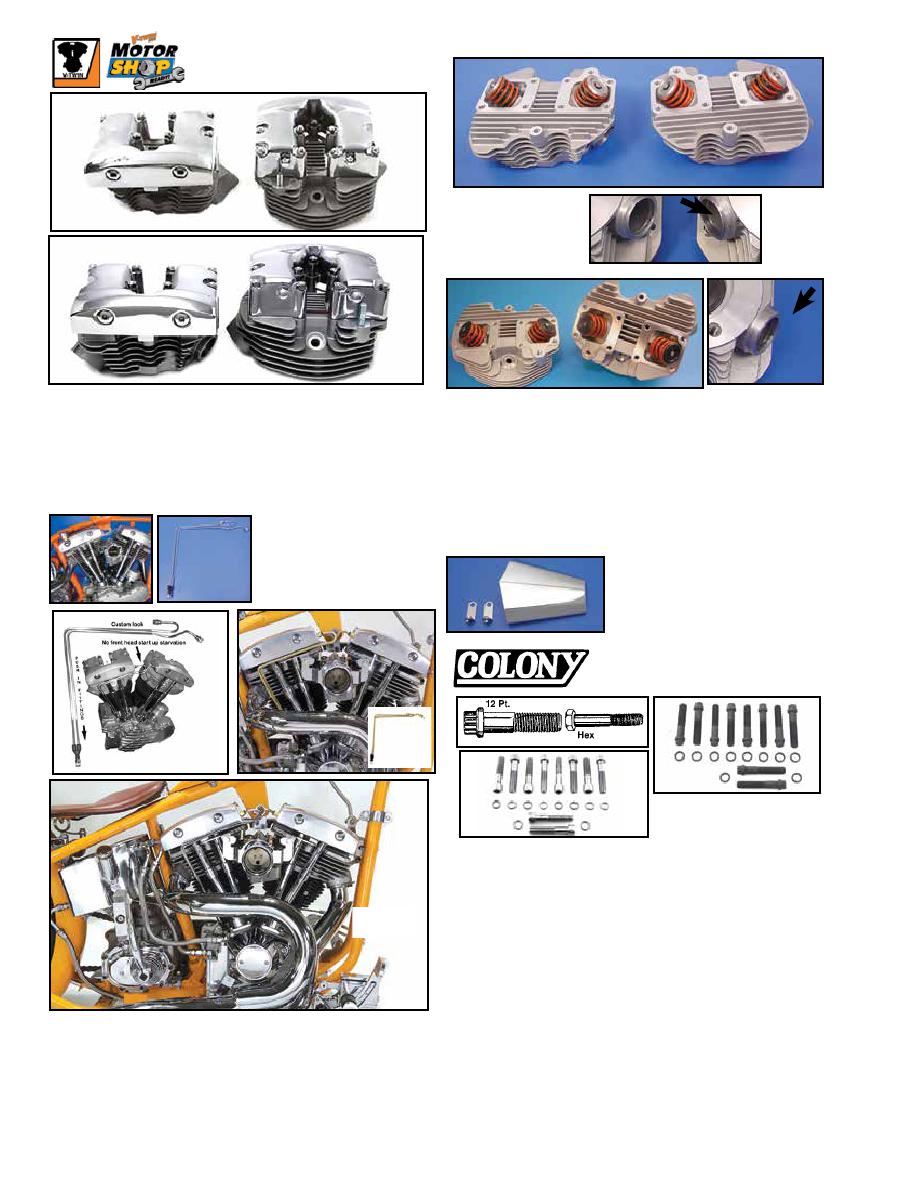 508
V-Twin Mfg. Assembled Heads with cast iron guides, valve
stem seals, nitrated valves. Features a complete valve job for
maximum flow, horsepower and torque. Available for stock bore
application only. Head bolts not included. Max Lift is .405.
VT No.
Fits
Plug
10-1063* 1966-77 Single
10-1064* 1978-84 Single
*Note: Assembled with chrome rocker box assembly.
Replica Shovelhead Head Sets are completely assembled
with unleaded valve seats, cast iron valve guides, nitrated
valves, valve guide seals and stock type valve spring kit. Fits all
1966-84 Big Twins. Order stud set separately.
VT No.
Item
Year
Type
11-0089
11-0082
12-2106
Head Bolts, Head Nut and Washer Kits are accurately
machined from high strength steel and hardened to prevent
stretching. All bolts feature rolled threads for superior strength
and fit.
Big Twin 1936-85 Overhead Valve.
Head Bolt Kit
Chrome Engine Air Scoop will
force air to rear cylinder. Mounts
to left side of Big Twin Shovelhead
1966-84. Brackets are included.
VT No. 42-0317
1966-77 O-Ring Type
11-0089
11-0082
1978-84 Rubber
Band Type
Cad
Chrome
Parkerized Fits
7825-20 8221-20
—
—
8777-20
—
—
7153-20
—
—
8714-20*
—
1948-84 Big Twin 74 and 80
—
—
8618-20*
—
37-8831*
—
*Note: Install these bolts with a ⁷⁄₁₆" 12 point box wrench.
Head Bolt Washer Kits
8170-10 8488-10
9704-10
For 1948-85 with ⁷⁄₁₆" bolts
Rocker Box Line Kit includes "T". Chrome finish. Fits 1966-84
Shovelhead.
VT No. Finish OD
40-0203 Chrome 3 mm
40-0235 Brass 6 mm
40-0237 Chrome 6 mm
40-0203
10-1064
8618-20
Shovelhead Set
40-0237
Installed
40-0235
8777-20
10-1063