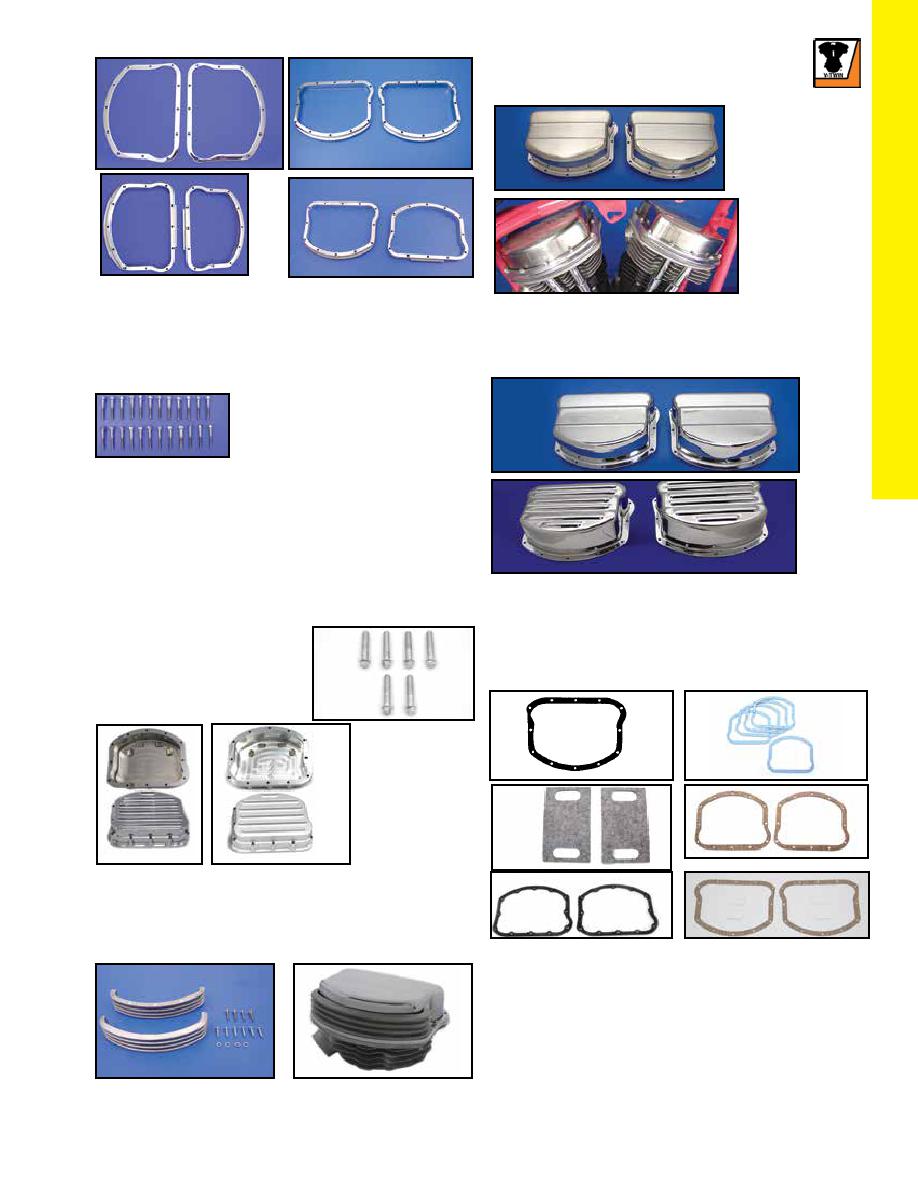 507
CLASSIC
Panhead Valve Cover Screws in hex
stock type, with built-in washer or allen
screw type. Long screws for thick alloy
D-rings. Short screws fit steel D-Rings.
VT No. Finish
Fits D-Rings Type
8732-24 Chrome Alloy
8733-24 Cadmium Alloy
8736-24 Chrome Alloy
8734-24 Chrome Steel
8735-24 Cadmium Steel
8737-24 Chrome Steel
9984-24 Chrome Washer Set
9985-24 Cadmium Washer Set
¹⁄₄
x 20 Hex Thread Screws for Heads with stripped out
threads. Pack of 6.
VT No. Finish
Fits D Rings
2013-6 Chrome Alloy
2014-6 Cadmium Alloy
2015-6 Chrome Steel
2016-6 Cadmium Steel
42-0104
42-0029
D-Rings. Order proper screws separately.
VT No.
Finish
Style
42-0104 Chrome
42-0758 Zinc
42-0105 Chrome
42-0029 Polished
42-0130 Cast
42-0105
Panhead Cover
Panhead Covers in sets for 1948-65 Big Twin.
VT No. Finish
Type
Brand
42-0103 Chrome
42-0640 Chrome
42-0759 Polished Panhead Cover Set
Aluminum
42-0639 Chrome
Ribbed Panhead Cover Set, Paughco
Replica Stainless Steel Panhead Valve Covers are produced
by New Tooling for exact fit and shape. Replaces 17500-48.
VT No.
Finish
42-0771 Stainless
42-0901 Chrome Stainless
42-0771
42-0103
42-0639
42-0771 Replica
Stainless Steel
Panhead Covers
Shown with
42-0029 D-Rings
49-0789
Forged Aluminum Billet Panhead Covers full finned design
for front and rear for use in custom frames with enough clear-
ance.
VT No. Finish
49-0789 Chrome
49-0790 Shot Peen
Panhead Fins are cast replicas. Panhead fins are to be used
with thin D-Rings.
VT No. 42-0744
42-0744
Panhead Valve Cover Gasket.
James VT No. OEM
Item
—
15-1416 17507-48 Felt
—
15-1545 17507-48 Felt
15-1079 15-0111 17507-48 Inner Felt, Thinner .07" 1948-65
—
15-0140 17507-48 Replica Inner Felt, Thick .15", 48-65
—
15-0115 17541-48 Cover Gaskets, Thin
15-1005 15-0114 17541-48A Thick Composite
—
15-1544 17541-48A Paper, .062" composite
15-1006 —
—
15-0347
15-1007 15-0345 17541-48B Thin Graphite
15-1271 —
—
15-1244
15-0347
15-0345,
15-1007
15-0114,
15-1005
15-1079
15-0111
15-0140
15-1271
Installed
15-1244
2014-6
49-0790
42-0130