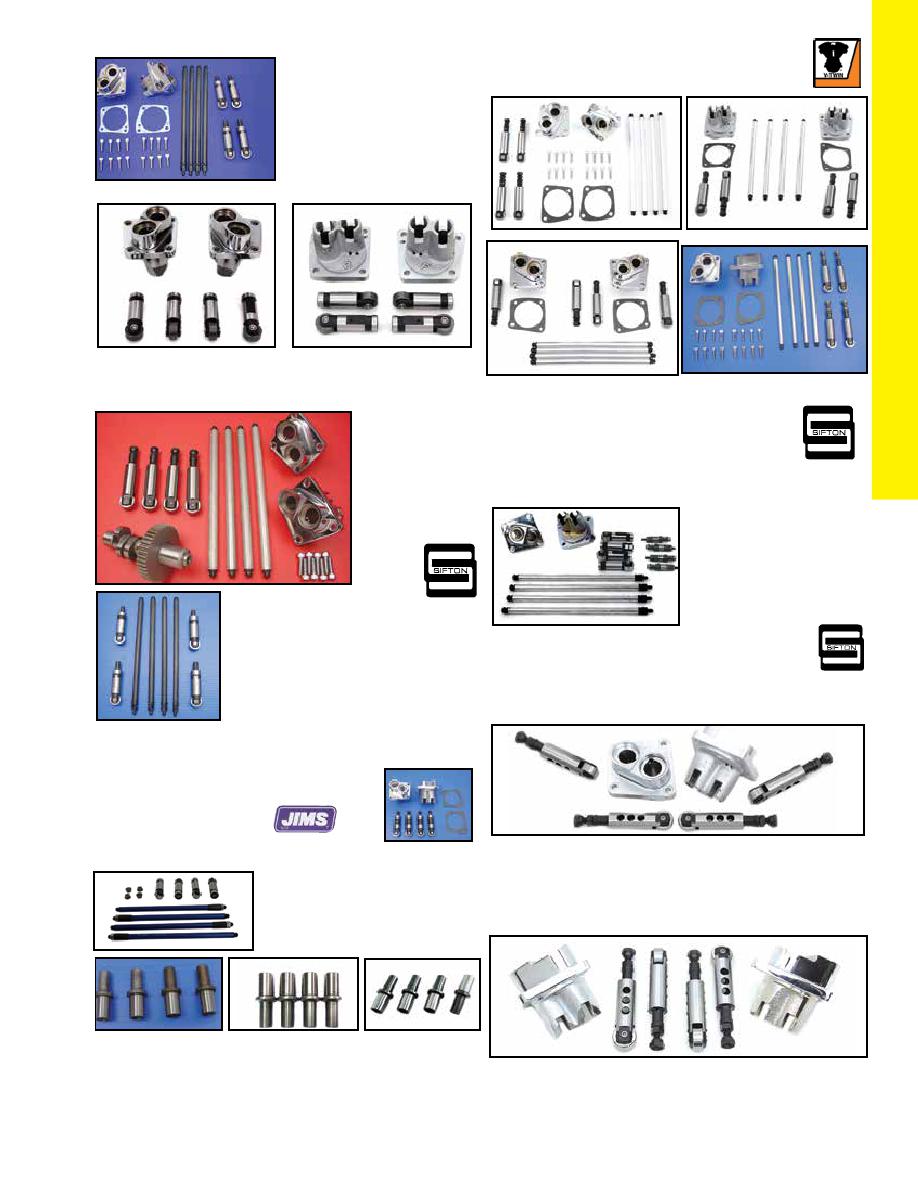 501
CLASSIC
Tappet Kit
Stock Solid Tappet Kit includes lifters with adjuster screw,
pushrods and tappet blocks.
VT No. Years
Type
11-0599 1966-84 Shovelhead
11-1524* 1966-84 Shovelhead
11-0596 1948-65 Panhead
11-0597* 1948-65 Panhead
*Note: Zinc
11-0599
11-0597
Sifton Tappet Kit includes
chrome tappet blocks, integral
pump lifter set and steel push-
rods.
VT No. Year
Type
11-1604 1966-84 Shovelhead
11-1608 1953-65 Panhead
11-1604
Sifton Hydraulic Pushrod/Lifter Set
includes four max axle lifters with integral
pump and four adjustable steel pushrods
for 1966-84 Shovelhead.
VT No. 11-0028
Big Axle Power Hydraulic Glide Tappet Kit by Jims. Fits
1966-84 Shovelheads. Includes two billet aluminum polished
blocks and four power glide tappet assemblies.
VT No. Item
10-0641 Kit
10-0642 Tappet only,
Standard
10-0643 Tappet only, .002 Oversize
10-0644 Tappet only, .005 Oversize
VT No. Years
Finish
Type
11-0590* 1953-65 Chrome
11-0591* 1953-65
11-0592* 1966-84 Chrome
11-0593* 1966-84
Sifton
Performance Cam
Kit includes cam,
solid lifters, push-
rods and chrome
tappet blocks. Fit
Shovelhead 1970-
Early 77 with .412
lift.
VT No.
11-1602
10-0641
11-1602
Tappet Block Kit includes four hydraulic tappets.
VT No. Finish
10-0682 Chrome
10-0683 Zinc
10-0682
10-0683
11-1524
11-0596
Tappet Kit includes front and rear zinc plated tappet blocks
and four solid tappet assemblies with lightening holes. Fits
1953-1984 FL. Order mount screws separately, non-tapered
head style with proper threads for your motor case either 1/4" x
20 or 1/4" x 24.
VT No. 10-0688
Powerglide Hyradraulic Tappet
and Pushrods by Jims for 1966-84
Big Twins. Available as four tappets
and four pushrods only.
VT No. 11-2428
Tappet Kit includes chrome tappet block set and standard
solid lifter set to be used with stock adjustable pushrods.
Tappets have lightning holes for added oiling. Adjuster screws
and lock nuts included. Fits 1953-1984 FL.
VT No. 10-0687
Sifton Hydraulic Tappet and
Pushrod Assembly includes
four hydraulic lifter tappets,
four hydraulic tappet units,
four pushrods and a tappet
block set.
*Note: Require
separate purchase of correct
mounting screws.
Solid Tappet Adapter Kit permits use of hotter cam to run
solid lifters by deactivating the hydraulic portion of the stock
tappet. Uses stock pushrods. Fits 1953-84 FLH Big Twin Pan-
VT No.
Brand
8204-4
8204-4T
11-1074 Sifton
8204-4
8204-4T
11-1074