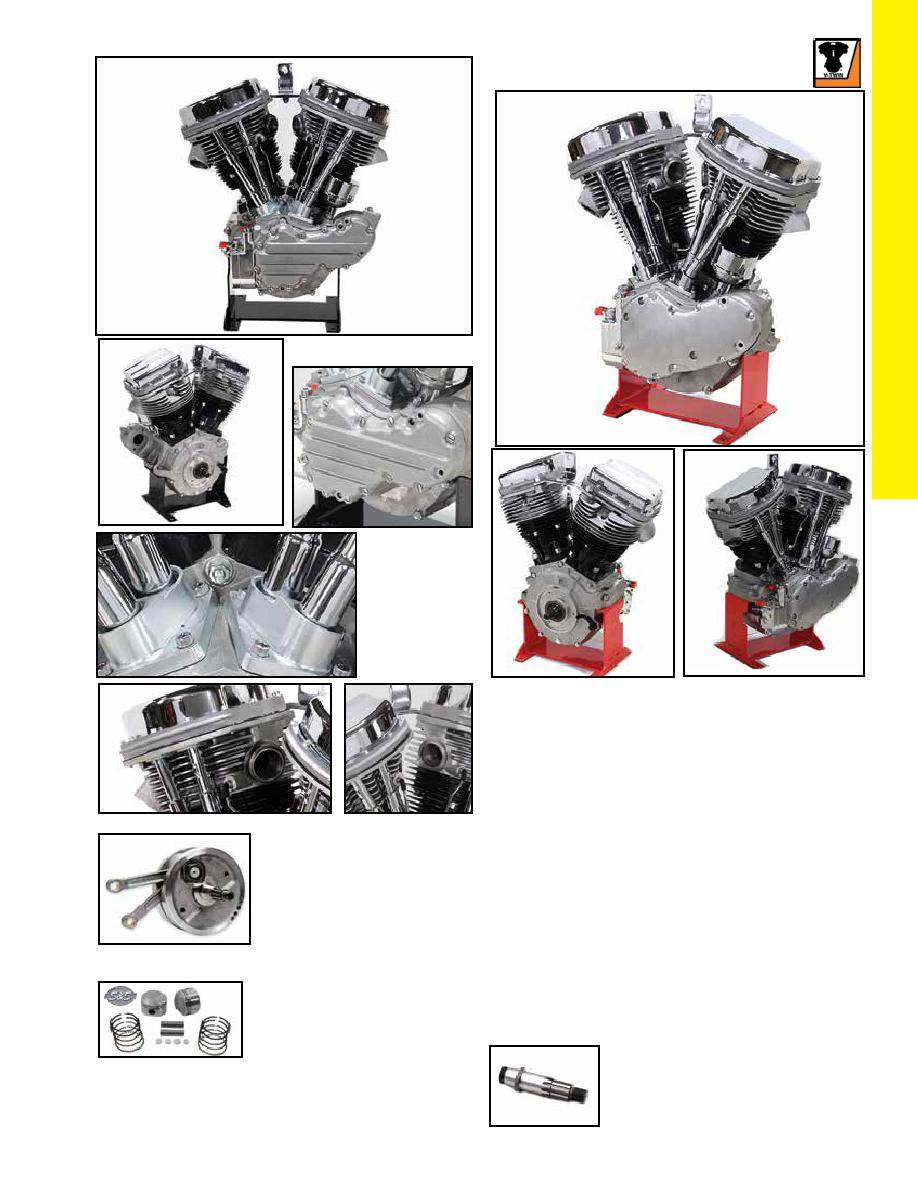 483
CLASSIC
Special 6° Taper Sprocket Shafts.
VT No. Years
Flywheel Type
Brand
10-0455 1970‑up SE or SL
10-1189 1970‑up SE or SL
Note: S&S includes nut and key and Motorshop is
without nut and key
10-1189
S&S 2900 Series Forged Stroker
Piston Sets machined to fit both 4³⁄₄"
and 4⁵⁄₈" stroker flywheels. Includes
rings, wrist pins and retainers. When
used with 4³⁄₄" stroke compression will
be 8.25:1 with 4³⁄₄" stroke compression
will be 9:1
Note: Remember that an 80"
3¹⁄₂" standard bore equals 3⁷⁄₁₆" + .060
bore size.
Flywheel Assembly with 4⁵⁄₈" stroker is
for 1973‑84 Big Twins. These flywheels
are machined from heat treated steel
forgings which makes them structurally
superior to cast iron designs. Flywheels
are assembled with heavy duty rod set,
trued and balanced for pistons listed.
Piston sets must be ordered separately.
VT No. 10-0038
Shafts
10-0038
Bastardo Panhead Motor features a V‑Twin Mfg. Replica crankcase
with Timken bearings a the sprocket shaft, Sifton oil pump/breather
assembly, Sifton stock stroke flywheel, stock FLH cam installed with
a matched pinion and cam gear with a Torrington full compliment
bearing. Assembly supplied with a cast finish cam cover, chrome lifter
blocks which are fitted with hydraulic tappets and stock steel pushrods.
Cylinders standard compression 8.5:1 cast pistons and Hastings rings.
Top end includes heads fitted with rocker arm assemblies, chrome pan
covers with thick D‑Rings, and chrome steel pushrods covers. Order
manifold (Shovel band style), carburetor and 2 brush generator sepa‑
rately. Automatic advance distributor is included. Entire unit is pre‑run
and factory tested for oil pump pressure.
VT No.
Stroke
Bore
Cubic Inch
10-1335
10-1336 4"
10-1425 4¹⁄₄"
10-1426 4"
10-1427 4¹⁄₄"
10-1380
Note: Updated Panheads are fitted with Shovelhead intake and exhaust
valves, exhaust ports are Shovelhead style to accept single bolt Shovelhead
flanged headers. Redesigned intake ports accept a Shovelhead O‑ring
intake manifold. These Bastardo Panhead motors breathe and run like a
Shovelhead! Stroke bore and cubic inches as noted in text.
VT No. Bore Size
11-0455 3⁷⁄₁₆ Standard
10-1336
10-1336
10-1336
10-1380
10-1380
Panhead