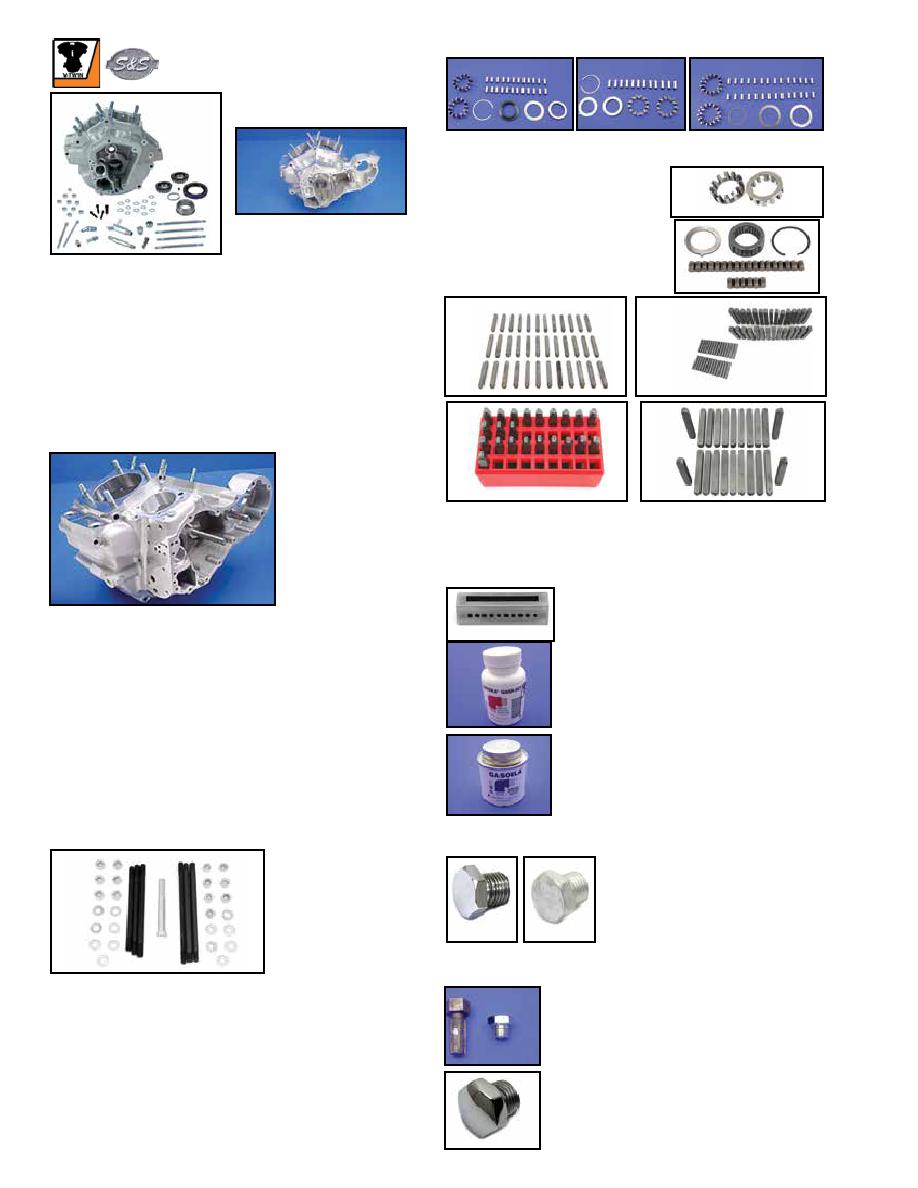 480
S&S Crankcase Sets are shipped set up with Timken left side
bearing and race assembly, seal and seal spacer, oil pump
drive bushing, needle bearing and pinion race for right side,
(pressed in and line honed) ready to assemble. Also included
are cylinder studs, nickel plated case bolts, crankcase fittings
and a timing and magnetic drain plug. Accepts wheels up to
8½" diameter. VT No. 10‑0028 Knucklehead cases fit Panhead
style frames and later model oil pumps.
Note: Oil pump
required for assembly for stock bore.
VT No. Year
Bore
Oil Pump
10-0029 1948‑64
12-8001
10-0030 1965‑69
12-8001
10-0003 1970‑84 Shovelhead Stock
12-8002
S&S Alternator-Generator Crankcase Set is shipped with left
side bearing race, oil pump drive bushing, cylinder base studs,
idler stud, circuit breaker stud, pinion needle bearing and pinion
race installed. Pinion race is lined. Honed and ready for assem‑
bly. Also included are nickel plated case bolts, crankcase fit‑
tings, left side engine bearing, seal and spacer. Accepts wheels
up to 8¹⁄₂" diameter.
VT No.
Cylinder Type Bore
Oil Pump
10-0280 Panhead
12-8001
10-0034 Shovelhead 3⁷⁄₁₆"
12-8001
10-0044 Shovelhead 3⁵⁄₈"
12-8001
Screws
VT No.
Year
Type
8726-8
37-8519 1955‑69 Cam Cover Screws
10-0280
1970-84
Shovel
Drain Plugs
10-0029
Gasoila Sealant available in hard setting
red varnish or soft set blue/white. Red
Sealant is the original sealer for inside
crank cases or cam covers for sealing pin
holes on porous surfaces. Blue/White seals
threaded joints on pipe threads and fittings.
Both types are insoluble in oil, gas and sol‑
vents. The ¹⁄₄ pint can includes brush, each.
VT No.
Item
41-0151 Red Varnish
41-0152 Blue/White Soft Set
41-0151
41-0152
Crankcase Set
Motor Number Stamp Set for FL models.
VT No. Year
16-1039 1936‑47
16-1264 1950‑69
16-0423 1970‑99
16-1039
Engine Case Drain Plug/Oil Pump
Body Plug fits Big Twin case 1911‑
70, oil pump body 1968‑84.
VT No.
Finish
8116-1 Chrome
8117-1 Cadmium
8117-1T Zinc
9675-1 Parkerized
8116-1
8117-1
Chrome Oversize Plugs with Tap.
Kit includes a tap and a dome head plug.
VT No. Type
Includes
7502-2 Engine &
7503-1 Engine
7500-2 Timing
7501-1 Timing
9407-1 Timing
7502-2
7503-1
16-1264
Pinion/Sprocket Shaft Cage and Roller Kits include STD size
rollers, cages, washers and retaining ring for applications listed.
VT No.
Side
Year
12-0409 Sprocket 1941‑54
10-2535 Pinion 1936‑54
10-0787 Pinion 1936‑54
10-0787A Cages
10-2551 Pinion 1955‑57
10-2533 Pinion 1958‑69
10-2533
10-2535
12-0409
10-0787
Number Stamp Holder Tool holds the
letter or number stamps from the motor
number stamp sets.
VT No. 16-1147
16-0423
16-1264
16-1147
10-0787A
Engine Case Bolt Kit includes the necessary hardware to bolt
together the engine cases of the years listed. Available as OEM
stock in chrome, cadmium or acorn in chrome.
Acorn Chrome Cadmium Fits
8127-34 8128-34 8129-34
8130-34 8131-34 8132-34
8133-34 8134-34 8135-34
8136-34 8137-34 8138-34
8140-34 8141-34
8142-34 8143-34 8144-34
8135-34